On July 4, 1776, the United States finally became an independent nation.
The Fourth of July is a popular day that Americans use to celebrate their independence and patriotism. This federal holiday is the perfect opportunity to educate and celebrate America's history with the children in your daycare. Plus, efficiently communicate with families to enhance their daycare experience.
Take a look at these fun and easy activities to do at your center for the Fourth of July!
1) Have Your Children Sign Their Own Declaration of Independence
The Declaration of Independence is an important document for the United States because it signifies freedom. Having your students sign this document will introduce them to history, as well as encourage writing skills. To get started, all you have to do is print out mini documents of the Declaration of Independence and allow the students to sign their names.
Declaration of Independence
2) Make Red, White, and Blue Fruit Kabobs
Snack time is always a fun time to get creative. This snack has colors that represent America and is also a healthy option for the kids! To make this snack, you only need three ingredients: strawberries, mini marshmallows, and blueberries. Also don't forget the bamboo skewers, so they can look like kabobs!
Fruit kabobs
3) Sing Patriotic Songs
Music is crucial for a child's development and self-expression. It helps with literacy, motor, social, and intellectual skills. The United States has its fair share of patriotic songs. Here are a few classic American songs to turn up the radio to.
Star Spangled Banner

America, the Beautiful
Children singing
4) Communicate with Families About Crafting Fireworks in a Jar
This craft may sound dangerous, but it is 100% safe and fun! However, it's best to let parents know what this artwork involves beforehand. With the right childcare solution, effortlessly send text messages to parents and guardians with two-way communication. Detail the instructions and safety precautions to give your families peace of mind.
Tip: It's helpful to find a childcare solution with automated emails and text messages to proactively engage your childcare waitlist. Remain top of mind by sending exciting news to entice and nurture prospective families on your childcare waiting list. Make them feel included by sharing pictures of your 4th of July activities.
To start, you and your children can use simple household ingredients to create your own personalized fireworks. All you need is water, food coloring (4 different colors), vegetable oil, and two jars!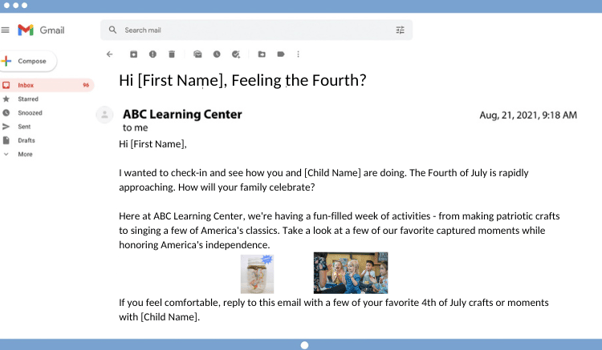 Example childcare waiting list email template
---
Honor History in the Classroom
The Fourth of July is a fun, but significant holiday. Celebrating it means that your students get to practice patriotism and celebrate their freedom.
Subscribe to our blog for more activity ideas, tips, and tricks.