The childcare workforce was down 15% in 2021.
With the aftermath of the pandemic, it's crucial to invest in your staff and technology that supports them. Help your staff perform their best by collecting regular feedback. See the ultimate toolbox for assessing performance with best practices, tips, and a childcare staff evaluation form. Plus, understand how to better foster your staff's usage of technology to manage their daily tasks.
Encourage professional evaluation and growth to fuel staff retention.
---
The Importance of Childcare Staff Evaluations
Childcare staff evaluations are used to periodically measure the performance of employees in various facets of their role. It ensures there's an opportunity to reflect on strengths, weaknesses, and ways to improve. Staff evaluations provide a solid foundation for the direction of future goals and give you the chance to provide feedback.
Frequent evaluations are recommended to set measurable objectives for your staff. However, at least one performance assessment is recommended every 6-12 months. There are several types of childcare staff evaluations, but we're going to discuss a specific form that dives into technology usage.
Childcare Staff Evaluations for LineLeader Enroll Users
Embrace Technology to Give Your Staff What They Need to Succeed
Do you often wonder how to increase buy-in with your staff and teams?
Childcare businesses are undergoing a digital transformation. Technology can play a pivotal role in equipping your staff and teachers with the tools they need to achieve success.
Why not get the ultimate, unified platform? LineLeader by ChildcareCRM is the first and only platform to deliver both full-featured customer relationship management (CRM) software, childcare management software (CMS), and parent engagement app—together in one solution. Plus, a Childcare Experience Platform is easier to manage, adopt, and use. Childcare businesses can now partner with one company, get support from one company, and get best-of-breed technology.
Get a Free Technology Usage Evaluation Form
See how your staff are feeling about your software adoption. If they need additional coaching and support, set up a training schedule. Evaluating how your staff uses the technology you've implemented supplies them with clear feedback. Plus, it gives you a complete picture of staff performance. You'll see the ratio of tasks to new leads, new leads converted to tours completed, and more. Grab a free template to see how your staff are adopting your tech.
Download the free childcare staff evaluation form to motivate your staff's use of technology, boosting adoption rates.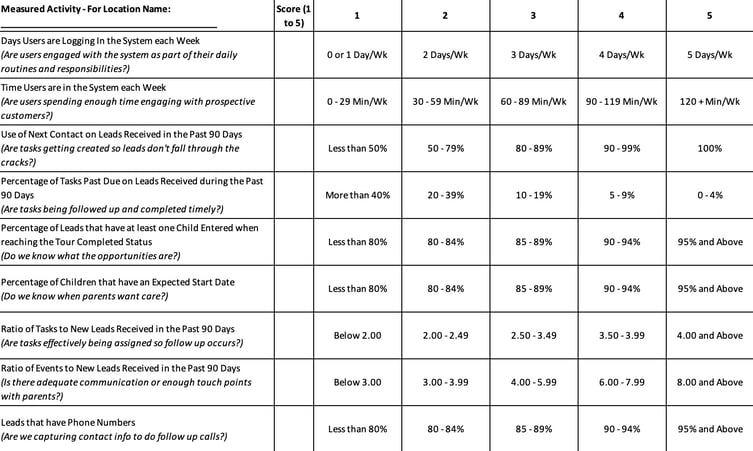 Sample childcare staff tech usage evaluation form - click here to download.
Best Practices for Childcare Staff Evaluations
Childcare Network uses a staff evaluation form to assess LineLeader by ChildcareCRM usage. To make it engaging, they run a competition across their centers (10 weeks, the centers with the best evaluation scores win gifts/prizes).
Ask your staff to self-evaluate their technology usage

. Use the childcare evaluation form to collect self-evaluations (and conduct your own performance assessment). Give your employees the opportunity to reflect and provide feedback.

Schedule a meeting

. Review the childcare staff evaluation form in a private, one-on-one setting. Let staff members know you're there to share the outcome of their evaluation, but you also want to hear their ideas.

Set goals and identify areas to improve

. Constructive criticism helps your teams develop professionally and map out their future career goals. Set measurable and realistic objectives to encourage staff to improve by the next evaluation. Talk through how they want to grow within the business. Build an achievable plan to assist staff in reaching their goals.

Enhance technology expertise. If your staff members voice a desire to expand their Childcare Experience Platform knowledge – schedule a training. Use your free template to gain insight into which tech features your staff need to learn more about. LineLeader experts are happy to support and guide your teams.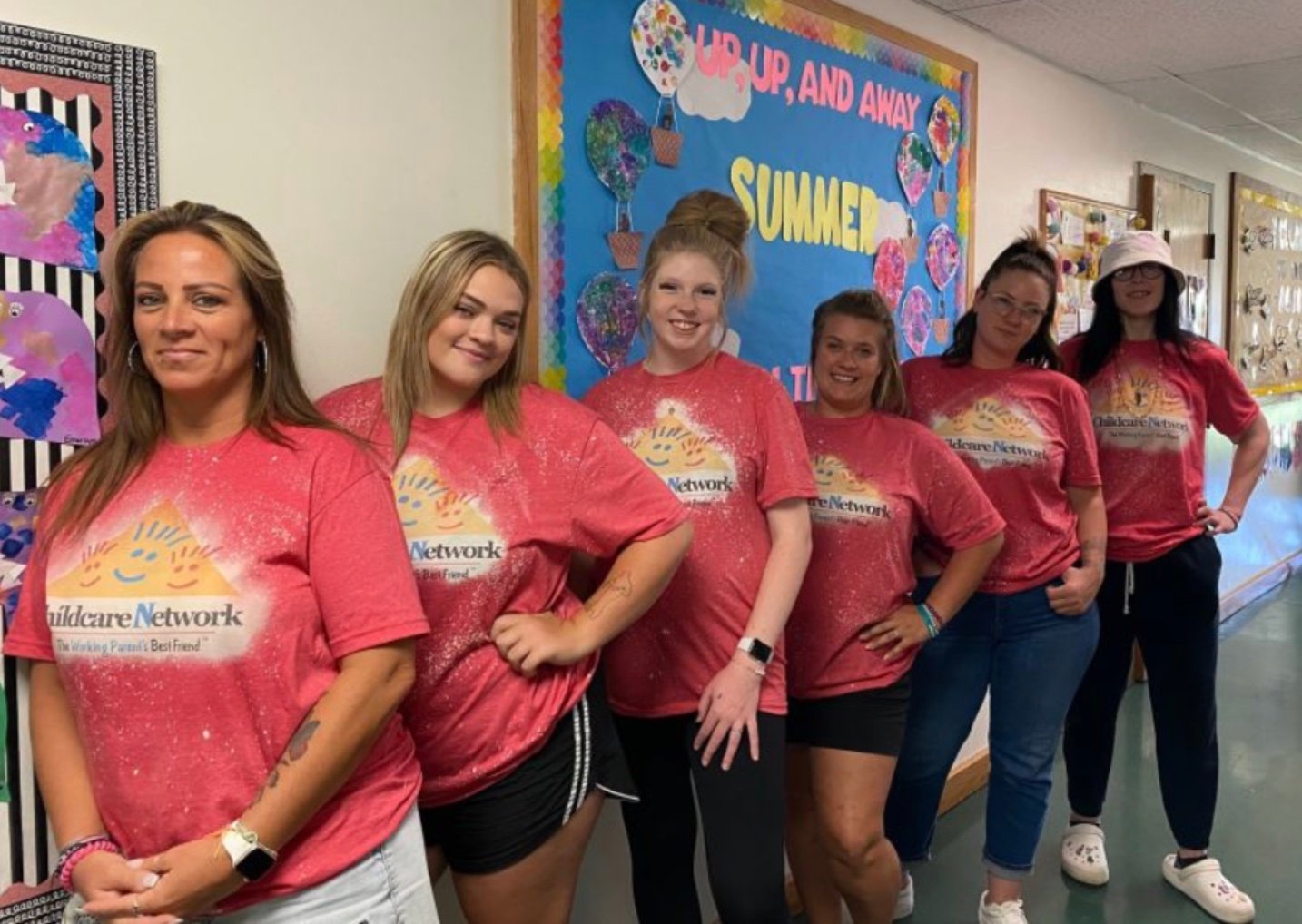 Childcare Network team
---
LineLeader

Supports Your Staff with Timesaving Tools
A supported team makes for a thriving business. You want to monitor staff technology usage and productivity with consistent staff evaluations. Ensure your adoption process is smooth and refine it with additional training if needed. To keep your staff on the same page – check out this blog on how to unify multi-site teams.
Already a User?
Register for an upcoming user training to support your staff's tech knowledge.
Not a User Yet?
Subscribe to the blog for more childcare and enrollment resources.