When already busy staff is trying to manage inquiries coming from every direction, some leads may fall through the cracks. 😣
LineLeader's Enroll module offers a telephony feature that provides a dedicated phone number for your center. Never worry about staff missing leads from phone calls because they're away from their desk. Automatically record phone calls and voicemails and keep track of conversations with families.
But you'll need to make a new phone number announcement to families to ensure families have the right contact information.
Let's dive into how you can easily announce your new phone number! ☎️
Table of Contents
1 - Advantages of Using Software to Capture Phone Calls
3 - Which Channels Should You Update with Your New Phone Number?
4 - Save Time with a Telephony Integration
Tips for Sharing Your Center's New Phone Number Announcement
Tell families about your new phone number as quickly as possible. This will help you and your staff to avoid confusion. Failure to make a new phone number announcement may cause you to miss important messages from leads, vendors, job applicants, and referral sources.
Advantages of Using Software to Capture Phone Calls
Save staff time

Stay organized

Easily coach and train staff

Get a unique, designated phone number
Use these new phone number announcement templates to send a carefully planned text message or email series to keep parents in the loop! 👪
Free Message Templates
Sample Text

Message Template
Hi [Parent First Name], this is [Staff First and Last Name] from [Center Name]. I'm texting you from our center's new phone number. Our previous phone number, [Previous Phone Number], is no longer monitored by our staff. Please update your contacts accordingly and save this number for future questions, comments, or concerns. Have a great day!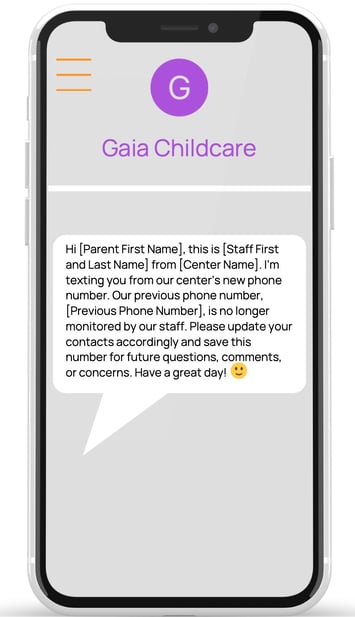 Example text template
Sample Email Message Template
Subject: Change of Phone Number
[Date] Hi [First Name]
I wanted to let you know that we've updated our contact information. Gaia Childcare has a new official phone number [New Phone Number]!
We're excited about this change that will apply from [Date] and beyond. The old number will no longer be in order, so please contact Gaia Childcare using the new number going forward. We know that your family is still learning about our center, and we want to consistently keep you in the loop. For any further questions – feel free to contact us at [Email Address]! Thank you. [emoji]
Sincerely,
[Location Admin Person First Name] [Location Admin Person Last Name] [Org Admin Person Position]
Tip – With the right solution, you can store branded, professional-looking text and email templates and automate sending them. Never wonder if you actually sent that important text or email again.
Schedule a FREE demo with LineLeader to see the power of automation - in action.
Which Channels Should You Update with Your New Phone Number?
In addition to announcing your new phone number to families, you need to update it everywhere on the web. Whether it's a local listing directory with your center's contact information, a social media profile, or your childcare website – make sure you change your outdated business phone number on every digital platform.
Although this may sound tedious, it's important for avoiding confusion and maintaining your brand's consistency. Use the graphic below as a checklist!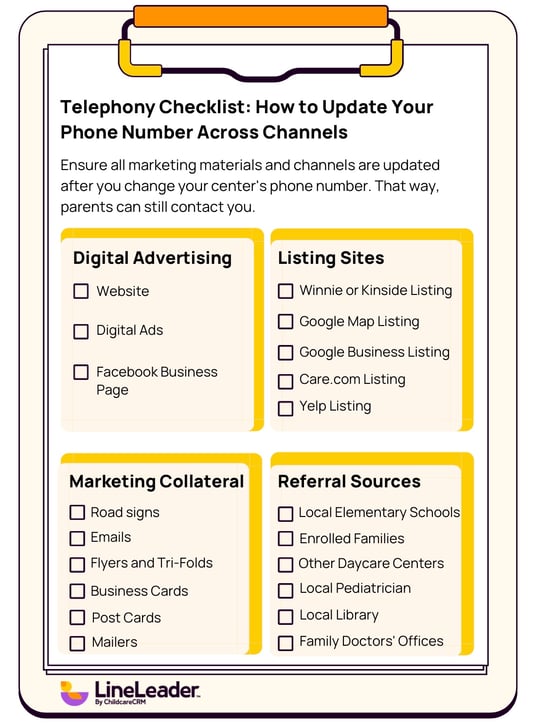 Telephony checklist
---
Save Time with a Telephony Integration
80% of all business communications take place over the phone. So, it's safe to say that phone calls are still a key inquiry source for your childcare business. Inform parents about your new phone number as soon as it goes live - with our expert email and text templates.
Take advantage of an intuitive, easy-to-use Telephony integration with LineLeader by ChildcareCRM to boost productivity and save time.
Already a User?
Learn more about a unified solution to help you capture and record phone calls.
Not a User Yet?
Schedule a demo to see the benefits of the first-ever unified platform for childcare - in action.
Video Resource