Whether you want to get more organized, grow enrollment rates, or declutter the supply closet - there is a good chance that you need a fresh start to prepare for the next school year.
You can start setting and achieving goals today! Using the SMART strategy and helpful CRM web tips, you are more likely to meet the goals you set for yourself and your business.
Let's dive into helpful goals and tips you can use to help your childcare center flourish. 🌼
What does setting SMART goals mean?
SMART is a goal-setting strategy that will turn your vague plans into actionable items. Setting specific, realistic goals can help you achieve success faster.
Specific
It is very rare that a goal worth doing will be quick and easy. Often, the goals we set take weeks or even months and may involve other people or factors. That is why being specific in the planning stages can help you achieve your goals! When setting goals, be sure to include:
Who is involved?

What am I trying to accomplish?

Where will this take place?

Why is this important to me?

Which items will be the most difficult?
For example, do you want to increase enrollments for your summer camp programs? Start with a specific number of summer enrollments you want to gain for a particular program. Then, the actionable goal is to build specific landing pages with web forms to capture interest and increase awareness about your summer camp programs.
For additional ways to increase summer camp enrollments, check out the best practices here.
Measurable
It's easy to set general goals, but much harder to achieve them. By setting goals that are measurable, you can track progress and know when you have succeeded!
Can you track the progress and measure the outcome?

How much, how many, and how will I know I have accomplished my goal?
If you want to gain more enrollments - compare the actual number of registrations you've received to the overall goal you want to reach. One of our top CRM web tips is to measure your conversion rates with intuitive childcare software to keep track of these metrics for you. It's an even bigger bonus to find a solution that allows you to automatically pull data and reports to effortlessly display your measurable metrics.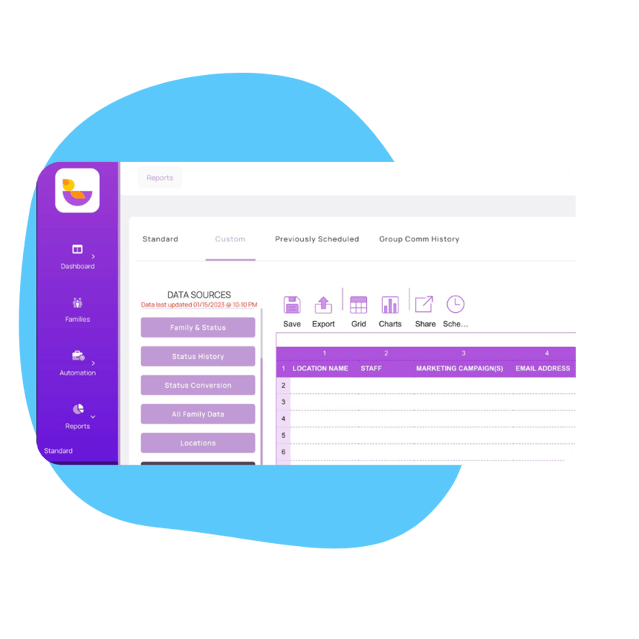 Marketing report example
Achievable
As big as our ambitions may be, sometimes it pays to be realistic. We may want to have 30 new children enrolled by next week, but there is a good chance that would take at least a few weeks. When making a goal, it is important to think realistically and make sure that the results you want are attainable.
Is the goal reasonable enough to be accomplished?

Are my expectations within reach?
Give yourself time and resources. Employ enough marketing efforts to realistically reach your goal.
Relevant
Let's say you set a yearly goal to increase yearly enrollments by 10 percent. If you already committed to this goal, would it make sense to start focusing the majority of your time on retention rates? It's important that any sub-tasks stay relevant to your long-term goals. It's important to ask yourself:
Is the goal consistent with other goals that you have set?

Is the goal beneficial to your long-term plans?
You want to consistently check on your goals and progress to ensure each one is relevant and will provide a substantial benefit to your childcare business - in one way or another.
Timely
This pairs well with the achievable factor. Don't give yourself two weeks to completely revamp your entire business structure or fill an entire program! Be mindful of possible time constraints and scheduling conflicts that may arise.
Does this task have a set due date?

Will you realistically be able to accomplish this task within the set time?
Timing is everything. You have a certain enrollment quota to meet and there's a deadline. Plan your efforts around that hard-stop date, so you consistently stay on track.
Tips for Reaching Your Goals
1) Automate As Much As You Can
When you have a big goal, limited resources, and a looming deadline - it feels good to accomplish more with less work. Automation can help you send follow-up communications, marketing campaigns, and effortlessly organize family records practically hands-free.
2) Host High-Quality Tours with Ease
Tours are a vital part of the enrollment journey. And maybe one of your goals is to increase tour conversions or simply get more families to schedule a tour at your center. Achieve this by equipping your staff with key talking points to highlight the best, most unique features of your center - before they even conduct the tour. You and your staff will have access to all the parent and child information needed to gain the competitive edge and encourage parents along your enrollment process.
3) Increase Waiting List Success
Check out how to increase waitlist conversions by capturing all the family information you need, creating tasks for you and your staff to engage your waitlist, keeping families in the loop, and sharing relevant content. You want to consistently communicate with daycare waiting list to remain top of mind.
4) Our #1 CRM Web Tip: Invest in Childcare Technology
You want to ensure that your lead management system, marketing software, or task management tools are specifically tailored to the childcare industry. Use childcare-specific software with niche features that help grow enrollment - with less work.
What is CRM?
CRM is customer relationship management software that helps you build relationships with quick responses, convenient self-service options, automated communications, visual dashboards, and much more.
A childcare-focused CRM will proactively build relationships with your prospective families early in the enrollment journey. You'll effortlessly meet parents where they're at, save staff time, and increase enrollments. Use these helpful CRM web tips to reach your goals.
Schedule a demo to see the actionable benefits of childcare technology. 💻