How do you track your enrollment goals?
KPIs can be used to monitor large-scale business objectives, marketing goals, and the overall health of the company. They can also be adjusted to monitor various departments and can even be used on an individual level to monitor employees' key objectives.
Without key metrics, it's tough to know if your centers are performing well enough to scale. See how to measure your childcare business and marketing performance by tracking key performance indicators (KPIs).
What Exactly Is a KPI?
A key performance indicator (KPI) is a type of business performance measurement that helps to evaluate the successes or areas an organization can work on. KPIs help keep your goals on track.
The Relationship Between KPIs and Childcare Success
KPIs guide you toward your enrollment goals. Data tells a story about the health and wellness of your organization. Keeping all teams in the loop can prompt consistent results.
KPIs for Childcare Motivate Educators, Staff and Directors
When everyone is motivated to reach a common objective, individual successes and contributions feel more rewarding.
Often, larger childcare organizations have a lot of voices. It's crucial to keep employees engaged to encourage productivity – which impacts your bottom line. In fact, highly engaged employees drive 18% more sales.
Best Practice – the right software can make it easy to monitor metrics. With LineLeader by ChildcareCRM, gain the real-time insight you need to drive enrollment forward.
KPIs Provide a Foundation to Strengthen Your Culture and Mission
By now, you know KPIs are directly tied to enrollment goals. Monitoring KPIs and tying them to your overall goals will help you achieve more because there's a connection to a cause. Employees should be aware that filling enrollments is tied to a deeper mission – providing quality childcare and education.
For example, if you want to reach 100% capacity for full-time enrollments this fall and only 50% of your families that receive enrollment packets actually complete them – you need to simplify registration.
Best Practice – Effortlessly simplify registration and stop chasing enrollment paperwork with digital registration forms. Digitizing your enrollment packet allows you to text parents a link, so they can fill it out online and at their convenience.
How to Measure Your Marketing Performance
One way to measure the performance of your KPIs in childcare is by using the SMART framework. Let's break down what the acronym means:
Is your goal

specific

?

Can you

measure

progress toward your goal?

Is the goal realistically

attainable

for your staff's bandwidth

?

How

relevant

is the goal to your childcare organization?
What is a reasonable

timeframe

for achieving this goal?
Specific, Measure, Attainable, Relevant, Timeframe = SMART. Use this tactic to help understand which KPIs are important for your business.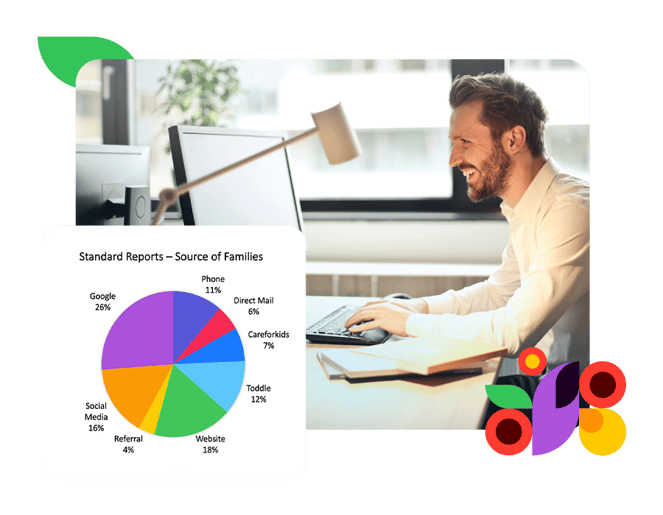 Source of Families Report
Which KPIs Should You Track to Improve Marketing Performance?
See campaign, revenue, and task completion KPIs to refine your marketing performance. Depending on what your center needs, you might want to know...
Percentage of current opportunities (active)
Number of completed tasks

Marketing source

Marketing campaign ROI

Lost opportunities

Conversion success
Estimated revenue

Trend tracking
This list may sound daunting, but with an intuitive solution, you can practically pull all the data you need to monitor KPIs in a matter of seconds. See the easy-to-read report below.
Check out this podcast to measure your childcare business and marketing performance.
Scott Wayman, CEO & Founder of Kangarootime, joined ChildcareCRM: The Podcast (available on Apple Podcasts and Spotify) recently to discuss:
The definition of a KPI and why it matters

The impact of KPIs on your early education business

Which KPIs childcare centers should be tracking to improve marketing performance
Marketing automation tips to help you track and record your KPIs
Listen to the full episode below or find it on Apple Podcasts or Spotify.


---
Invest In a User-friendly tool to Track Your Marketing Performance
If you're a childcare owner or operator and you'd like to learn more about our CRM and how it can help you monitor important KPIs for your marketing performance (ex: email marketing) and childcare business, click here to schedule a free demo with one of our solutions consultants today!
Already a User?
Check out our email marketing guide for more tips to boost your marketing performance.