Did you know businesses spend roughly 8 hours every week managing paper and waste an average of $4,800?
Time is your most valuable resource... and in the childcare industry, it's often scarce. Stop wasting time on manual enrollment processes in childcare that can easily be automated.
Your business loses opportunities when staff don't capture the right information from leads, take more than 15 minutes to respond to a new inquiry, or forget to follow up altogether. Take the guesswork out of your enrollment journey with our five best practices to save time and money.
1) Follow Up with Every New Lead, Faster
Speed to response is vital when communicating with your target parent demographic – Millennials. In fact, the childcare business that follows up first has an 80% higher chance of gaining that enrollment.
But what happens when a parent inquires outside of your operating hours?
It's helpful to have an intuitive childcare solution that automates marketing communications, so you can respond to new leads instantly – anytime, anywhere.
For example, let's imagine that it's 4 AM and an inquiry comes in. A mother is up with her sick child and has read positive reviews about one of your centers. She wants to learn more about your programs and pricing but it's early and your staff aren't awake. The best childcare CRM solutions will provide you with unlimited landing pages and web forms so the mother can inquire for care on your website then capture and store her information for later while automatically sending her a 'thank you' email, followed by a text confirmation in the morning. Automated inquiry confirmations are your key to increasing conversions.
Tip: On top of the automation provided by childcare CRM software, look for a platform that offers digital tour schedulers so you can share links, via email and text, to families. These links will allow them to select timeslots based on your real-time availability.


Follow-Up Best Practices
2) Guide Parents Through the Childcare Enrollment Journey
Stop losing enrollment opportunities by increasing the number of times you communicate with each family. The 'Rule of 7' communications is a marketing term that says families need to see your message at least seven times before they decide to enroll. Since engaging with a family seven times can be time-consuming, create drip campaigns to nurture and guide leads through enrollment.
On average, lead nurturing emails (and texts - like drip campaigns) get 4-10 more responses than standalone emails. Drip campaigns are behavior-based automations that allow you to communicate with prospective families based on how they interact with the content you share.
Tip: Use childcare software that automates your drip campaigns to create personalized, high-quality campaigns that optimize your ROI (return on investment). Save time and money with automation.

Example drip campaign
3) Engage Your Waitlists
There are various reasons why a family may be placed on your waitlist. For example, if a child has not yet been born or you've reached capacity at your center for the current enrollment period – build a waitlist so they don't slip through the cracks.
Use childcare software to consistently send email and text communications. You'll maintain waitlisted parents' interest with relevant content and enrollment status updates. Once a spot is available, make it easy for parents to fill out enrollment paperwork with digital registration forms. Your staff saves time by not chasing down missing forms and you save money on printing costs.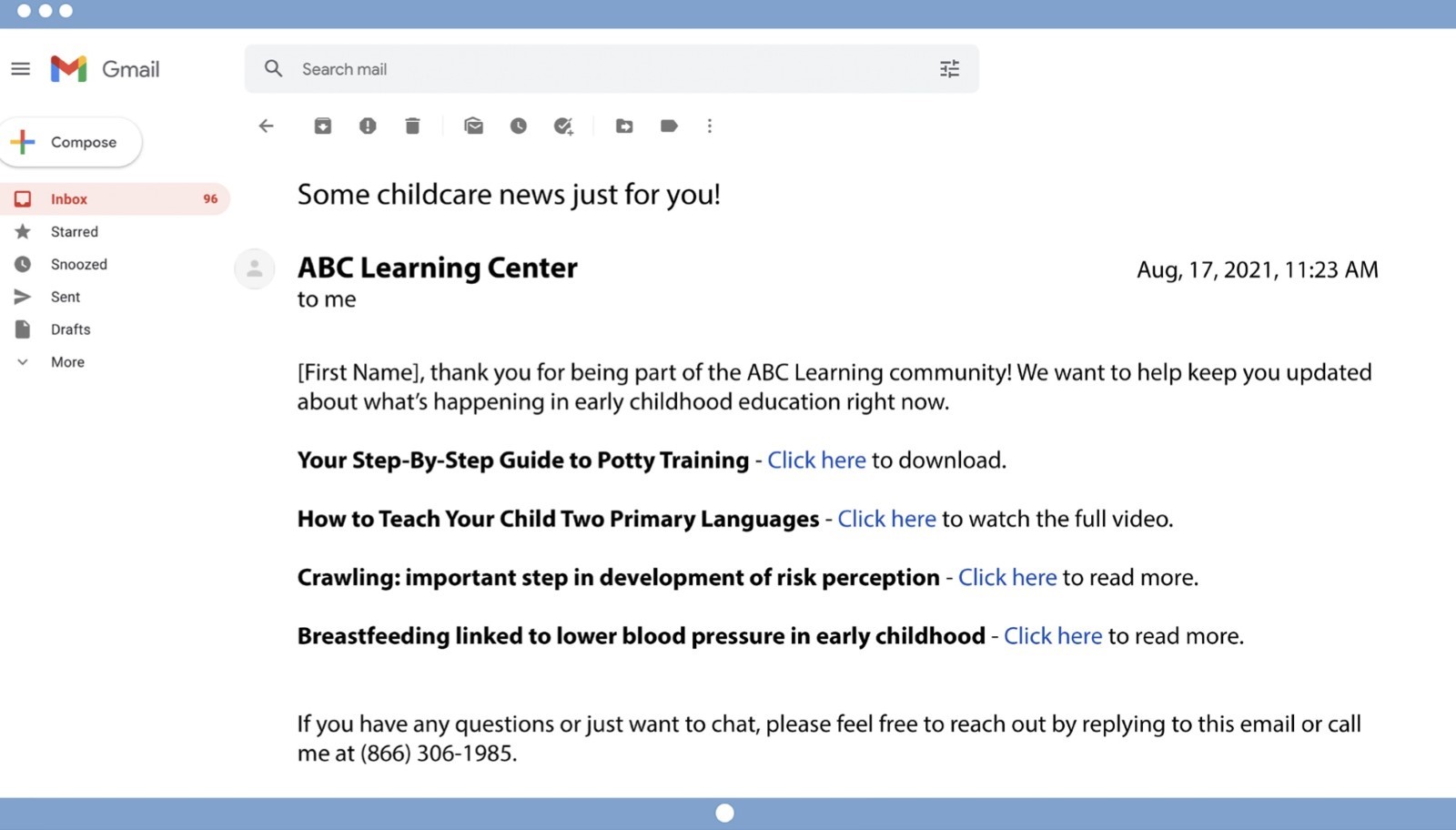 Example email template
4) Save Time and Money with Automation
Marketing automation eliminates the need for manual input and reduces human error. Childcare directors and staff have a long list of manual, repetitive tasks like sending reminders. With automation, set up manual process one time for each center location and forget about them. For example, parent-scheduled tours, automated replies, and drip campaigns save you and your staff time, while letting families...
Self-serve

Receive quick responses

Interact with personalized content

Automated versus manual parent experience
Automated campaigns continue to run in the background while your center directors focus their attention on bigger projects. Save staff and center directors' time by getting rid of manual tasks. Plus, you save money with more efficient campaigns that personalize content for each family. Track automated campaigns easier and use reports to make data-driven decisions that help boost retention.
In addition, you can use software with built-in workflow automations to automatically send specific follow-up at each enrollment stage to guide parents better.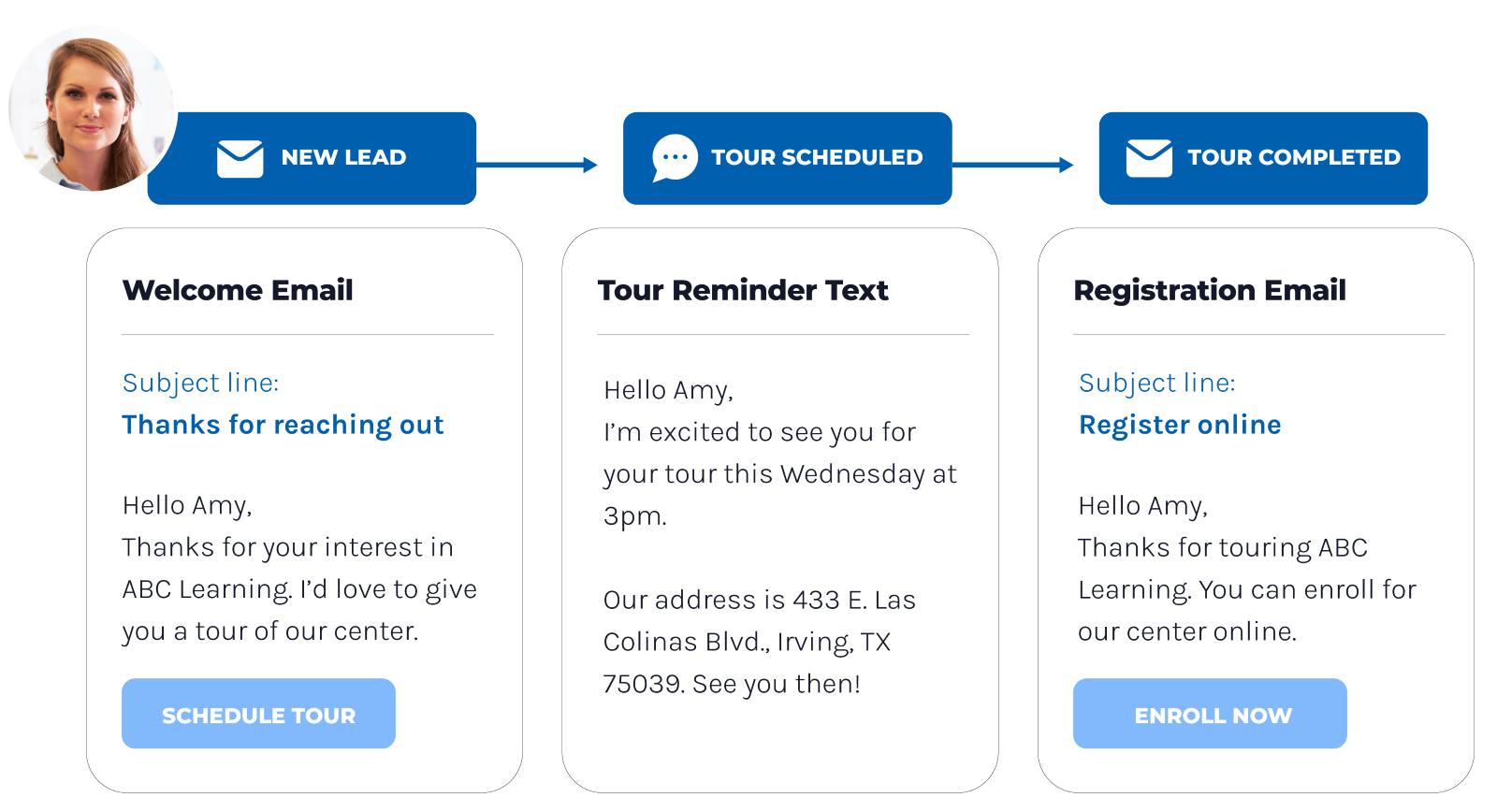 Example workflow automation
5) Invest in a CRM for Childcare Growth
It's tough to optimize your ROI and save staff time with manual processes. Families slip through the cracks, while your staff and directors are overwhelmed with tedious tasks. Invest in a CRM childcare businesses can depend on. Automate and improve your daycare enrollment process to increase conversions and grow enrollment.
Check out the ChildcareCRM webinar below to further improve your childcare marketing efforts to save time and money.
See the Childcare Marketing Automation Guide to learn about more features to save you time and money.