Did you know businesses spend roughly 8 hours every week managing paper and waste an average of $4,800?
Trying to manage family information, leads, and communications with spreadsheets, sticky notes, and paper wastes valuable time. Information gets lost, opportunities are missed, and the lack of organization makes it almost impossible to grow your childcare organization.
Save time, follow up with every lead instantly, and improve family communication with these nine tips to organize your childcare enrollment process.
Get Organized and Save Valuable Time with a Centralized Family Hub
Excel spreadsheets can be effective for simple data management, but just like notebooks and sticky notes - they fall flat when it comes to relationship management.
Even if you have just 15 potential families inquiring for care each month and you're only tracking contact information (such as parent name, child name, phone number, and email) - you're still depending on staff to manually track 60 pieces of information. This leads to data errors like incorrect contact information. Plus, you can't track when a parent was followed-up with or who they spoke to last. This leads to miscommunication with families and soon, they start searching elsewhere for care.
To avoid this, you need to store and access your family information in a centralized place, like ChildcareCRM. With improved organization, you'll communicate quicker. CRM software enables you to build a seamless childcare enrollment journey across center locations, see all your essential enrollment information at a glance, and efficiently manage and assign follow-up tasks and tours.
With a centralized database, you can:
Save staff time with organized tasks.

Increase follow-up response times by quickly accessing information.

Improve communication with families to build meaningful relationships.
Schedule a demo and learn to get organized using ChildcareCRM's Family Hub.
1. See Family Records At-A-Glance
No matter how many families you're managing, look for a childcare software solution that lets you quickly see family information at-a-glance. In one screen, you should be able to see guardian and children information including phone, email, child birthdate, status, and notes.
2. Know Where Every Family Is in the Enrollment Journey
When you don't monitor where families are in your enrollment journey or how long they've been in each stage, it's easy for leads to fall out of your pipeline. Look for a solution that shows the enrollment journey for each family record along with how long families have been in each stage, so you know how to move that family forward.
3. Quickly Identify Leads Who Have Become Disengaged
Lost opportunities are families that have fallen out of your pipeline and possibly need some extra attention to get them back on the journey to enrollment. Effortlessly view how long families were engaged and determine which families need to be placed in a lost opportunity email or text campaign.
Before you launch your lost opportunity campaign(s), find software that quickly identifies the stage when parents became disengaged with your center, so you know how to structure your communications. For example, the email you send to a family who toured and never completed registration should look different from the email you send to a family who scheduled a tour and never attended.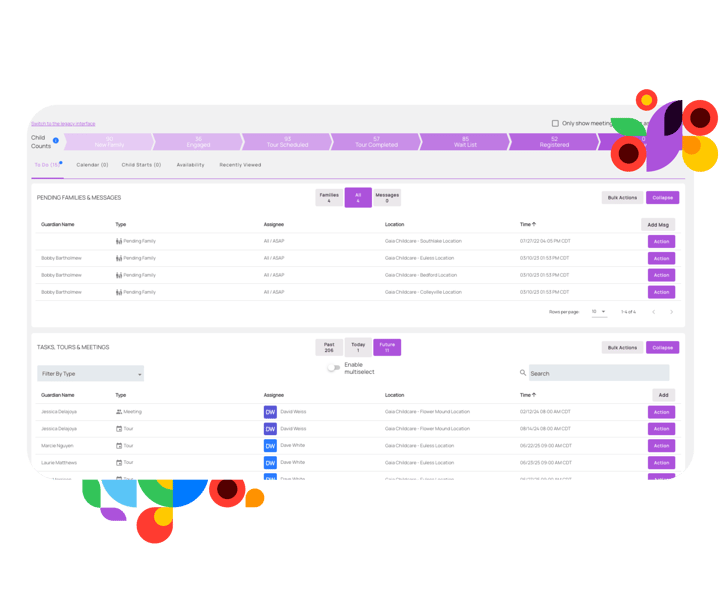 LineLeader Enroll
4. Build a Seamless Enrollment Journey Across Centers
Circumstances change – your center fills up, families want different programs, or a lead may inquire at the wrong center. However, the family is still interested in finding care. Rather than sending them to a competitor down the street, keep them in the family!
With just the click of button– refer or transfer prospective families to one of your other locations that's a better fit. Maintain a seamless parent experience and ensure your organization never misses out on an enrollment opportunity with the right childcare solution.
5. Increase Organization and Access Family Information with Ease
Instead of searching through multiple spreadsheets, notebooks, and email threads – find a solution that lets you see all your family information in one place. You no longer need to waste time trying to find contact information or previous communications with parents. Access family information, such as parent's name, child's name and age, and caretaking notes all in one place to effortlessly follow-up with leads.
6. Save Time and Store Additional Guardian Information
Never run into a delay during pick up or drop off again. Keep every child's list of guardians or family-approved contacts on a single card. Look for childcare software that simply pulls contact information for parents, secondary guardians, tertiary guardians, and designated caretakers within your family card to save time. It's a familiar feature with a helpful add-on for unique situations.
7. Improve Productivity and Simplify Task Management
Increase productivity with improved task management. Instead of looking through every communication and enrollment task, use CRM software to see a complete overview of tasks assigned to you or your staff. Overdue items show up in red so you can quickly see what tasks haven't been completed and which families require attention.
8. Enhance Speed to Response with Organized Communication
It's inconvenient to manually search for messages that come in from multiple places. You and your staff simply don't have the time. Never miss another family inquiry – find the right solution that lets you see current texts, emails, and Facebook Messenger communications in one place. View all ongoing messages with families at-a-glance and easily respond from a single screen.
9. See All Previous Communications in One Place
Digging through spreadsheets and sticky notes is cumbersome. With LineLeader by ChildcareCRM's history tab, you don't have to track down staff just to see when a family was last followed up with. Get a high-level view of prospective families' past communications and completed tasks all in one place.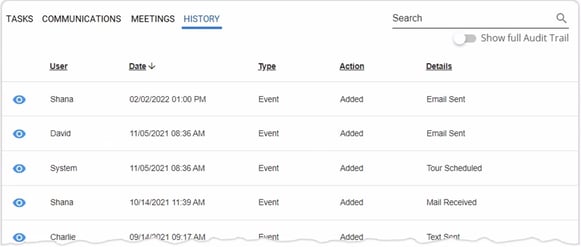 Example history tab that shows all current and past communications throughout childcare enrollment
Get Organized Today with

LineLeader Enroll's

Family Hub



ChildcareCRM's family hub organizes family information, documents, tasks, communications, and meetings all in one place to save time. Create a better parent experience with easy access to vital parent and child information. Plus, stop missing out on leads and enhance your team's productivity.
Interested in Using LineLeader?
Schedule a demo to learn how to organize family information and enhance your childcare enrollment process.
Already Have LineLeader?
Learn more about the upgraded family hub in our knowledge base article.