Your waiting list families are caught in a holding pattern.
In fact, they could be in the 'queue' for months, juggling 2, 3, 4, or even 5 different waiting lists with various centres.
They're searching for that perfect match, the special place where their little ones will thrive. And guess what? With the right encouragement, your centre could be the one.
That's why...
We've written effective lead nurturing email templates that you can use to keep parents and guardians excited about enrolling at your centre. Check out the example in this article, then download the rest to effortlessly grow your childcare business! 💌
The Importance of Nurturing Your Childcare Waiting List with Effective

Email Marketing

Campaigns
Engaging with waitlist leads is crucial...it demonstrates a commitment to families and helps build a positive relationship from the start. By keeping parents informed and connected during the waitlist period, childcare centres can alleviate concerns and maintain their interest.

Enquiry email templates provide a structured and efficient way to nurture leads, ensuring consistent communication and delivering valuable information – without you or your staff having to manually come up with and send new content.

These templates we've created help you save time and effort while sharing important messages, such as:
Updates on program availability

Centre news and highlights

Helpful and educational tips

Answers to frequently asked questions
No matter what you choose to send, engaging the families on your waiting list on a consistent basis with information they'll actually want to read will enhance parent satisfaction, improve your retention rates, and contribute to a positive reputation for your childcare centre.
Download our Ultimate Guide to Growing and Engaging Your Childcare Waitlist to view 9 free email templates that you can start using at your centre – today!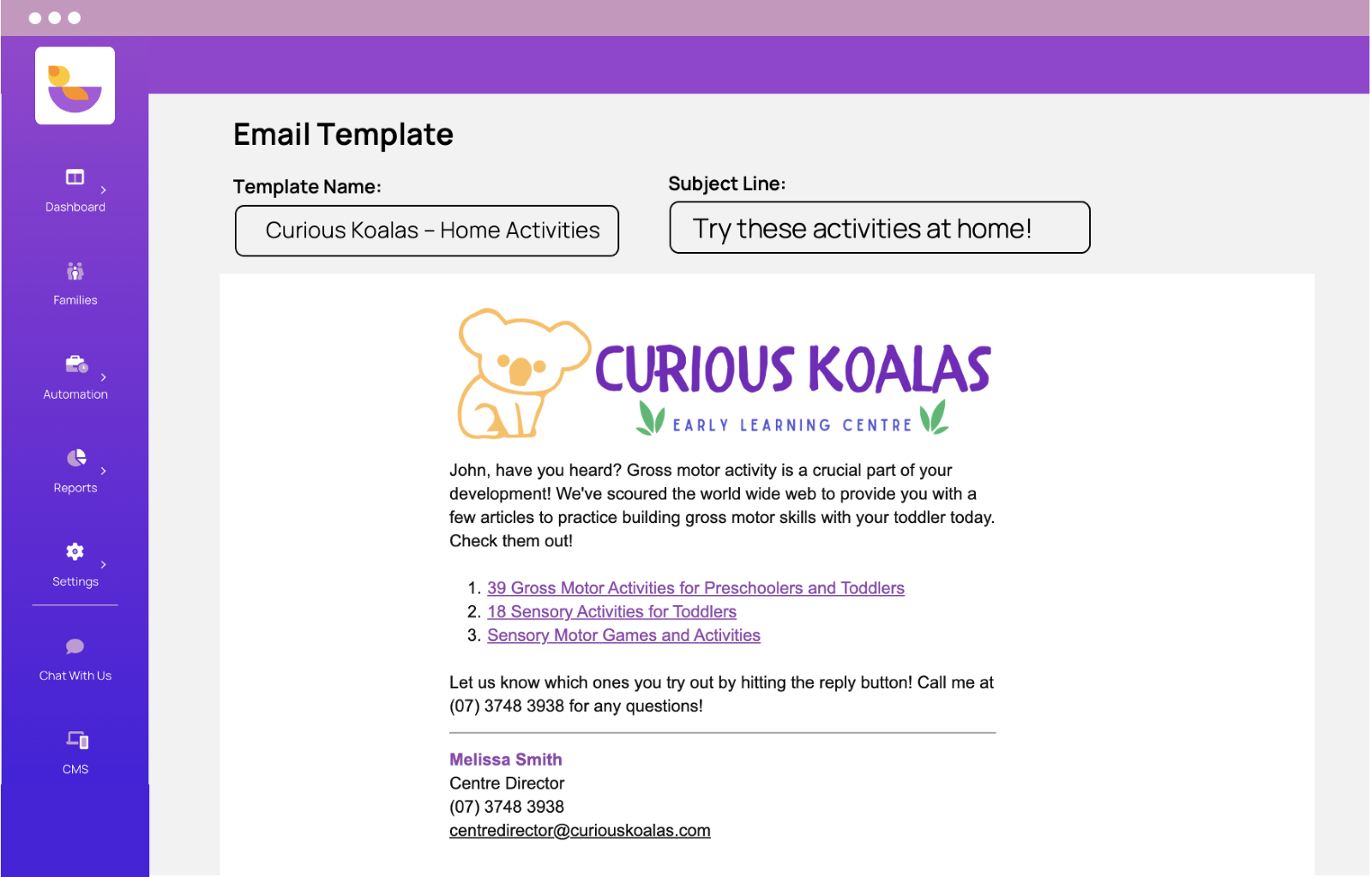 Lead nurture email template example for childcare
Email content ideas to nurture the families on your waiting list.

Keep your daycare waitlist engaged by sending frequent communications and valuable content. Some ideas for regular long-term lead-nurturing email campaigns include:



Tips to Improve Your Early Learning Centre's Waiting List Email Strategy
Personalise communications

and start building strong relationships with families. Use multiple personalisation keys emailing or texting families, such as 'Guardian First Name' or 'Location of Interest' or 'Child Date of Birth' to help build a relationship with families and stand out while they're still exploring other care options.
Provide relevant updates

.

Use email templates to share valuable information about your childcare centre. Highlight unique program or facility features, curriculum, testimonials from current parents, and success stories. This helps parents understand the benefits of choosing your centre and keeps them excited about the possibility of enrolment

. By providing relevant updates, families can also make their final decision much easier when it's time to choose a centre.
Include families from your waiting list in centre events

. Organise events, virtual sessions or tours that parents on the waiting list can attend with current families or other waitlisted families. This allows parents to become more familiar with your centre and feel welcome even before they start.
How to Build Branded Email Campaigns for Families on the Waiting List, Hands-Free
You've got the tips, now you need the tools.
Effortlessly design emails that encourage families on your childcare waiting list to enrol. With the right childcare lead management and marketing automation platform, you can automate email and text campaigns to help you:
Save staff time

Improve parent engagement

Streamline your enrolment process

Ensure consistent messaging
Improve enrolment success
To help you get started – we've carefully crafted a bundle of email templates for you to use. Simply download our Ultimate Guide to Growing and Engaging Your Childcare Waitlist to view 9 free email templates, that you can start using at your centre – today!
Want an easier, faster way to manage your childcare
waiting list?
LineLeader Enrol is the top-rated childcare CRM software that allows childcare providers to organize their waiting list in one place, automate branded email (and text) campaigns, monitor family statuses with ease, and much more.
With the right waiting list management and childcare marketing automation tool, you can effortlessly segment your parent audiences by classroom, age group, start date and more. Then, you can personalise email and text campaigns that speak to their specific student and care needs. Finally, you and your team can track the success of campaigns and see where leads may be entering or exiting your enrolment pipeline to understand how you can improve.