Let's address the elephant in the room and something I don't usually say out loud here at LineLeader by ChildcareCRM… There are many issues that feed into a lack of enrollment and, contrary to popular belief, one of the biggest issues is staffing.
I mean come on guys, what's your No. 1 daily, can't-fix, keeps-you-up-at-night dilemma?
Staffing.
Recruitment.
Retention.
Training or retraining.
But we're going to help you out with 3 impactful questions to ask your applicants. Simplify hiring and retaining staff with a strategy that sticks.
---
What's the secret to hiring childcare staff that sticks around?
My team members are probably picking their jaws up off the floor right now because…well staffing and enrollment don't seem like things that would go together, but hear me out.
If you don't have a team that is efficient and working toward helping you reach your enrollment goals, then your enrollment numbers will look a little slim.
Staffing in the childcare industry is a plague that's tortured us for years and an end doesn't seem in sight. Applications are thin and turnover is high — it's a perfect storm.
I feel you.
So when I tell you I think a solution of value-based hiring and turning away candidates with a bit of experience, a good background check, and who can start tomorrow may not be a good plan, you're probably going to think I'm crazy. But stick with me, because I just might start making sense in a minute (hopefully).
Download a FREE hiring & staff template to attract high-quality candidates!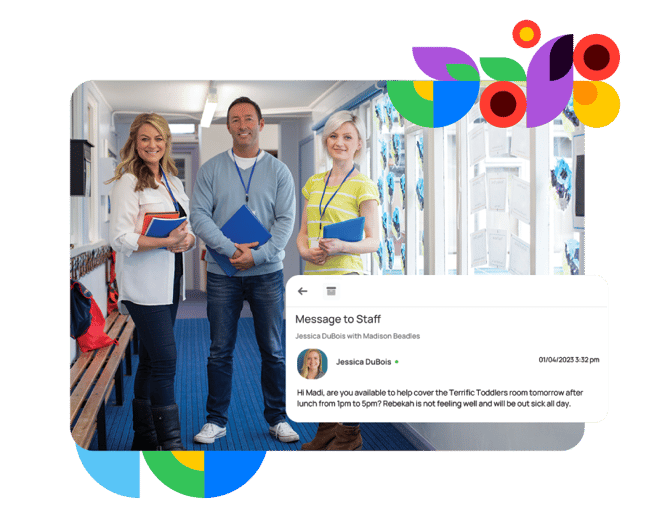 Childcare staff
Ask the right questions.
At LineLeader, we hire people who want to go Above & Beyond in all that they do through Teamwork and Innovation in order to deliver Quality & Value to our customers and provide Growth & Opportunity to our industry.
Hiring people who uphold our core values strengthens the culture in our office through the work we do. It's a ripple effect that impacts our customers, users, and partners, allowing us to be a trusted brand in the industry. The outcome is a product (LineLeader) that exhibits the same qualities and values as the rest of our company.
By hiring candidates whose core values align with yours and cutting those that don't, you'll find yourself in a much better position to strengthen your brand, reputation, and standing in the community as a premier childcare organization. By promoting a set of values, you'll find that the right people want to stay with you and the wrong people will weed themselves out.
Want to find out if an applicant (or even current employee) is a fit for your values? Try asking one of these questions during your next meeting:
1. "If you're still part of our team in one year, how will you be able to tell that it has been a success?"
You're not looking for a right or wrong answer here. You're looking for people who want to challenge themselves to learn new skills and grow with your center instead of someone who is looking for personal and individual accomplishments.
Look for employees who share a like-minded focus with your leadership and have similar goals.
2. "Besides your previous employers and your time in school, what would you say has helped you become the person you are?"
You may think I'm losing it here because I'm telling you to intentionally avoid past experience on resumes and applications. I'm going to make a bold statement here and say you'll have much better luck with a new hire who shares your values and has little or even no experience than the opposite.
Unpopular opinion, childcare addition. I know, I know, but guys, I think I'm onto something here.
3. "What's something you taught yourself to do this year?"
Training is an issue in centers. Onboarding training is lengthy, expensive and, let's be honest, too often ends up being a new hire sitting in a room reading a binder.
What could they actually be learning there? Sure, the system needs to change and we need to do a better job of fostering the continued learning processes in our organization.
While we're working on the process, why not also find employees who are persistent and curious? When you find an applicant, who has a good combination of skills and the thirst to learn, you've got yourself a keeper.
Lead with a growth mindset.
When you invest in your team, you invest in your business.
Having a team that's fully aligned with your organization's values on a person-by-person basis will ensure your center runs at its optimum capacity. By aligning your recruitment and retention strategy with your overall values and culture, you put your center in a better position to find the right people, including that future super-star team member!
While people's career goals, skill sets, and expert knowledge may change, who they are at their core won't, and that might just be the most important factor in determining their place on your team.
Remember, an efficient team driven by a common goal will only help you turn up those enrollment numbers. When you have a motivated staff that's excited about your center, it's easy for potential parents to see and it's contagious.
So start at your foundation, look at your team, and ask how you turn them into a dream team or hire people who will easily make your dream team. People want to grow, so give them the space to do it. They'll thank you for it later AND will be more likely to stay when times get tough.
Download the guide to claim free templates that help you hire & retain staff easier.