Odds are, you're busier than ever before and are constantly on the go. In today's competitive market, you need a CRM tool that can meet you where you are.
By utilizing a mobile CRM system, you and your staff have the opportunity to stay on top of new leads, tours, and tasks whether you're at your desk, cooking lunch, or helping in a classroom. Beyond the ease of accessibility, there are several key benefits to using a CRM that is offered on mobile devices.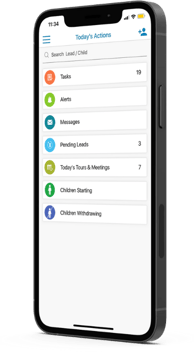 1) Increase Productivity Levels
Your ChildcareCRM app can help you save time and efficiently manage your business from anywhere. Both you and your team become more productive when you can schedule tours, enter new contact information, review family data, upcoming tasks all from the palm of your hand.
2) Boost Enrollment Success
Having the right information available, organized, and easily accessible at the right time can make a big difference in successfully registering or waitlisting a family. The less time your team spends searching for information they need, the more they can interact with prospective families and build meaningful relationships. A study by Innoppl Technologies reveals that using a mobile CRM system can increase your chances of enrollment success by 43%.
3) Shorten the Parent Journey
A mobile CRM platform allows you to respond to parents immediately and gives you the ability to access important data from anywhere. By shortening the time between communications, you not only increase your likelihood of conversion success but also shorten the time elapsed during the parent's decision-making process. This allows you to expend fewer resources and receive your ROI (return on investment) faster.
4) Improve Data Quality
Restricting yourself to only accessing your CRM on your desktop also restricts your families' information accuracy. For example, if you receive a phone call outside of your office or can't immediately return to your desk after completing a tour, you have to wait to enter your meeting notes, change appointment times or dates, or update a family's information. This leaves a high probability that you or a staff member may forget part of the data while entering it into your CRM or may forget to enter it at all. Using a CRM on mobile allows for real-time data entry which ensures information is complete and accurate.
---

To get started with the ChildcareCRM mobile app, download it on the Apple App Store or on Google Play.