How do you support children's mental health?
On average, 1 out of every 5 children in America has a diagnosable mental health disorder. Mental health is vital to a child's overall happiness and well-being. See how you can choose to be a better advocate and supporter for the children in your daycare programs this Children's Mental Health Awareness Week, on May 1st through May 7th.
What

is

Children's Mental Health & Helpful Terminology
Mental health affects how children think, feel, act, and learn. A child with a healthy mental state reaches developmental milestones, learns how to productively process their feelings, and has good social skills with other children.

Mental sensitivity – how children in your daycare centers respond to intense situations and handle emotions.

Mental disorders are classified as a range of diagnosed conditions that affect mood, thinking, and behavior.
Early Signs of Mental Health Issues
Withdrawing from social interactions with other children

Unusual outbursts or irritability

Difficulty concentrating

Drastic changes in academic performance or motivation

Out-of-control behavior that could be seen as harmful
The COVID-19 Impact on Children's Mental Health
Did you know 71% of parents think the pandemic has negatively impacted their child's mental health?
With the isolation caused by COVID-19, children couldn't interact with peers. Now more than ever, it's crucial to foster a daycare culture that promotes an inclusive environment for children to grow. Plus, especially amidst the pandemic, it's vital to ensure families have the support and care they need to strengthen their child's mental health at home.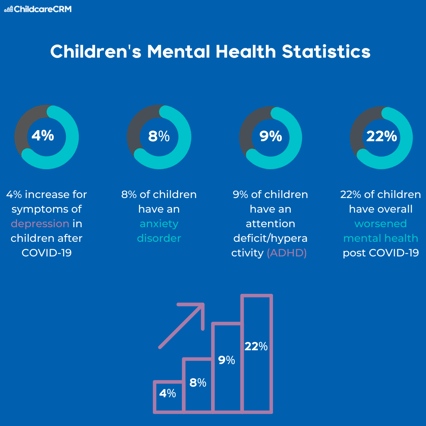 Children's mental health statistics
Advocate for Children's Mental Health in the Classroom
Children's Mental Health Awareness Week is a chance to create a classroom that not only encourages every child's uniqueness – but makes them feel comfortable enough to grow. Early experiences shape the developing brain and provide a base for positive emotional growth. Mental health matters.
For example, incorporate downtime for your daycare students to creatively express and process their emotions. Provide a 'draw your emotions' coloring activity, like the one below.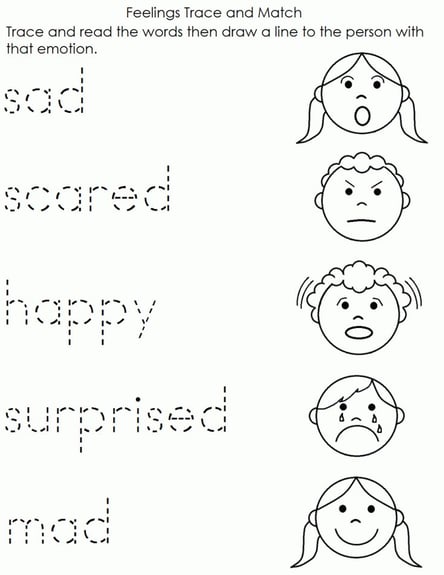 Children's mental health awareness activity
Check out more creative activities to bring into the classroom that promotes positive mental health speech.
Make a comfort object together. Have your students choose their favorite color and encourage them to create something that makes them happy – whether it's an animal, person, or book. Provide sturdy craft materials to ensure everyone's comfort object remains durable.

Build a color wheel of feelings. Make a color wheel out of any material you have on hand (cardboard, paper plates, etc.). Assign feelings to each color and have your children use the word in a sentence (help the little ones).

Hand out stickers with emotion-based words. Ask your children to read each word on their sticker. They can swap colors with a friend halfway through the day to learn a new feeling word!
How Can Educators Help Parents Strengthen Mental Health?
Not addressing mental health in your daycare can lead to limiting opportunities later on. Promoting constructive mental health expression in your classrooms is a great first step, but it's always helpful to support your parents with resources at home.
Always give the children in your daycare the opportunity to express their feelings, in their own words.

Address behavior in a helpful way and have discussions with your daycare students.

Provide a space for parents to communicate with you about their child's mental well-being.

Celebrate Children's Mental Health Awareness Week in the classrooms! Give parents information about activities, lessons, and more.

Offer parents a checklist to ensure they're always checking in with their children.

---
Remember – a child's mental health is vital to their growth and happiness. Be an advocate for your children and a supporter of your parents.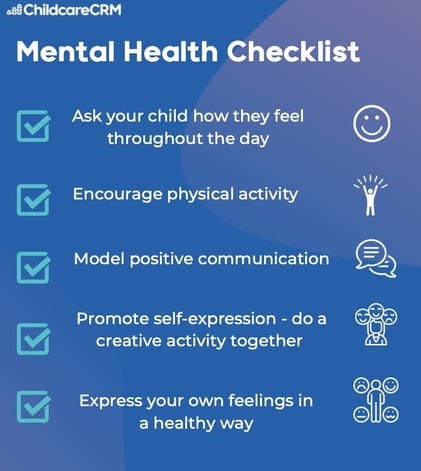 ChildcareCRM Mental Health Checklist
Interested in Using ChildcareCRM?
Subscribe to the blog to learn more about childcare industry news, strategies, and tactics for creating an inclusive childcare environment.
Already Have ChildcareCRM?
Check out the Parent Enrollment Journey guide to see how you can further help parents throughout the enrollment experience.