It's essential that you stay top of mind with both inquiring and waitlisted families during the enrollment journey. But keep in mind that 80% of today's parents to children under the age of 12 are Millennials; meaning a convenient experience is more important than ever.
Sending great text messages is more important than ever. Millennials are one of the first generations to grow up in the digital age, and they use social media, texting, and their mobile devices more than any other parent demographic has in the past. Millennial parents want streamlined, digital experiences for everything from shopping and banking to childcare services.
Communicate the Way Parents Want
60% of today's parents prefer to communicate with businesses through text messaging. They see text messaging as less invasive than phone calls and more personal than other forms of communication, such as email. Additionally, childcare centers that use text messaging to communicate see higher and faster response rates. Compared to email, open rates for great text messages are as high as 98%, and on average it only takes 90 seconds for someone to respond to a text.
Another important part of text messaging's appeal to the Millennial audience is largely based on convenience, speed, and flexibility. Text messages such as tour and payment reminders are a great example of using text messaging to effectively communicate. In a recent survey, 48% of Millennials said they prefer to receive notices about payment information through text, while more than half preferred to receive appointment reminders through their mobile device.
Check out this infographic for more information on why Millennials love texting!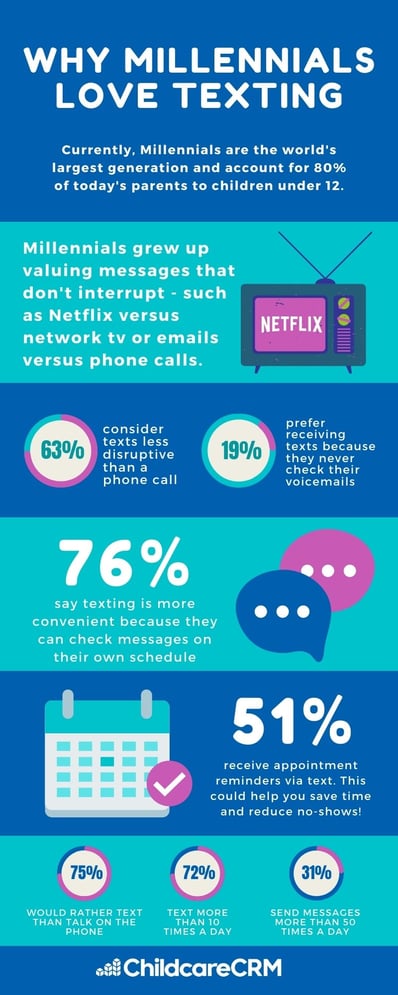 Tips for Effective Text Messaging to Parents
Here are a few simple tactics to ensure your text messages are well-received by your inquiring families and effective for increasing conversion rates:
Keep messages short and to the point. Texts are viewed on smaller screens than most emails so the shorter the message, the better.

Ensure the tone is friendly rather than too formal. Texting a parent is much more personal and informal than emailing so the tone should match the channel of communication.

Provide value to parents. Use texting to send out reminders and keep families updated about events, holiday hours, and more.

Establish a personal connection by including the parent's name either at the beginning of the text message or within the body.

Have fun with it! One of the great things about texting is that you can easily use emojis to express emotions and make your text look more appealing and friendly. Emojis have been proven to boost engagement and response rates. And they are a simple and easy way to add personality to your communications.
---
With 60% of Millennials preferring text messaging when communicating with businesses, it's important to use text messaging throughout the parent enrollment journey. In the 2022 Building Blocks for Success report, ChildcareCRM found that the best converters send 13x as many individual text messages and 76x as many group text messages compared to the lowest converters.
Start using text messaging to communicate with prospective parents. With ChildcareCRM, you and your staff can send and receive text and email messages from one central location - ensuring every message that gets sent fits your brand. Plus, our emoji feature includes all the iOS emojis your parents have come to know and love for communications. Schedule a quick demo to see it in action!