For the past eight years, LineLeader by ChildcareCRM has analyzed aggregated data from our expanding customer base—composed of more than 4,000 childcare centers—to identify insights and recommendations to scale your childcare business.
Our goal is to share statistically significant drivers of growth along with best practices to boost enrollment and increase retention, with less work.
Use the following best practices to plan your childcare enrollment strategy. 🏫
How to Navigate New Parent Expectations
1) Standardize Parent Communication Across Centers
As you know, growing your childcare organization has never been more challenging. The current parent experience is inconvenient and full of time-consuming obstacles that can cause parents to lose interest in your organization. With continued industry shifts, staffing shortages due to COVID-19, and changing parent expectations, it's vital to streamline the parent experience from initial inquiry through retention.
Today's parents want a convenient, easy-to-follow enrollment process. 73% of Millennial parents say that valuing their time is important. Implementing a standard practice and communication strategy throughout your childcare organization ensures that all your centers are closely guiding parents through the enrollment journey, which speeds up the entire process and in turn generates a higher lead conversion rate.
Standardizing your enrollment communications is a crucial part of maintaining brand consistency so each family across all your centers is receiving the same information. Ensure that your staff is using automated on-brand email and text templates at each stage of the parent experience.
Also, communicating the way parents want increases childcare enrollment retention because parents feel that your centers match their needs and the standard of follow-up they want to see. Factor the busy schedules of parents and children into your organization's communication strategy with text. Because 60% of Millennials like to communicate via text messaging, there's never been a better time to use personalized texts for inquiry confirmations, tour reminders, and links to digital registration.
Best Practice: Regulate Workflow Automation for Your Entire
Childcare Organization
Lose inconsistency by using a childcare solution to set up automated communications that lead parents through each stage of the enrollment journey. Workflow automation enables a set of organized, consecutive processes – from follow-up communications after a tour to registration payment reminders, that allows each center within your childcare organization to operate at the same pace and engage with parents at the same rate.
LineLeader found that 5-10 workflows are the ideal number to guide families through to enrollment. Choose to customize these workflows to best fit the needs of the families within your childcare organization while standardizing a process for families to follow and staff to manage.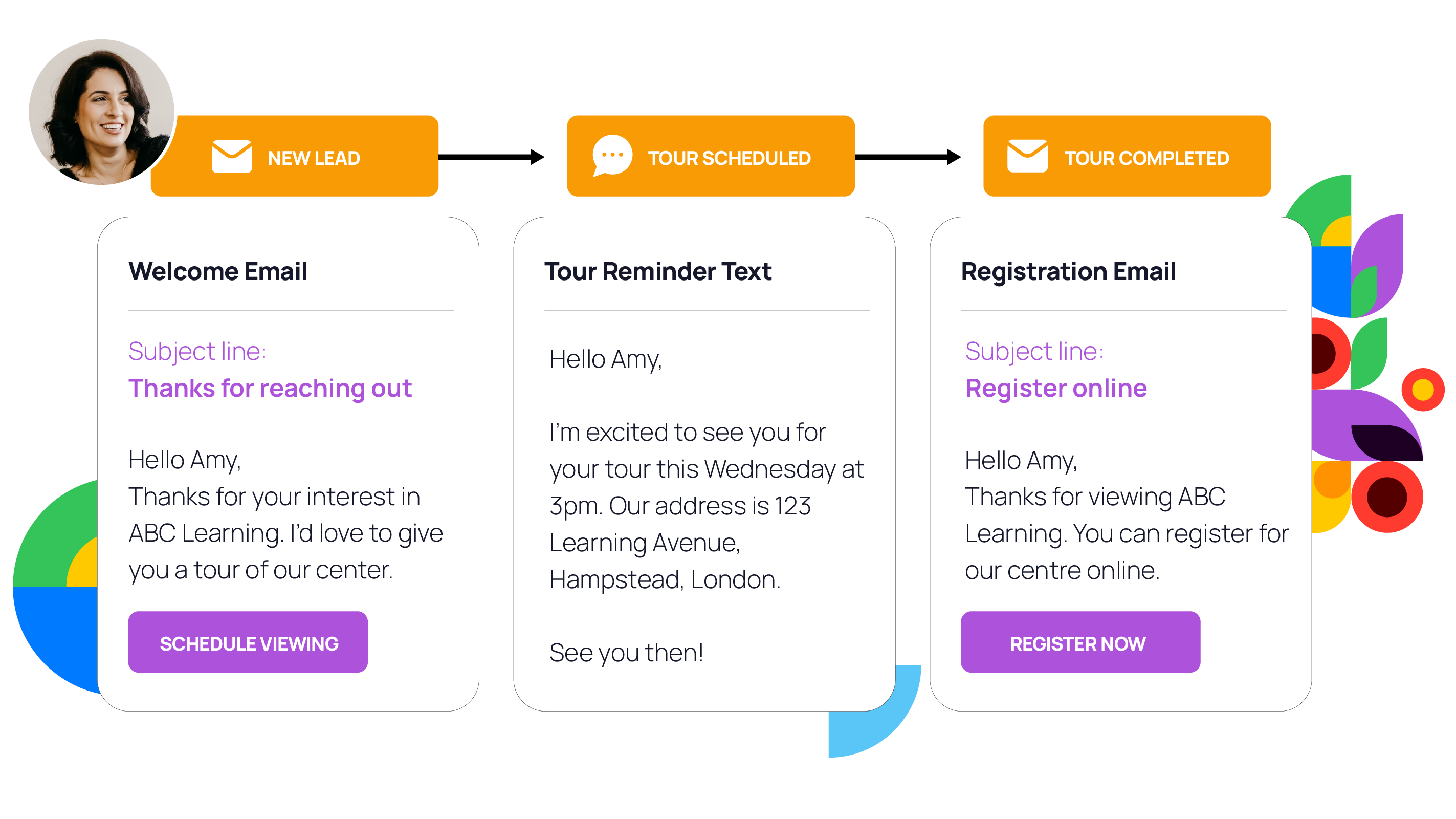 Example workflow automation
2) Use Branded Emails to O

ptimize Your Organization's Marketing Strategy
A decentralized messaging system creates confusion for parents and childcare staff. Aside from standardizing communication through organized engagement, follow-up, and response, you can also control how your brand is portrayed across centers.
As your childcare organization expands and increases its conversion rate and profits, having a scalable system to adapt to your childcare business is critical for long-term success.
Standardize parent communications by using imagery and language that reflect your brand guidelines. Use the same tone and language (such as company-specific acronyms, certain emojis, fun terms/educational lingo, etc.) for all branded emails. You can ensure everyone is on the same page with LineLeader by ChildcareCRM's multi-center branding capabilities. Easily store multiple logos, color palettes, fonts, and more for your branded emails.
This is particularly beneficial for operators with multiple logos and branding elements across several locations. Choose childcare software that scales with your organization. Plus, not only do branded emails look more professional, they allow you to segment your messages for a specific audience.
Best Practice: Target Your Key Demographic - Millennials
The first step to optimizing your marketing strategy is to understand what your parents want from your center. Millennials are now your number one parent demographic, making up 80% of today's parents to children under the age of 12. Enhance the parent experience at every center by upgrading your overall advertising and sales strategy in your childcare organization to target Millennial parents.
Because 40% of Millennials prefer self-service over human contact with a business, they need streamlined, digital options for convenient self-service. Look for ways to make the enrollment process easier for your inquiring families. Online inquiry forms like contact forms, specialized program landing pages, and digital tour schedulers allow parents to inquire about care conveniently – at a time that works best for them. Included your childcare logo in your branded emails to look professional.
Beyond moving your inquiries online, consider digitizing the registration process for parents as well. Online registration enables parents to fill out forms and enrollment paperwork at a time that fits their schedule.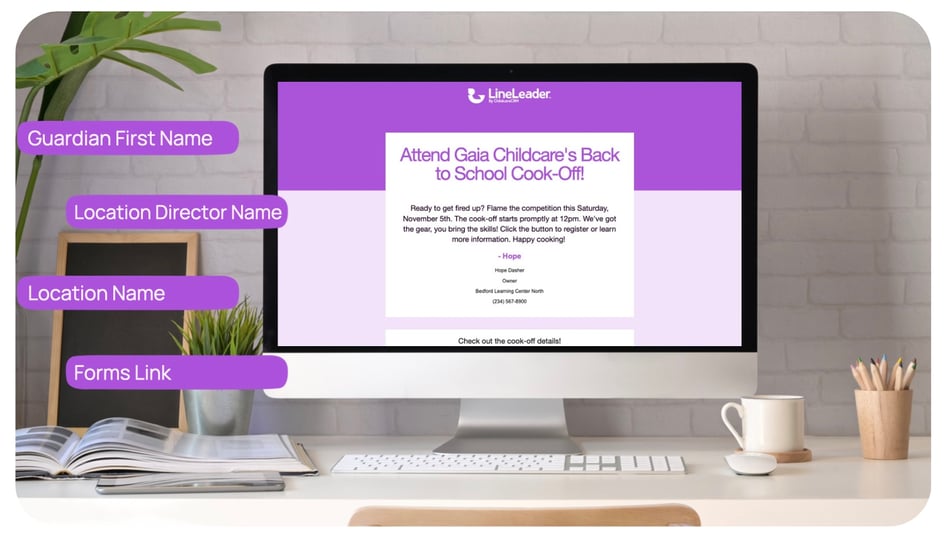 Example email template
3
)

Gain Oversight with Real-Time Insights
Not knowing how each level of your organization is performing can be nerve-wracking. Since the childcare center that follows up first has an 80% higher chance of getting that family converted, it's important to have total oversight over the most successful centers within your childcare organization that are streamlining their enrollment process by reaching out to parents faster, so you can ensure that every center across your entire organization is following up within 30 minutes of a parent's initial inquiry.
For example, if tour scheduled to tour completed rates are low at just one location, consider revamping their communication strategy with families using tour confirmation and reminder messages.
Best Practice: Track

Childcare Enrollment

KPIs with Reports
Optimizing your ROI can be difficult and time-consuming without the right tools to help you. Because 51% of new leads come from online sources, your childcare organization can benefit from tracking the origin of your latest leads with a source of families report. Easily view, manage, and oversee what your most popular media channels are and tailor your marketing budget and strategy for your childcare staff to implement accordingly. Save money with the enhancement of your organization's marketing and sales efforts by tracking where your leads are coming from.
Plus, easily place your locations into unique groupings. Put top performers, underperformers, new locations, and established centers in separate categories to simplify reviewing specific reports. Using custom or industry-standard reports, you can view how your childcare organization is performing at every level.
For example, quickly view the overall conversion success of enrollments at each center. Or take an in-depth look at the conversion rates of key points throughout your enrollment journey. See the total count of new families, percentage of new families engaged, tours scheduled, tours completed, waitlist, registered, and lost opportunities. The data in these reports tell you which advertising and follow-up efforts are working for each location.
Here are a few examples of LineLeader by ChildcareCRM's most popular reports:
Current Opportunities

Source of Families

Tours and Meetings

Scheduled Tasks
Tasks Completed by Staff

Conversion Success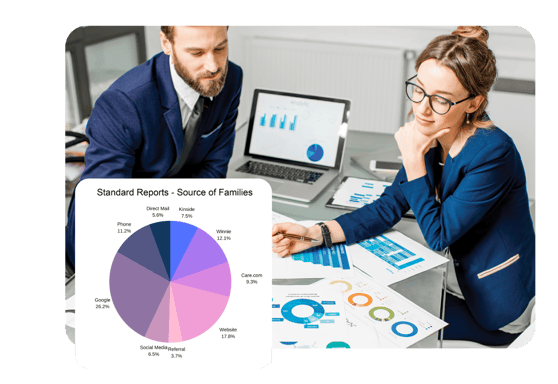 Change is hard, but we're here to help

.
We hope you use these 3 tips to help navigate changing parent expectations. It's tough to know what to improve, that's why we want to give you expert childcare advice. Enroll more families, with less work.
For more information on improving your marketing & communications; check out our Ultimate Guide to Building Email Marketing Campaigns Like a Pro.
Ready to level-up your childcare game? Beat the competition by getting ahead. Schedule a FREE demo of LineLeader to learn more.