71% of companies that personalize the messages they send to leads claim they've seen either a 'good' or 'excellent' return on investment (ROI).
In childcare, this is because today's modern parents are looking for a high-quality enrollment experience that feels unique to them and their family's care needs. With so many marketing emails and texts being delivered to families every day from other businesses, it's easy for them to feel overwhelmed and overlook your communications.
Stop getting left on 'delivered' by families and ensure they read your enrollment texts and emails by making them feel special – with personalized communications.
---
Why Do Families Crave Personalized Experiences?
Personalization is key for creating a natural conversation that engages your family leads. For example, your emails should say 'Hi Mary' instead of 'Hi there' or 'Hi all'. Why? Because when a parent sees that you know their name, it makes them want to know yours. And suddenly, you're developing meaningful relationships with families – before they've even stepped foot in your center for a tour.
Help parents feel like your center is taking the time to get to know them and their children. When you prioritize personalization in your email and text communications, you're more likely to increase parent engagement and boost enrollment.
How Your Center Can Personalize Messages – Without Lifting a Finger
If you're still manually sending emails and texts to families, personalizing your communications isn't scalable. It requires time that you and your staff don't have. Fortunately, there's a much better way.
Close your Outlook or Gmail account and consider getting a Childcare Experience Platform (CXP) to help you automate communications to families. CXP software allows you to send emails and texts to families with less work than ever before, while ensuring your center stands out from the competition.
Plus, a CRM allows you to create hyper-personalized enrollment experiences for families – ensuring each family receives information that's relevant to them based on their child's age, care needs, start date, when they toured, and more. The right marketing automation tool ensures you can accomplish all this without having to lift a finger! Get to know more about LineLeader by ChildcareCRM's marketing automation features, such as:
Personalized and dynamic content

stored in text templates to save valuable save time.
Multi-step,

response-based text campaigns

to act on parents' behavior as it happens.
Campaign success reports

– track opens, clicks, bounces, and more to refine your campaigns.
Schedule a demo to learn more about email and text marketing tools that make your life easier.
Personalization Best Practices
Tip #1: Understand Your Parent Audience by Creating and Automating Drip Campaigns
It's tough to know what motivates your prospective parents. However, personalized campaigns can help you better understand your parents' behavior and what they prefer. Drip campaigns offer greater personalization and a way to gain insight with ease. Simply put, drip campaigns are behavior-based automations that allow you to communicate with prospective families based on how they interact with the content you share.
For example, in a typical drip campaign, you might send out an email to all prospective parents who haven't yet scheduled a tour. Those who opened and clicked through could then be given a task in your Childcare Experience Platform for a staff member to follow up with them by phone. Those who did not open the email could automatically be sent a text within 3 days of when the initial email was sent. You'll effortlessly build a tailor-made enrollment journey for each family.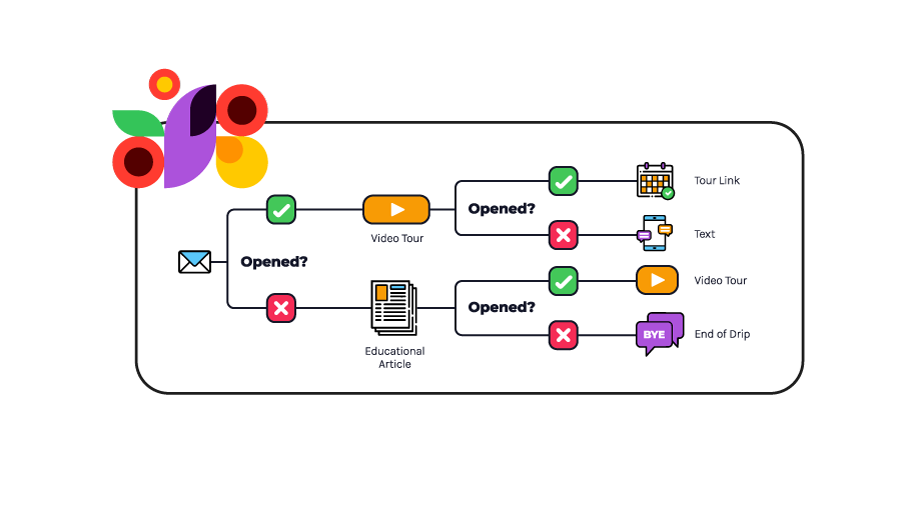 ‍
Tip #2: Segment Your Lists as an Easier Personalization Tactic
Today's parents expect personalized experiences. Segmentation allows childcare marketing and enrollment teams to create content for specific parent groups, while personalization means looking more in-depth into each parent within an individual segment.
For instance, LineLeader by ChildcareCRM helps you segment families and create groups based on different characteristics like child's age, location of interest, time of initial inquiry, tour scheduled status, tour completed status, registration or waitlist status. Creating these groups of families based on things they have in common is as easy as riding a bike, when you use the right solution.
Tailor your language by using verbiage that speaks to each group's specific care needs or enrollment status. Then, simply build text and email templates for each center location or brand, but include personalization keys (child name, parent name, state, zip code, etc.) and add variable tags (brand logo/name/image, outbound location tags – Facebook, LinkedIn, etc., staff at center location/position, and more). Segmenting your target audience into unique groups helps deliver a personalized enrollment experience.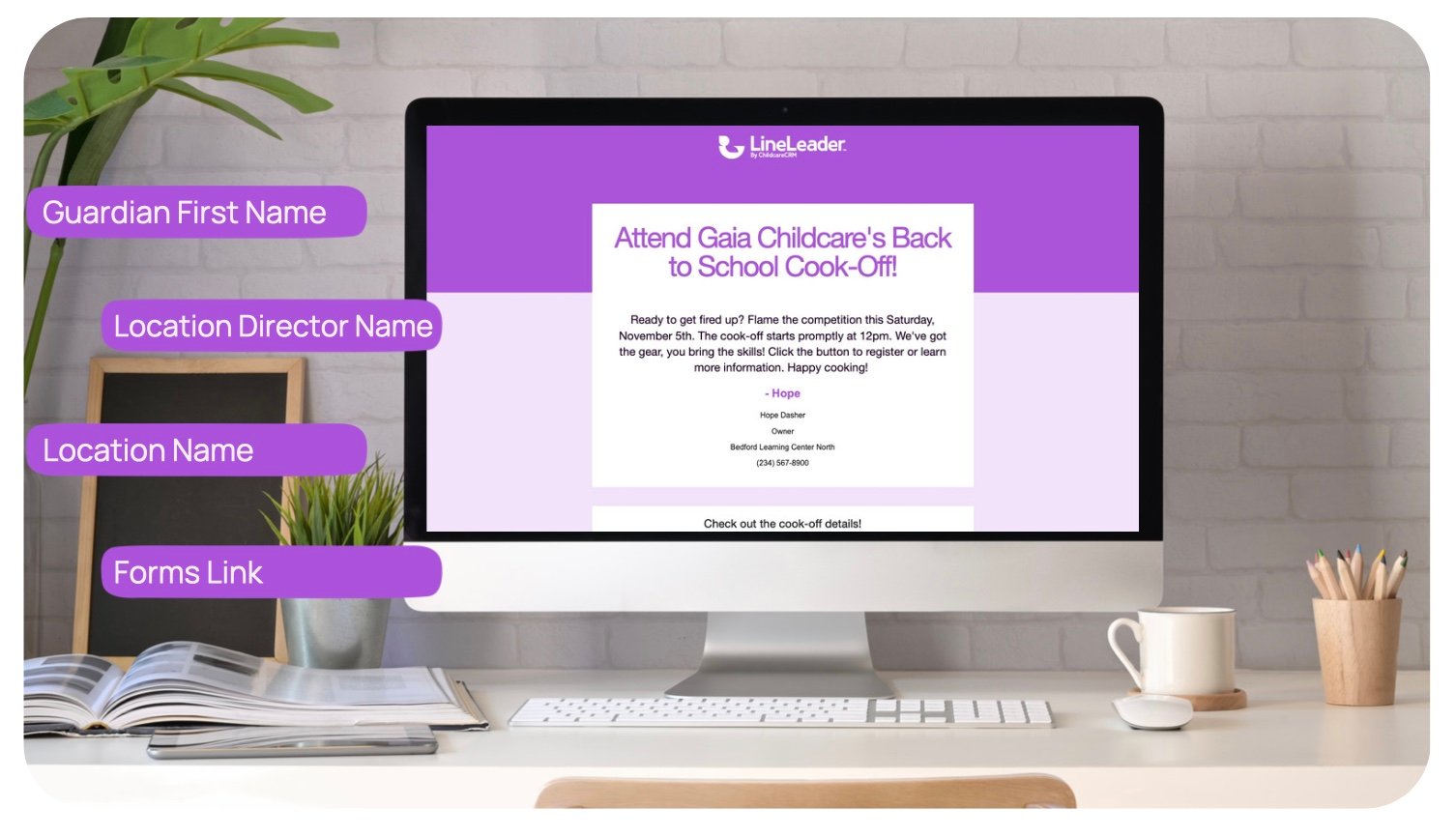 Personalized merge variables
Tip #3: Implement UTM Campaigns
Beyond using merge variables to personalize your messages, you can attach a UTM tracking linking to your paid ads. That way, you can use the targeting information to create content that you know parents want to see. UTM tracking links will tell you exactly which ads and channels are getting to your center in front of interested families.
UTM campaigns will help you identify which families are seeing which content and inform you of what topics or messages are resonating with each individual family. Like email and text drips, UTM campaigns allow you to create highly target marketing communications. Once you know which content and messages families enjoy seeing the most – you can start to create more!
Tip #4: Equip Families and Staff with an Engagement App
Rather than asking educators to send paper-based report cards or notes home in students' backpacks, offer teachers and families a way to communicate in real-time with a dedicated parent communication app, personalized to their child's development.
From nap time and sleep checks, to tracking health issues or incidents, LineLeader's Engage module allows staff to record 'Moments' that help teachers keep track of vital information and enables guardians to stay connected to their child's day.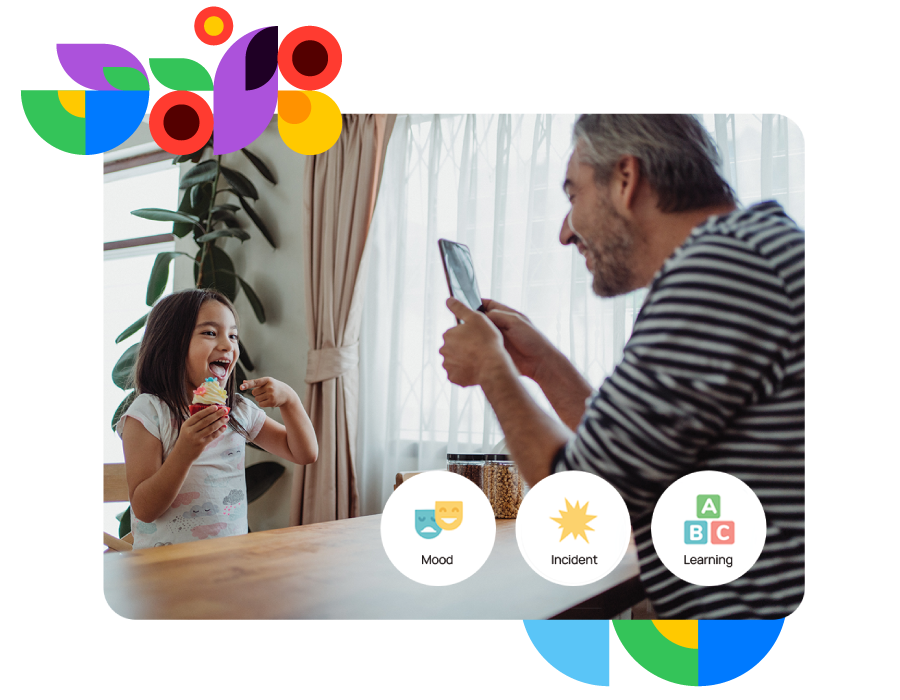 Here are just some of the Moments to choose from:
Comment Moment: Share a quick note with parents or post a photo into a child's timeline.
Food Moment: Log when a child ate lunch or snacks, or had a bottle feed, and how much was consumed (you can also connect your menus to Food Moments).
Health Check Moment: Perform a health check when a child arrives at the center, screen for symptoms of colds, flu, or COVID-19, and keep track of symptom timings.
Learning Moment: Record when a child takes part in activities correlating to the lesson plan, share photos and track how they engaged with other children.
Supplies Moment: Notify parents when their child needs to bring extra supplies to class, or make parents aware their child is low on certain supplies.
Note: There are many more Moments to choose from, including Portfolio, Ouch, Incident, Illness, Behavior, Potty, Sleep, Medical, Safety and Mood Moments.
Moments are a great way to boost employee and family communication — but they also allow center directors to see what's working well (or not so well) across every center, with a report function on every Moment.
---
Invest In a Childcare Experience Platform to Save Time with Automated Personalization
LineLeader by ChildcareCRM is your one-stop-shop for building a personalized enrollment experience. Save staff time with automated merge variable tags that allow you to build strong, meaningful relationships with families from their initial inquiry and beyond.
Not a User Yet?
Schedule a demo to see LineLeader in action.

Already a User or Simply Want to Learn More?
Download the benchmark report to expertly grow and manage your childcare business.