Did you know response time is the single largest driver of lead conversion? 📲
But despite that fact, lead follow-up often falls to the bottom of the to-do list for busy childcare teams.
That's understandable considering that every day, staff members hop in and out of six or more systems playing phone tag with families, manually sending out text messages, and navigating incoming emails — and they have to do it all between snack time, storytime, and nap time.
With systems this time-consuming, it's no wonder 90% of childcare centers don't respond to leads right away.
Don't let families walk out the door before they've even set foot inside your center. 🚪
---
Today's prospective families are looking for more.
As a childcare provider, it's easy to become overwhelmed by the daily tasks of running a center, from managing staff to coordinating activities for children. However, one of the most critical tasks that often falls by the wayside is responding to inquiries from prospective families.
Unfortunately, this can have a significant impact on your business, as families are often left feeling ignored and ultimately seek out other childcare options.
It's important to understand that response time is the single largest driver of lead conversion. In other words, the faster you respond to an inquiry, the more likely it is that a family will choose your center over another.
Despite this fact, many childcare providers struggle to respond to leads in a timely manner. This is often due to the sheer volume of inquiries they receive each day, coupled with the need to manually follow up with families across multiple channels.
The end result is that families are left feeling ignored, frustrated, and ultimately turn to other options.
This can have a significant impact on your business, as you lose out on potential revenue and new enrollments.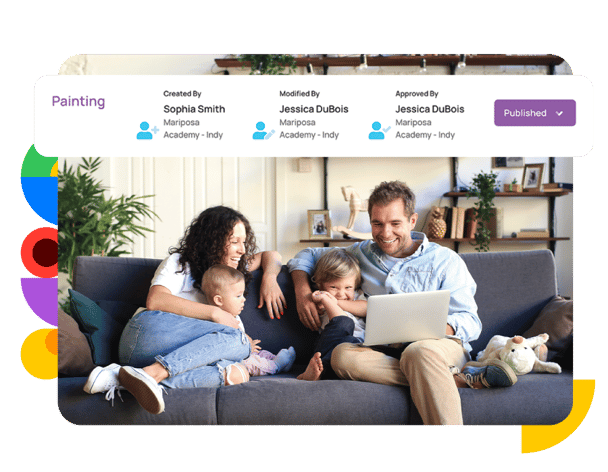 Child development activities
So,

what's

the solution?
The answer lies in using a digitized enrollment process that automates key aspects of family engagement and center management. With the right childcare experience platform, converting leads is seamless:
Self-serve features like

tour scheduling

allow families to choose the times that work for them straight from your website or social media pages.
Once an inquiry is sent or a tour is scheduled, you can instantly send an

automated follow-up

via email or text message to let them know they're all set.

After the tour,

automatic personalized reminders

help you keep in touch with families until they're ready to enroll.

When that moment arrives, your platform will automatically send out your

digital enrollment forms

for families to complete and submit.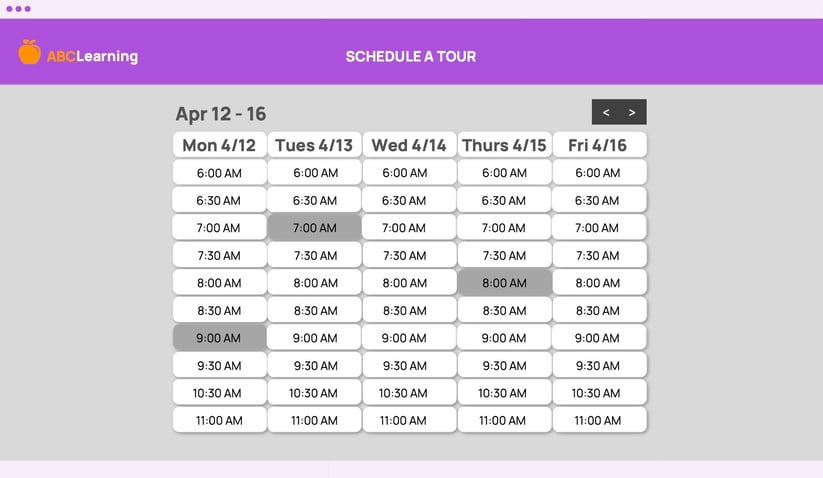 Digital tools help you boost family satisfaction and retention.
Digital tools can also help you deliver a responsive experience no matter where your leads are coming from. For example, nearly 30% of top-converting centers integrate their childcare solution with Facebook to follow up with inquiries faster.
Additionally, 68% have call recording enabled to capture phone leads. By centralizing all your communications in one place, you can ensure that families receive personalized attention without staff members having to lift a finger.
By implementing a fully digitized enrollment system, you can automate your entire lead capture process.
This not only helps you respond to inquiries faster but also frees up staff time to focus on other critical tasks.
As a result, you can count yourself among the small number of top-performing centers using digital tools to give childcare customers the attention they deserve and achieve a 91% conversion rate along the way.
---
Give families every reason to choose your center.
Ultimately, the key to unlocking the doors to better family engagement is to leverage digital tools that automate and streamline key aspects of the enrollment process.
By doing so, you can ensure that families receive the attention they deserve and stay engaged throughout their decision-making journey.
So, don't leave families hanging. LineLeader has you covered.
Invest in a digitized enrollment process today and see the impact it can have on your business.
Not a User Yet?
Schedule a demo to see the first and only true all-in-one platform for childcare – in action.

Already a User or Simply Want to Learn More?
Check out the guide to get the ultimate tips on how to digitize your center – from a parent's first inquiry until their child ages out of your care.