The most important follow-up happens after the tour, right? Wrong. ❌
The most crucial follow-up for potential families starts with the initial inquiry. In fact, the childcare center that follows up first has an 80% higher chance of getting that enrollment.
From new inquiries to tours scheduled, improve how quickly you follow up with your newest families. Communicate fast from the get-go to unlock higher conversion rates and increase revenue.
Read more to learn how focusing on top-of-the-funnel inquiries will ultimately enhance your enrollment rates. ✅
Funneling Success: Why Focusing on the Top is Key
Most childcare organizations are already tracking their enrollment conversion rate on tours completed. But what about your New Lead to Engaged and Engaged to Tour Completed rates?
Here's why it matters.
Most centers only focus on enrolling the tours that have happened in the past week.
They're likely not following up on web inquiries or phone calls. The problem with this approach is that it allows many promising opportunities to fall through the cracks. Many organizations don't realize how many new families are won or lost at the top of their enrollment funnel.
Plus, your prospective families want to build a relationship as soon as possible. So, you need that initial effort to stand out. But lead management doesn't have to be tricky.
Tip – Never miss another lead from phone calls. Seamlessly capture leads from voicemails and record outbound calls with Telephony. Simply send text messages from a designated number and easily review phone recordings to coach staff.
Schedule a demo to get started organizing your childcare leads with Telephony – today.
Family sitting together
Try, Try Again: The Surprising Power of One More Attempt
Typically, parents searching for childcare are working the same hours as you.
Meaning, most parents won't answer calls right away because of their busy work schedules. Because of this, 43% of childcare centers give up after one attempt to contact families.
But instead of moving on to the next family, try being more strategic about when you call. For example, try calling outside of the normal 9am-4pm on weekdays, as they may be on work calls or in meetings.
Some Directors may genuinely worry that following up too many times will drive the family away. However, it's proven that making at least 7 attempts to reach out (including calls, text messages, and emails) over a period of 60 days.
In fact, there's an age-old marketing guideline called 'The Rule of 7'. The Rule of 7 tells us that a prospective family needs to hear, see, or read about your childcare program an average of seven times to become most likely to enroll their child for care. Use this principle to increase childcare and daycare enrollment with improved marketing communications.
Engaging a family seven times increases your likelihood of winning the enrollment by 20%.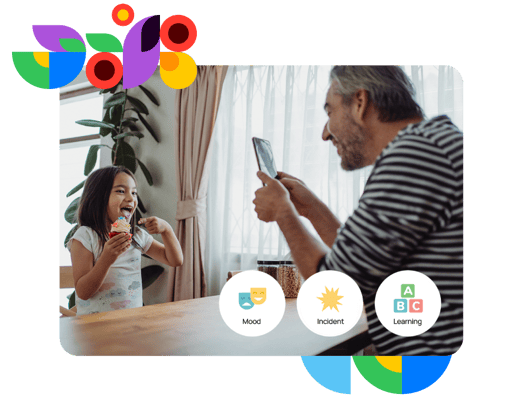 Family engaging through memorable moments
Never lose another new lead.
Parents are busy (and so are you), but they do want to talk to you. Every follow-up response or call gives your childcare business a competitive advantage. Drive home a positive first impression. Respond quickly and don't give up after the first attempt. Give families a reason to visualize their future relationship together.
They are counting on you to nurture and guide them once enrolled. If a potential parent asks you to stop reaching out, respect that.
Nevertheless, do whatever you can to understand why and how you could have improved your processes. The information can only help improve you and your team.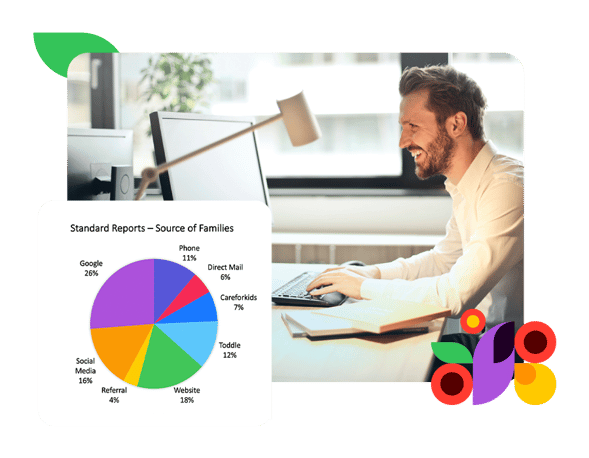 Source of families report - see where leads are coming from
---
LineLeader by ChildcareCRM does the hard work for you.
Did you know that following up with leads at least 7 times can significantly increase your chances of converting them into paying customers?
With LineLeader by ChildcareCRM, this process is made easier than ever before. LineLeader combines customer relationship management (CRM) software, parent engagement app, and childcare management software (CMS) in one convenient solution.
By simplifying the parent and staff experience, childcare centers can eliminate the need for multiple disjointed products and streamline their enrollment process.
With features like lead capture, marketing automation, attendance and billing management, and performance reporting, LineLeader helps childcare businesses capture more leads and convert them into satisfied customers.
Not a User Yet?
Schedule a demo today and join the thousands of childcare centers worldwide that have already simplified their operations and improved their bottom line with LineLeader.
Additional Resources