Exciting changes are on the horizon.
We're elated to reveal the rebranding of ChildcareCRM and the launch of our newest platform – LineLeader. With industry-leading technology, LineLeader provides all the tools childcare businesses need to succeed – in one solution. It's the 1st and only platform that delivers full-fledged customer relationship management (CRM) software, parent engagement, app, and childcare management software (CMS) - unifying your technology.
Long gone are the days of clicking back and forth between screens, toggling multiple browsers, and wasting valuable time on fragmented products. Ditch the extra costs and complexity of multiple subscriptions with our new, state-of-the-art LineLeader platform.
LineLeader

: Driving Change, Empowering Childcare
For 12 exciting years, we've served as a growth engine, supporting the childcare industry with intuitive technology. Going forward – we're continuing to uphold that mission. Now, we're in a better position to achieve that goal.
ChildcareCRM and MomentPath – award-winning childcare management software – unify to build a bigger, better platform to easily enroll families, manage everything from one place, and engage parents to guide them through enrollment. Don't be fooled by other systems that call themselves an 'all in one'. Get true freedom from manual, tedious administrative work with a truly unified Childcare Experience Platform so you can:
Ditch the multiple subscriptions.

Manage your entire business with one login.

See all your family, staff, and financial data in one place.

Utilize one dedicated customer success and support team.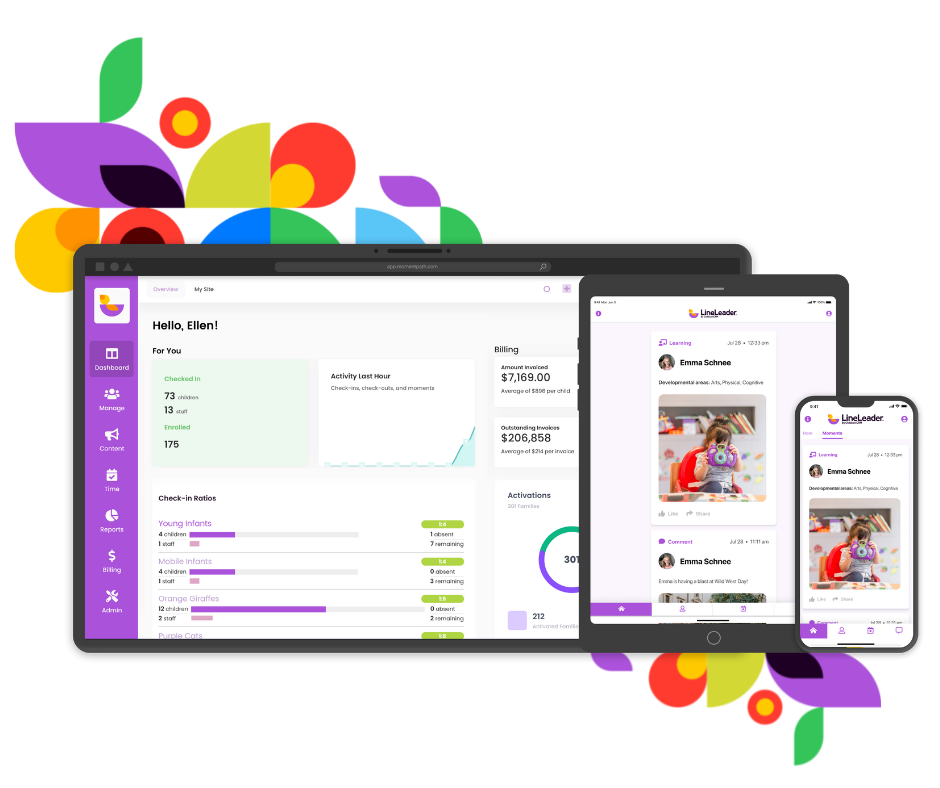 LineLeader by ChildcareCRM shown on desktop, tablet, and mobile devices
The Perfect Unification
ChildcareCRM and MomentPath have merged beautifully, due to our aligned core values. Our joint mission to improve communication between staff, educators, and families helps streamline the enrollment journey. Every moment matters, especially when you want to proactively build relationships before families enroll. The unification of ChildcareCRM and MomentPath has transpired into LineLeader – making it easy for childcare businesses to guide families through the entire enrollment process from start to finish. LineLeader is your key to enhancing and refining your parent enrollment journey. With the LineLeader platform, childcare centers can now:
Enroll more families

. Grow enrollment by capturing and converting more leads, automating lead follow-up, tour scheduling, registration, and reporting. Get up to 3x more completed registrations with online forms versus paper forms.

Engage parents and guardians. Save time by automating daily reports to share events with families in real-time. Automatically share developmental milestones and memorable moments with parents. Easily communicate with parents via our parent engagement app and portal.
Simplify center management. Digitize check-in by replacing paper check-in sheets with digital check-in for students and staff. Bill and invoice online including recurring payments. Quickly report on attendance, payroll, and more.
---
Lead Your Team to a Brighter Tomorrow with LineLeader
LineLeader is the first and only platform to deliver full-featured customer relationship management (CRM) software, parent engagement app, and childcare management software (CMS)—together in one solution. LineLeader helps childcare businesses simplify their parent and staff experience so they can succeed in a competitive market. Now childcare centers can eliminate the multiple disjoint products they use to grow enrollment, engage parents, and manage their center. LineLeader serves more than 5,500 childcare centers worldwide.
For more information visit www.golineleader.com or connect with us on Facebook.
Not a User Yet?
Schedule a demo to accomplish more, with less work.

Already a User?
To learn more about industry-leading technology, visit www.golineleader.com.