63% of today's parents prefer to communicate with businesses through text messaging.
They see text messaging as less invasive and more personal than other forms of communication. Today's parents want convenience, speed, and a personalized enrollment experience. But meeting these expectations takes the right kind of communication. You need a way to easily create campaigns and send texts to engage parents and promote your centers.
Continue reading to see how you can get started building text campaigns - the right way.
---
What Is Text Marketing?
Text message marketing is a cost-friendly way to advertise exciting news, deals, and promotions for your business by sending texts to the mobile devices of your customers and prospects. Sometimes called SMS marketing, it's a more personal method of building brand awareness.
In childcare, text marketing can help you promote center events, open seats, programs, and enrollment offers. Typically, customers must 'opt-in' or subscribe to start receiving messages so make sure to advertise your subscription options on your website.
Text messages have open rates as high as 98%, and on average it only takes 90 seconds for someone to respond to a text.
Schedule a demo to start filling your enrollment funnel by using automated text messages.
How to Get Started with Text Marketing
You're already targeting inquiring parents with your email campaigns, but texting allows you to segment a little deeper and meet parents where they're at – on their phones. In fact, 21% of Millennials' Day is spent on their mobile phone.
With texting, you can develop meaningful connections and gain high-quality family leads earlier in the journey to enrollment – leading to greater conversion and retention rates.
Keep in mind, texts are easy to send and almost always read by your audience. But they should flow with the tone and messaging of your other marketing communications. Text marketing can help you reach a larger parent audience, faster.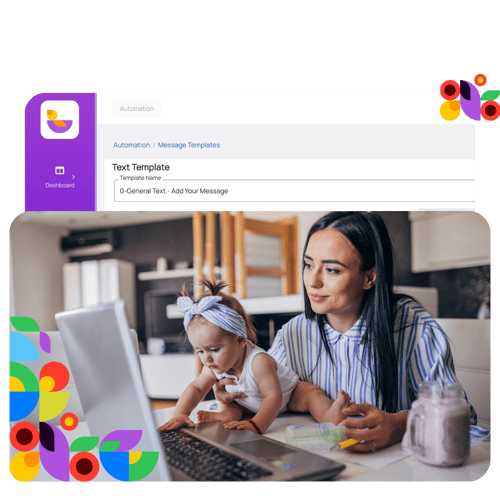 Childcare center; automated texting template
Here's how you can get started.
1) Pick an easy-to-use texting platform.
The best tools offer two-way communication features so you can text back and forth with prospective families. With a full-service Childcare Experience Platform, you can build drip campaigns that will allow you to text with families based on their level of engagement and interest, ensuring you always stay top of mind without being overbearing. Plus, you can segment your family leads into lists (based on start dates, which locations or programs they're interested in, etc.) and easily review campaign results.
Craft Concise Texts
Sample Text 1: Lengthy

Hi Samantha, we greatly appreciate your interest in Gaia Childcare. With our digital registration forms, you'll be provided with:

Standard enrollment packet including forms for child information, parent/guardian information, emergency contacts, consent and agreements, medical information, amid state forms
Forms that are available in 6 languages: English, Spanish, French, German, Japanese, or Chinese

...and more. Here's the link to your digital registration forms: https://registeronlineforGaiaChildcare.io/s/42. We'll be sending your reminders and status updates to guide you through the process. Please respond with your favorite emoji to let us know you completed your enrollment forms.
Sample Text 2: Concise

Hi Samantha, thank you for your inquiry! Here's the link to schedule a tour with Gaia Childcare at your convenience: https://ParentScheduledToursLink.io/s/41. Please respond with your favorite emoji to let us know you've scheduled the tour.

Text message example for childcare tour
2) Choose a designated phone number.
With the right childcare solution, you can get a unique phone number that allows you to send and receive text messages in one place, ensuring no family's message falls through the cracks. Text marketing ensures your text messages look professional.
3) Follow text message laws and regulations.
It's helpful to be aware of text message laws. The TCPA (Telephone Consumer Protection Act) protects individuals from unsolicited text messages and phone calls. Additionally, the CTIA (Cellular Telecommunications Industry Association) works to reinforce the TCPA laws, safeguard people from texts they don't want, and ensure marketers establish a top-notch experience. The most vital legislation that matters is this:
You must receive express written consent from people before sending them promotional messages, including advertising your childcare business.
What is express written consent?
Express written consent is permission to receive promotional messages about your business. It's given by the customer, or your parents, with clear telemarketing authorization. You should also allow parents to opt-out of messages at any time. To take the hassle out of legal concerns - consider automated text marketing.
Let your prospective families opt-in to accept messages from your center.
Families can text a keyword such as "Yes" or "I'm in" to consent to receiving messages. In some cases, more formal consent (professional consent) is needed – such as a check box via a website form, written documentation, and others. If you choose the right text solution, the software should help to handle the legal requirements on your behalf.
*Double Opt-in – Typically, a single opt-in is legally required. Specific enrollment campaigns may make parents reply with a second confirmation message. However, your GDPR and opt-in requirements will vary by state. Check out these data compliance laws to know exactly what type of data consent you need from parents, depending on your location.
Want to know more about childcare marketing? LineLeader by ChildcareCRM provides a range of marketing resources and built-in features to automate all campaigns, so you can attract new families to your center with ease. For more information, discover proven text marketing best practices.
---
Take the Stress Out of Text Message Marketing
It's beneficial to find a vendor that handles your text marketing for you. From automating beautiful text campaigns to handling the legal parameters of consent – search for a solution that can do it all. For instance, ChildcareCRM lets you effortlessly create personalized text messages that attract and engage families, while taking care of opt-in and data compliance laws.
Unwind and relax with stunning text marketing campaigns that nurture families through your enrollment journey.
Not a User Yet?
Schedule a demo to see LineLeader in action.

Already a User or Simply Want to Learn More?
Download the benchmark report to expertly grow and manage your childcare business.