Do you wish there was a way to create an easier work experience? ☁️
You're stuck with half-manual admin work and staff are expected to juggle six different hats, logins, and passwords every day.
Look no further than the power of an all-in-one platform!
By streamlining processes and reducing manual work for your staff, you can create a workplace that values efficiency. Empower your team to focus on what truly matters: delivering top-notch results for your business.
Join us as we explore how an all-in-one platform can help you build an exceptional childcare experience for everyone, one click at a time. 🖱️
Childcare staff

are

ready to embrace software for a stress-free day. Are you?
While we can't always change the systemic issues affecting our staff, we can create a better work experience for the dedicated team members who support our business each and every day.
But not all childcare management tools offer a modern and unified staff experience.
Here are the core benefits and features to look for in order to select a childcare experience platform your staff will actually appreciate.
Download the guide. Because an exceptional experience is just a click away. 👩‍💻
4 must-have features to look for in your childcare management system.
1) Integrated messaging
You lead a team of educators, not tech support.
With a classroom of children under the age of six, teachers don't have time to sift through emails, texts, and voicemails — they need to reach families as quickly and easily as possible.
The best childcare management system should have a secure messaging center in the same app where parents and caregivers already interact with your center. Your team members can finally drop the Q&A juggling act and provide an engaged and responsive experience for families.
LineLeader's Manage module allows staff members to view texts, emails, and messages in the same place where they track attendance, manage check-in and check-out, and view daily schedules.
2) Automated billing and invoicing
For today's parents, checkbooks are a relic of the past.
A great childcare experience platform meets families where they are and enables them to pay through one app, while also automating the billing and tuition processing for your staff. Team members can easily see where you have outstanding payments. Plus, automate past-due tuition emails to avoid awkward conversations and help maintain a healthy cash flow.
A platform that offers flexibility in how you bill is also key. For example, the ability to charge specific families or entire groups for special events like field trips should be simple and easy, requiring no additional emailing or paperwork for staff.
Handling subsidies should also be a breeze. Give your staff a platform that helps them easily connect various types of subsidies to a child's profile whenever you receive a remittance form.
LineLeader's Manage module does all of the above and more. With no re-login required for parents with outstanding invoices and no manual entry or awkward email reminders for team members - reclaim your time and energy.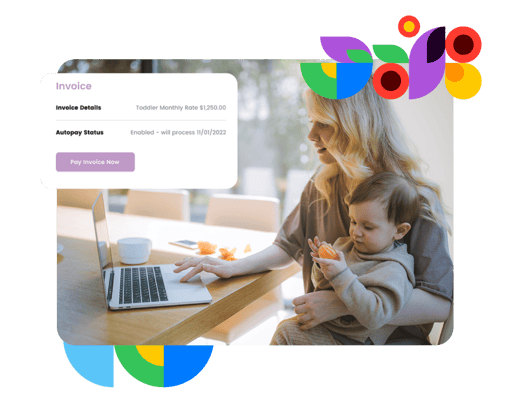 Automated payments
3) Digital check-in and check-out
The start of the day sets the tone for students and staff members — so why not make it seamless? Digitized check-in and check-out help keep daily transitions smooth.
With a simple tap, families can let your teachers and staff know when a student is arriving, while automatically updating your attendance tracking and classroom ratios. For center directors, you'll have real-time access to the exact number of students and staff members that are checked into your center(s) at any given moment.
If classrooms aren't in ratio, you'll know immediately if you need to call in support. When a student comes or goes throughout the day, ratios are automatically updated — saving staff countless hours on paper-based check-in and check-outs.
With the right childcare experience platform, key transitions are instantly easier, safer and less of a bottleneck for team members.
4) Real-time reporting
Chances are, you didn't enter the world of early learning because you love looking at numbers.
Real-time reporting protects you and your team from bad data due to cluttered spreadsheets and manual data entry.
With unified data and one-click reporting, your team members can find any information on any family with a simple search — no logging in and out of different systems.
Get all of these capabilities and more:
Of course, reports on family engagement and center performance are also critical.
With LineLeader's Manage module, each child's profile shows an engagement score based on interactions between your team members and families. You'll have a valuable measure of the childcare experience staff members are providing, all while keeping your finger on the pulse of revenue and enrollment.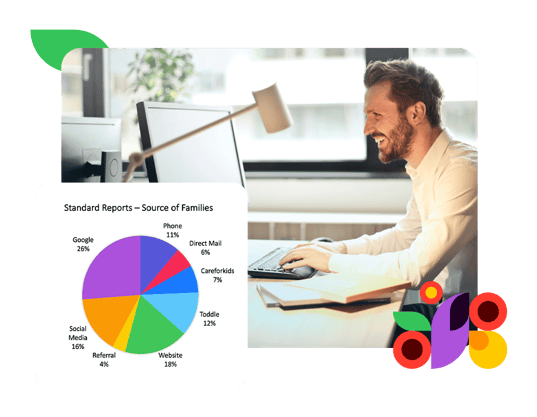 LineLeader: Source of Families Report
LineLeader

Manage: A seamless experience for teachers, staff, and families
The right childcare experience platform helps keep operational demands from interfering with the important work your team members do every day to elevate your business.
Because an exceptional staff experience can't happen on outdated software and processes.
LineLeader is the first and only unified childcare experience platform that delivers full-featured customer relationship management (CRM) software, a family engagement app, and childcare management software (CMS) — together in one solution.
Because the future of childcare is about people, not tech. A unified childcare experience streamlines operations, improves profitability, and helps boost the extraordinary education you're already providing.
Why not make everyone's life easier?
Get a free demo to master your to-do list. 📑✔️
Already a user or simply want to learn more?
Download the guide. Because a better childcare experience is just a click away. 💻