Do you want to make the family experience the heart of your business? 💗
If so, then you need to consider utilizing one unified platform for everything you need. By doing so, you'll not only streamline your operations but also make the lives of your staff and families easier.
So, let's dive in and discover how the right childcare experience tool can revolutionize your center's operations.
---
Set it and forget it: Essential features to help you run your childcare business (practically) hands-free.
From the moment a student starts at a new center to the moment they re-enroll for the following year, utilizing one unified platform puts the family experience at the heart of your business.
With the right childcare experience tool, your staff and families have one login for everything they need. Families will be able to access daily reports digitally, check in and check out their children from care, and easily communicate with educators. But not all platforms offer a modern and unified user experience.
Schedule a demo to see an all-in-one platform in action.
Here are the core features, functions, and capabilities to look for to deliver an exceptional family experience from day one.
1) Integrated Emails and Texts
What's better than searching through email chains and old text messages for information?
Just about anything. The right childcare experience product eliminates clunky communication methods with integrated email and text. With a secure messaging center in the same app where parents already interact with your center every day, you'll have no problem keeping families and team members on the same page.
For a truly seamless process, look for a product where communication is built in automatically from the first day a family inquires about your center.
For example, LineLeader's Enroll module guides families with automated follow-up communications from the moment they reach out. From there, LineLeader's Engage module provides multiple forms of outreach and unlimited messaging — including those treasured photos and videos — from the same dedicated parent app your families already know and love.
Goodbye tedious email chains, hello intuitive messaging! 👋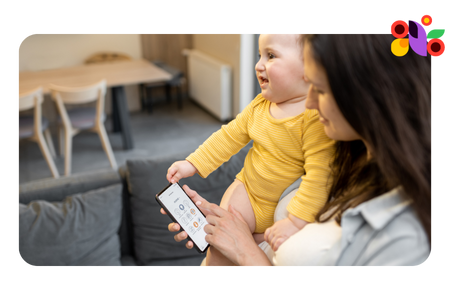 Mom texting
2) User-friendly app for parents and families
Today's families expect a seamless user experience from their technology — which is why the right parent app can go a long way in differentiating your childcare brand.
Look for a parent app that is fully integrated with your CRM and childcare management system as well as fully optimized for Android and iOS.
When it comes to user experience, a family app with a clean layout is a must for ease of use (and reducing questions for your staff).
Remember, you're leading a team of educators — not tech support. Families should be able to instantly understand how to communicate with your center, where to access the updates they need, and how to view important information about their child's day without having to run all their queries through your staff.
3) No-stress billing
Millennial and Gen Z parents use Venmo, Zelle, and other cash apps on the daily. For them, checkbooks are a thing of the past.
The billing at your ECE center should meet families where they're at. Look for a childcare experience platform that enables guardians to pay through the same app where they receive all the other announcements and updates from your center.
With LineLeader's Engage module, there's just one invoice, one billing cycle, and one place for payments. No re-authentication or re-login is required to take care of simple financial matters. Families can manage their payment methods, and invoices, and even set up autopay all in one seamless system.
4) Connect with families in real-time
When children are dropped off at your center, it doesn't mean it's time to disconnect. In fact, this is a prime opportunity to engage working families.
To do it right, use a childcare experience platform that enables your staff to update parents easily and securely by sharing videos and photos featuring key moments throughout the day. From nap time and sleep checks to tracking health issues and developmental updates, the right app helps parents stay connected to their child's experience at your center.
In LineLeader's Engage module, Moments help families and team members keep a united front in caring for young children.
Structured like a social media feed, parents can easily engage with each update and even share Moments natively via their own email, text, or WhatsApp so that grandma and grandpa can share in the moment too.
Here are just some of the Moments to choose from:
Comment Moment:

Share a quick note with parents or post a photo to a child's timeline.
Food Moment:

Log when a child last ate, including how much was consumed (you can even connect your menus!).

Health Check Moment:

Perform a health check when a child arrives at the center. Screen for symptoms of colds, flu, or COVID-19, and keep track of symptom timings.

Activity Moment:

Record when a child takes part in key activities, share photos and track how they engaged with other children.

Supplies Moment:

Notify parents when their child needs to bring extra supplies or give them a heads up when their child is low on certain supplies.
In LineLeader's Engage module, there's a Moment to cover every common childcare scenario, including Learning, Ouch, Incident, Illness, Behavior, Potty, Sleep, Medical, Safety, and Mood Moments.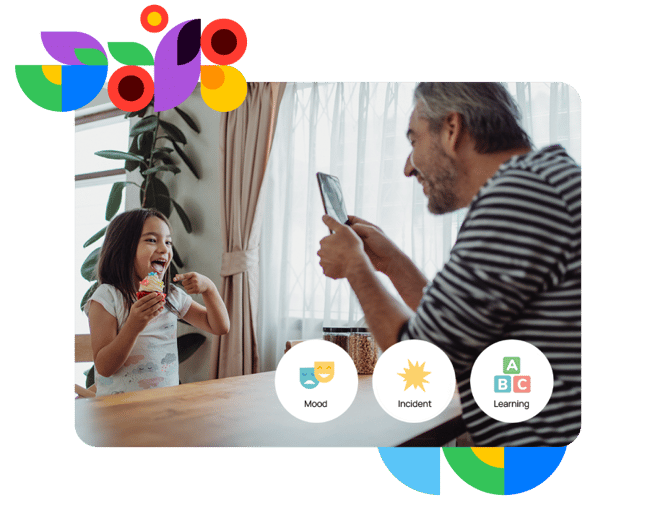 5) Easy-to-use announcements center
No one likes crowding around a bulletin board or downloading clunky attachments.
With a centralized Announcements Center, you can instantly share important information with the click of a button. Your announcements can be sent to everyone in your center, or segmented into specific groups.
Utilize this feature to keep families (and staff) informed on important updates, such as:
Your school is closed —

Happy Veterans Day!

It's picture day —

Don't forget to brush your teeth!

You have a staff meeting —

Arrive at 7:30 am for our staff meeting (bagels included!)
When you post an announcement using LineLeader's Engage module, it will automatically appear in the 'Now' feed of a user's Activity area, making it feel comfortable and familiar for your families to view and access.
6) Informed arrival with express drive-up
For busy families, few things are more stressful than late mornings.
With family experience features like Express Drive-Up, childcare providers can reduce the chaos and keep families focused on setting students up for a fantastic day. With a touch of the app, families can instantly let centers know they're on the move with an estimated time of arrival.
For example, a parent can send a quick message to let the team know that "Skylar is on the way to school, arriving at 8:05 am."
Transitions are crucial for a great day of learning. With Express Drive-Up, your childcare staff is empowered to:
See who is on their way to school that day
Identify how many students will be arriving at the same time

Modify plans, schedules, or meals as needed

Easily check in students on the app to smoothly begin the day

Greet stressed-out parents with a smile
Whether they're on time, late, or absent, communicating with your center has never been easier for enrolled families.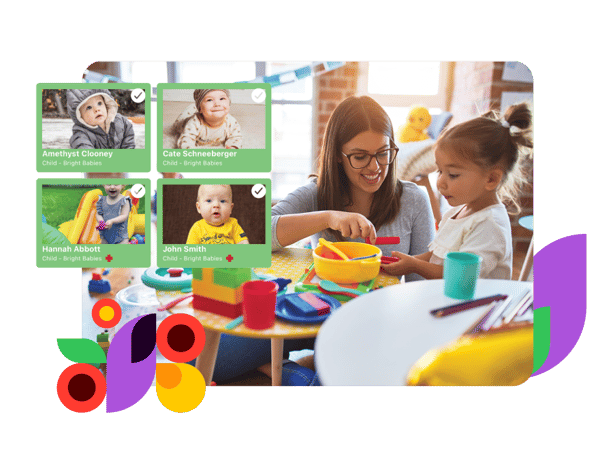 Name-to-face check
---
LineLeader

Engage: One platform. One login. One seamless family experience.
A stellar family experience can't happen on outdated software.
LineLeader is the first and only unified platform that delivers full-featured customer relationship management (CRM) software, a parent engagement app, and childcare management software (CMS) — together in one solution.
With unified data, staff members can find any information they need on any family in their community with a simple search and no switching between systems.
And with an intuitive and easy-to-use parent app, families can get a front-row seat to their child's development and build a stronger connection with childcare providers.
Because the future of childcare is about people, not tech.
With a streamlined system for family-center interaction, you can elevate your childcare business from one that prioritizes family engagement to one that delivers an unforgettable experience for everyone involved.
Already a User or Simply Want to Learn More?
Download the family engagement guide with a complete bundle of templates and tips to help you engage families, hands-free.
Not a User Yet?
Get a free demo to engage families faster – and easier.
Blog Recap