Do your teams work well together?
Whether you're an owner of two centers or a corporate leader managing hundreds of locations – keeping your teams in synch is crucial.
It's tough to achieve childcare success without a way to track team productivity and performance. Not to mention, lacking a clear route for your staff to voice ideas or collaborate creates confusion. Discover ways to assign tasks, monitor their progression, and increase internal communication.
Read this article to learn tips and tools for unifying your teams when they're working from different locations.
---
The Challenge of Managing Multi-Site Teams
Multi-site teams operate from various places. For example, a daycare owner may have two center directors – one for each location; or a VP of enrollment might oversee staff for one hundred locations.
Regardless, multi-site teams must strike a balance between functioning independently and collaborating from afar to achieve goals. If tasks aren't properly divided and communication between staff and management doesn't happen often – productivity decreases. The primary challenge of multi-site teams is ensuring everyone's on the same page.
Benefits of a Cohesive Childcare Team
"Coming together is a beginning. Keeping together is progress. Working together is success."
— Henry Ford
A unified childcare team makes it possible to:
Grow at scale.
Create a culture where your staff wants to contribute.
Provide an exceptional experience that delights families.
4 Ways to Unify Childcare Teams in Different Locations
1) Hire Exceptional Employees
Outstanding employees help create a culture of contribution. Ensure you hire team members with a passion for childcare and education. Keep track of potential new hires that stand out with a staff management solution. Ditch the spreadsheets and paper files with organized data for each of your new candidates. Regardless of location, maintain and access records of every exceptional individual throughout your hiring process.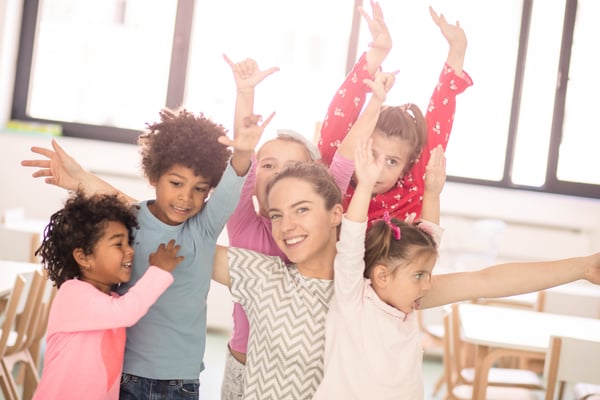 2) Don't Hover – Delegate and Monitor
After building your teams, it's important to assign tasks. Think of your enrollment goals as a train. Each task your staff completes lays down a train track, getting you closer to completing your overall objective. Having a way to delegate and monitor tasks at each center location keeps everyone in the loop. For example, a parent schedules a tour on your website. Pick your tour champion to follow up with the family to increase the likelihood that they show up.
Plus, with the right early education technology – you can easily track follow-up initiated, scheduled tasks, tours completed, and more for each center. Use real-time reporting and dashboards to ensure every team member is making strides towards accomplishing their duties.

Location dashboard with assigned tasks
3) Keep All Lines of Communication Open
When your teams are in different locations – it's essential to communicate frequently. You should keep expectations and objectives clear. Meet often, be open to feedback or ideas, and make sure your teams know who to ask when they have questions. Give individual praise when your staff sees success.
Further, give your teachers another way to contact parents. Let them engage parents throughout the day with pictures and videos of their children reaching developmental milestones or having a memorable moment.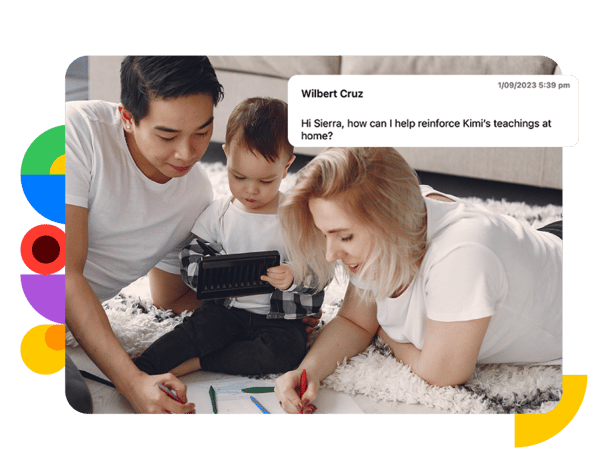 Example parent communications
4) Streamline Your Existing Processes with Consolidated Tools
Finally, boost collaboration and streamline existing enrollment processes with intuitive technology. You're likely already using Excel and a Childcare Management System (CMS) to record attendance and fill classroom slots.
---
Why not enhance your enrollment processes with a single solution that does it all?
Look no further. LineLeader by ChildcareCRM provides everything – from the lead management and marketing automation you need during pre-enrollment to improving communication with parents and classroom management post-enrollment. LineLeader is the first and only unified platform that delivers full-featured customer relationship management (CRM) software, a family engagement app, and childcare management software (CMS)—together in one solution.
Whether your employees are side-by-side or across the country – LineLeader offers a way for all childcare teams to connect and collaborate. Join the digital transformation of the education industry.
Not a User Yet?
Schedule a demo to see LineLeader in action.

Already a User or Simply Want to Learn More?
Download the benchmark report to expertly grow and manage your childcare business.