Do you need to streamline enrollment – but don't have a clue how to do it or what to ask?
ChildcareCRM has prepared a well-rounded list of questions to ask during your live CRM demo. Learn how to enhance your enrollment experience and get a high value return for your time with these eight questions.
Q: What Is a CRM?
A: CRM stands for customer relationship management. Essentially, it's childcare software that helps you grow your centers and build meaningful relationships with less work. With CRM software...
Capture and convert more families to registrations, waitlists, and enrollments.

Organize family information, inquiries, and communications in one place.

Automatically communicate with families throughout the entire journey to encourage them to enroll.
Q: How does

the CRM

capture

leads

from my website or social media?
A: The best childcare software will automatically capture family leads that come from your website with unlimited landing pages and web forms.
Landing pages are used for a specific marketing purpose (ex: scheduling tours) and web forms are placed on each page to easily collect family contact information. Once a parent submits a form on your website – your CRM should automatically populate the data to create an up-to-date lead record you can easily build follow-up for.
Capturing leads from social media works the same way. With CRM that has a Facebook integration, family information from Lead Ads automatically flows into your CRM inbox and you can respond to Facebook Messenger inquiries – all from a single screen. .
Q: What is marketing automation and how does it benefit my business?
A: Marketing automation manages marketing processes automatically—without the need for human action. The right marketing automation software can help your childcare business: get organized, boost enrollment, improve retention, build a strong brand image, and save a tremendous amount of time.
Plus, centrally manage marketing for each center location—saving childcare directors 10 hours of work each week.
Q: What marketing automation features does this CRM offer?
A: Your CRM should offer several solutions, depending on the size of your childcare business. For larger organizations, look for a childcare CRM that provides marketing automation features. Easily automate and simplify tasks like lead follow-up, tour scheduling, email drip campaigns, waitlist communications, enrollment paperwork, reminders, and more.
Q: How can this CRM help me generate predictable revenue?
A: View family lead sources, marketing campaign results, and staff productivity reports with CRM software to track trends, forecast predictable revenue for the next school year, and make data-driven decisions that boost enrollment.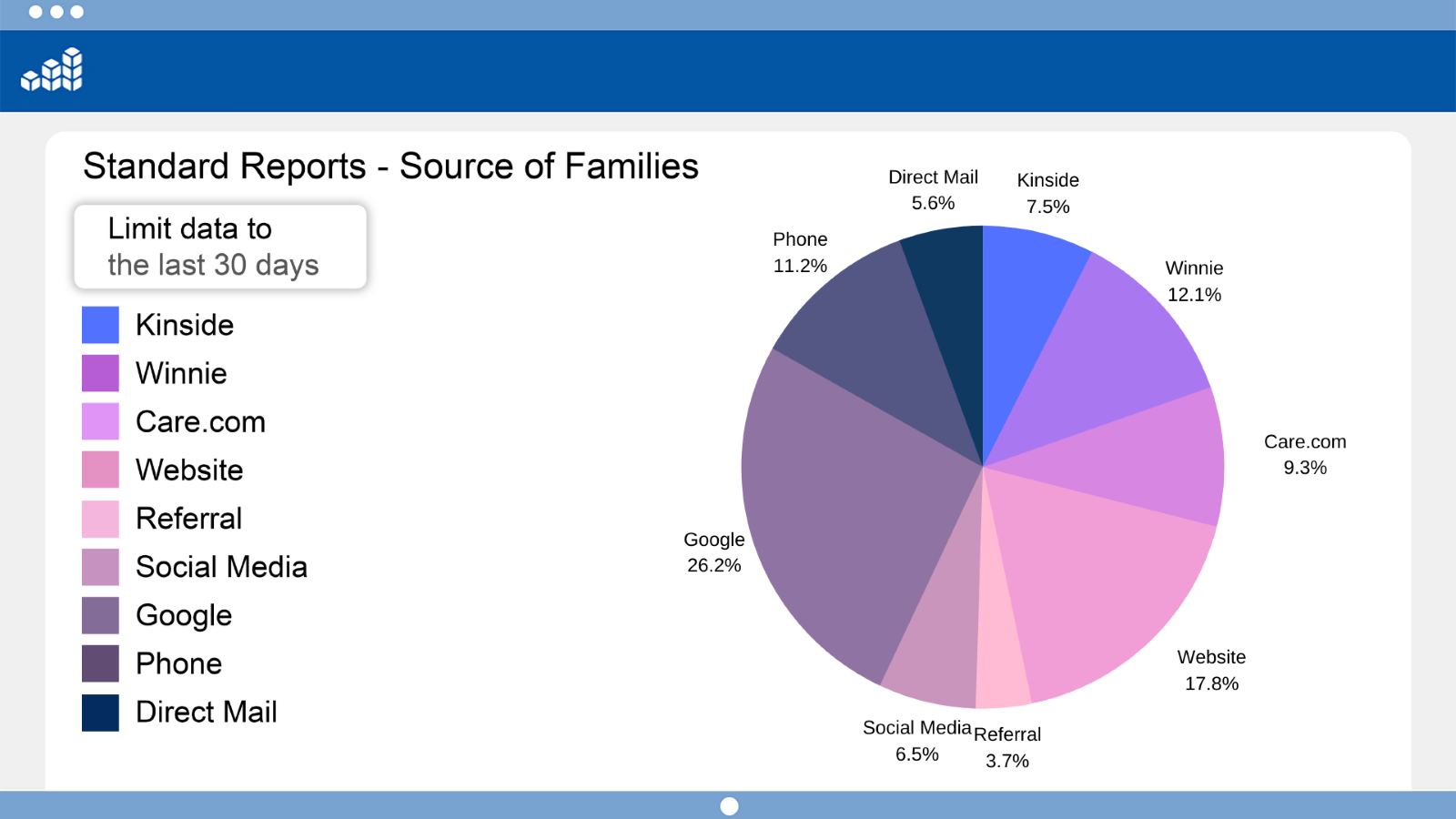 Source of Families report
Q: Will your CRM integrate with my management system?
A: Short answer – yes! Your CRM should integrate with management systems to: save time, transition seamlessly, and keep family information accurate.
CRM software talks to your CMS software. For example, a family record is automatically updated in your CMS when you update a family record in your CRM. Data from one system flows directly to the other saving time and reducing human error.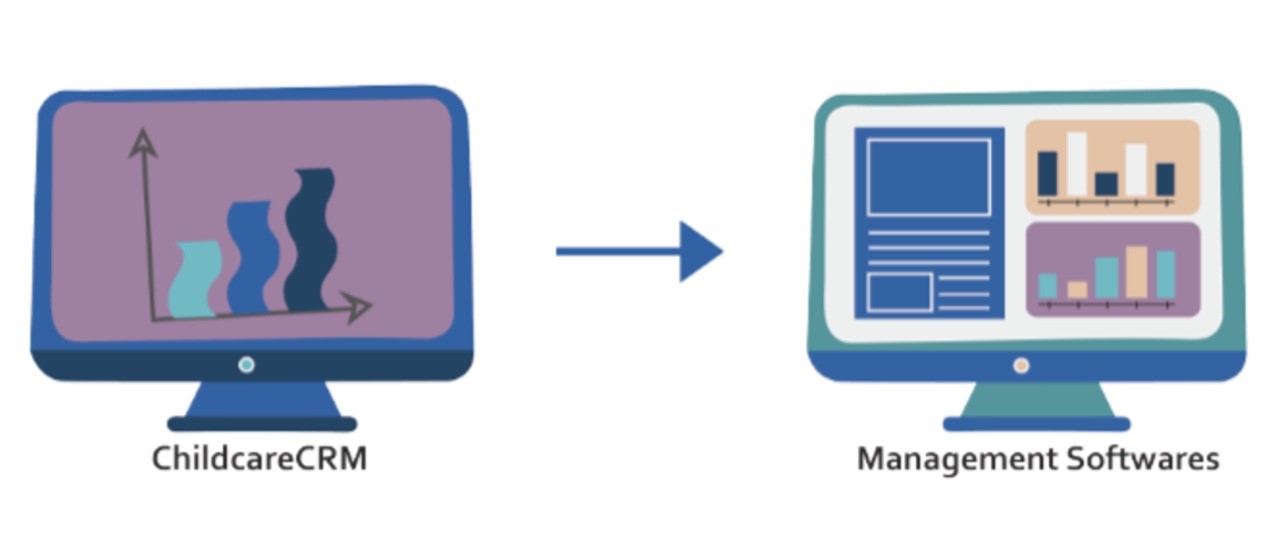 CRM and CMS integration
Q: Do you have experts to help me implement the CRM and train my staff?
A: Yes, your CRM should have Customer Support teams with years of childcare and software expertise to make the transition seamless. Your CRM demo will detail the implementation process.
Q: Where can I learn more about ChildcareCRM?
Ready to make the leap?
Schedule a demo today to see how ChildcareCRM effortlessly manages leads and automates marketing processes to boost enrollment and grow your childcare business practically hands-free.