80% of sales require 5 or more follow-up phone calls. How many times are your staff contacting families before they enroll?
These days, your busy center staff don't have time to follow up with every lead and nurture them until they register for care or join your waitlist. But don't let their busy to-do lists keep them from enrolling new leads and increasing revenue.
Use marketing automation to cut down on tedious and time-consuming enrollment tasks, allowing you to save staff time and ensure no lead slips through the cracks. Automate and improve the parent experience for all the families in your pipeline. With these tips, speed up your enrollment or waitlist process.
Tips & Tricks for Streamlining Your Waitlist Process
1)

Organize leads in a central hub
Did you know businesses spend roughly 8 hours every week managing paper?
Trying to manage family information, leads, and communications with spreadsheets, sticky notes, and paper wastes valuable time.
To avoid this, you need to store and access your family information in a centralized place. With improved organization, you'll communicate faster. Find a childcare solution that enables you to build a seamless enrollment journey across center locations, see all your essential family information at a glance, and efficiently manage and assign follow-up tasks and tours.
2) Automate capturing and responding to parent inquiries
A slow speed-to-response rate can reduce the number of families that tour or enroll with your centers and negatively impact your waitlist process. Parents need to know that you're attentive and that you care about their children. Top-performing childcare centers respond to new inquiries within 15 minutes or less, on average. Plus, you can effortlessly capture phone calls and voicemails from leads to gain more prospective families and acquire additional training resources for new staff - all with Telephony
Then, show you're invested in a family with quick, automated responses. That way, you'll gain a competitive advantage and won't lose a family to the center down the street.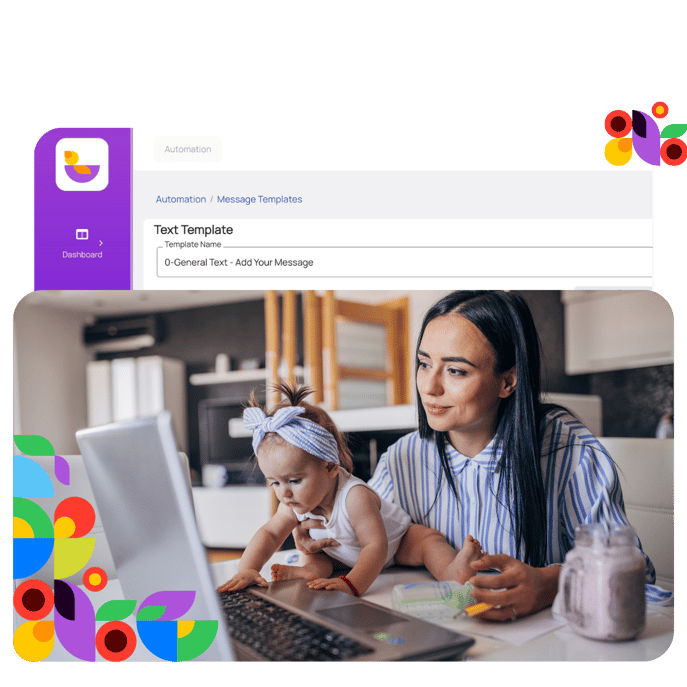 Automated text: LineLeader by ChildcareCRM
3) Let parents schedule their own tours
Scheduling tours is a challenge. Your staff spends countless hours on the phone with families each week, trying to find times that fit both their schedules. Meanwhile, parents book all their other appointments online. From nail salons, to doctor's offices, to the vet – today's modern parents want to schedule appointments at their own convenience, rather than wait for a call back to confirm their touring time.
The tour is the family's first impression of your center and your staff. Ensure it's a positive experience by making the entire process easy and accessible.
Simplify  the tour experience by including an online tour scheduler on your website. Parents can schedule their own tour and receive automated confirmation and reminders which increase the likelihood of parents showing up for the tour. Plus, parents can only choose from timeslots that you or your staff have selected, so you never have to worry about families showing up when a staff member isn't available.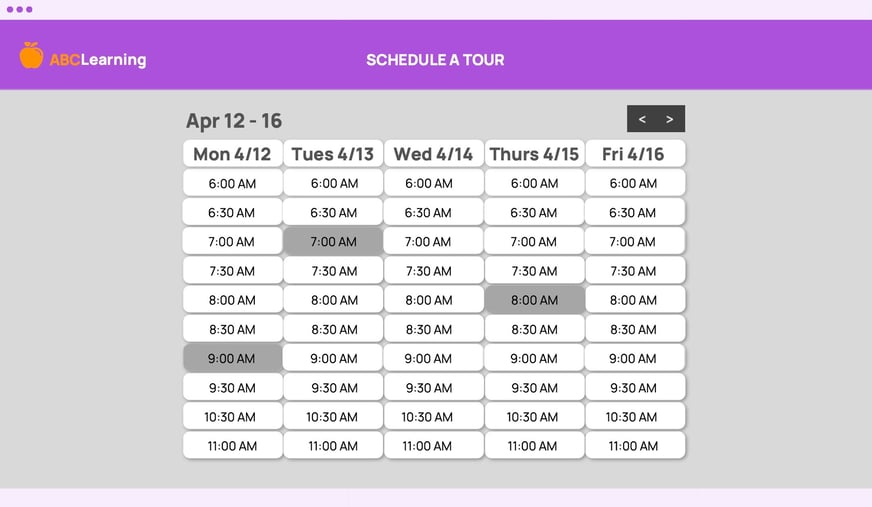 Digital Tour Scheduler: LineLeader
4)

Schedule follow-up text messages & emails to remain top of mind with your waitlist
Active families in your enrollment journey – especially waitlisted families – require a lot of lead nurturing and attention to ensure they don't inquire for care elsewhere. The waitlist process can be lengthy, so it's vital to find ways to keep families engaged.
Waitlist communications should be personalized to help establish that interpersonal connection. This means that they need to include the parent's name and/or child's name either at the beginning of the email or within the body text.
Tip: with a childcare CRM, you can customize and store waitlist email templates, and then automate when they're sent out and to whom. Check out our suggested ideas for waitlist content to send your families below.
Family Success Stories and Testimonials

: Get quotes or happy stories from families in your center using an online survey. Then, share the positive results with your waitlisted families. Also check sources like Google, Yelp, and Facebook for the positive feedback you've received in the past that you can share with your audience.

Unique Programs and Classes

. For example, explain the significance of your center's multisensory toys, why your classrooms are arranged in a certain way (to promote positive interactions and teamwork, etc.), or highlight the programs you offer that other centers don't (such as going outside and showing toddlers the basics of gardening). This helps set you apart from the competition and positions you as the number one place for their child to be.

Parenting and Daycare Resources

: Show your childcare business's personality by sending an email roundup of helpful social media accounts or blogs with parenting tips for families to follow. Including a bit of a 'why I like them' will allow people to get to know you more.
5)

Streamline your waitlist process with digital registration to meet parent expectations
Don't waste time on paperwork—sending reminders, deciphering handwriting, and chasing down missing information from families. Easily keep waitlisted families moving along your enrollment journey.
Collect digital forms for daycare registration and waitlists by simplifying your registration process. Make your enrollment and waitlist process convenient for families to increase registration rates.
Capture essential registration information

online like family information, emergency contacts, consent and agreements, and medical information.

Include required state forms

as part of your online enrollment packet.

Let parents e-sign documents

once forms are completed to save time.

Allow parents to self-serve

by completing forms at their convenience. Plus, parents can access documents anytime, anywhere online.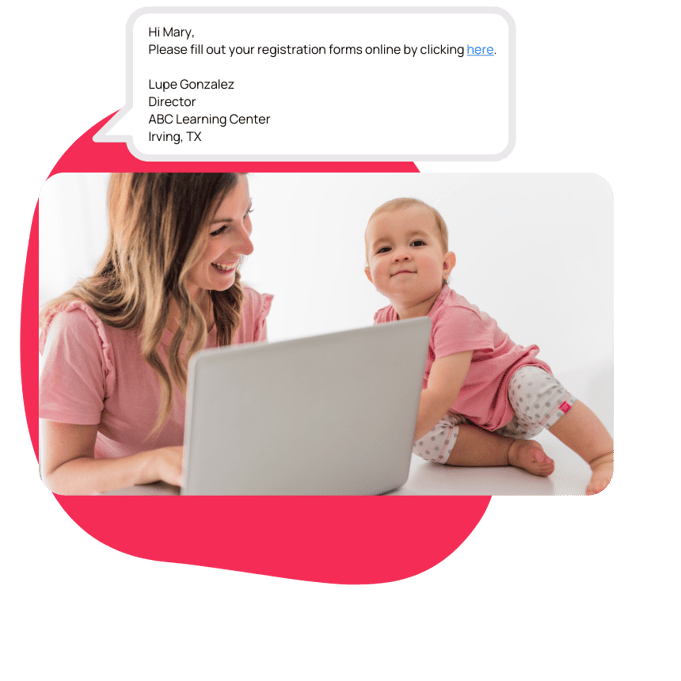 Example digital registration forms
6) Let families pay application and waitlist fees online
Collecting pre-enrollment payments is typically confusing for families – and this is the stage in your enrollment journey where many of them will fall out of your pipeline. Today's parents want convenience, simplicity, and digital payments. Let parents pay the way they want with a credit card, debit card, or direct debit (ACH) and avoid friction by instantly collecting fees with an automated payment processing system.
7)

Use

a c

hildcare

CRM

s

olution

to streamline enrollment and your waitlist process.
LineLeader is the first and only platform to deliver full-featured customer relationship management (CRM) software, a family engagement app, and childcare management software (CMS) in one unified platform.
LineLeader helps childcare organizations manage their business and optimize their staff and family experience so they can succeed in a competitive market. Now, childcare centers can eliminate the multiple disjointed products they use to grow enrollment, engage families, and manage their centers. LineLeader serves more than 5,000 childcare centers worldwide.
Schedule a demo to optimize your enrollment journey and increase parent satisfaction with ease.
Already a User?
Check out this additional resource to learn key secrets about managing your waitlist.