It seems like each day in our center we're trying to squeeze so much in that many important things aren't discussed. Items that have a huge impact on our enrollment conversion might be overlooked because of heavy workloads and unexpected circumstances that require the director's attention.
In the midst of your busy days, we've helped you out by providing eight pressing enrollment questions. Get the answers you need to succeed. ✔️
Plus, read until the end for a special treat (a free waitlist email template)!
1. What is Customer Lifetime Value and How Do I Unlock More Enrollments?
Customer lifetime value is how much future revenue can be expected during the course of enrollment with the prospective family. There are complicated formulas you can use to calculate this metric. This value is different depending on when the child starts and how many potential years they could attend your school. If the prospective family has more than one child, this can be even more complicated.
Let LineLeader by ChildcareCRM do the hard work for you.
Having this number handy will let you know which age group will provide the highest marketing return and gives you a better idea of where to focus your efforts to target that specific audience. You will have more confidence in knowing what kind of specials to run for advertising purposes to build enrollment.
Create a seamless experience - understand whom to market from initial inquiry to waitlist to registration. Convert more with targeted communication and advertising.
2. Where Did Prospects Learn About the Center?
Always ask, "How did you hear about us?" You will be surprised to find out who or what is your best advertising platform. Keeping track of where all your leads come from will tell you if you are wasting money advertising somewhere that isn't generating any enrollments.
Calculate the cost of each marketing campaign and divide it by the number of new customers to find out how much you spend on each lead. You could save marketing dollars from a source that brings you very few prospects and invest them into the more promising lead sources. For example, if you have a lot of word-of-mouth business, it might be time to revisit a referral program for your families and teachers!
3. How Quickly Do You Respond to Leads?
Playing phone tag is not very fun when it comes time to build enrollments. Today's culture demands instant results. The likelihood of gaining a high-quality lead significantly drops 21 times if you respond to parents in 30 minutes, compared to 5 minutes. The fact is the faster you respond to the lead, the less time they have had contact with other competitors.
4. What Are People Frequently Asking About?
There are going to be some common questions that are always asked. Pricing, ratios, teacher experience - we're all used to fielding these concerns from our prospective families. There might be a question that isn't asked by everyone, but it's asked often enough to mention it to your boss.
For example, whether you have cameras in the classrooms or what type of electronics or programs are used for educational purposes. These types of questions are important for your boss to know so they can investigate the ideas more and make changes according to trends and new technology.
5. When Do Most Tours Happen?
If there is a window of time that more parents tour, that's vital to note. This may help justify your front office schedules, marketing collateral needs, and more.
At any given time, you need to be sure you are stocked on tour information and have the most trained and trusted team member answering your phones and doors. Host high-quality tours to increase conversions. For more information on how to host best-in-class tours that convert - check out top tour secrets with Brian and Carol Duprey.
6. Which Part of the Enrollment Process Are Prospects Losing Interest?
Take notice of when your prospective families lose interest. If it's when you tell them the price or after they take the tour with a certain staff member, you can make adjustments to improve the issues. If you continue to ignore the issues, they could get worse and your competition might use it to their advantage when prospects contact them and tell them why they're interested in their center instead of yours.
7. How Do I Keep My Waitlist Engaged?
After learning how to build a waitlist successfully, keep families engaged with consistent communication. Your daycare waiting list should be sent emails and text messages once a week, so you remain top of mind. Beyond that, share relevant content to your childcare waitlist (Tip: with a childcare CRM, you can store any waitlist email template, and then automate when it sends). Check out the types of waitlist content to send your families below.
Family Success Stories and Testimonials: Get quotes or happy stories from families in your center using an online survey. Then, share the positive results with your waitlisted families. Also check sources like Google, Yelp, and Facebook for the positive feedback you've received in the past that you can share with your audience.

Unique Programs and Classes. For example, explain the significance of your center's multisensory toys, why your classrooms are arranged in a certain way (to promote positive interactions and teamwork, etc.), or highlight the programs you offer that other centers don't (such as going outside and showing toddlers the basics of gardening). This helps set you apart from the competition and positions you as the number one place for their child to be.

Captivating Video Content: Parents love getting a glimpse into what a day looks like at your center. Give a 'day in the life' tour – show off a classroom, explain where to drop off and pick up happens, highlight age-appropriate food options for lunch, and even introduce them to some of your teachers or staff.

Parenting and Daycare Resources: Show your childcare business's personality by sending an email roundup of helpful social media accounts or blogs with parenting tips for families to follow. Including a bit of a 'why I like them' will allow people to get to know you more.

Weekly updates: perform a waitlist check once a week with your newly waitlisted families to remain top of mind. Include personalization tokens like the parent's name and the child's name. A well-written letter or email with personalized names and information makes your parents feel welcome - even before the child starts their first day.
See This Waitlist Email Template to Touch Base Weekly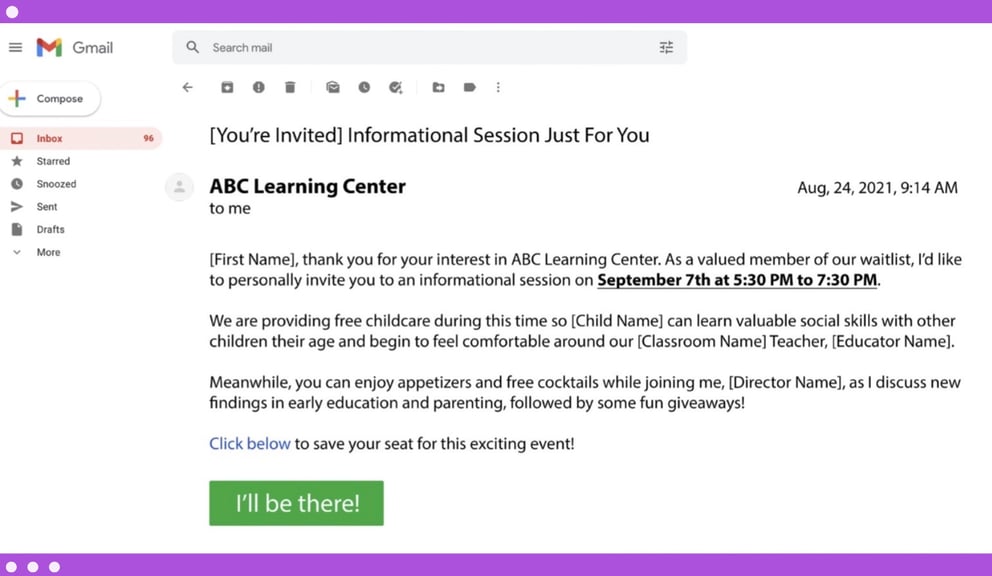 Example Waitlist Email Template
8. How Do I Streamline Enrollment?
Effortlessly streamline enrollment with LineLeader by ChildcareCRM. Store any branded waitlist email template for any location and include your center's colors, logo, and fonts. Schedule them to automatically send, so you never miss out on engaging with prospective families at every touchpoint in your enrollment process.
Schedule a demo to learn how you can enhance your enrollment experience for parents today. 💁