Tired of losing families on your waitlist?
The waitlist process is time-consuming. Families sit in limbo, waiting to secure a spot for weeks, even months. Plus, your staff has to consistently communicate with waitlisted families to remain top of mind.
You need a way to make the waitlist process simple and straightforward. See how to streamline waitlist registration and follow up with the right child care waiting list template and these best practices.
What Is a Child Care Waiting List?
Childcare facilities have limited capacities for how many children they can provide care for at a given time. Once your center, school, or program has reached full capacity, a waiting list is often created. You still want to give interested families the chance to enroll at your center when an opening is available.
Plus, families may end up on a waiting list for a few different reasons and situations such as:
Limited availability

A delayed registration

Missing daycare requirements

Change of location



The Importance of Simplifying Your Waitlist Process
Families want a fast but engaging process. It's crucial to provide convenient options. In fact, 73% of Millennials (your #1 target audience) prefer to work with businesses that value their time. Make the waitlist process seamless and quick with speedy communications and a simple child care waiting list template or form.
Learn how to improve communication with ALL families - especially the ones on your waitlist.
Best Practices for Waitlist Management
To properly manage your waitlist and provide quick options; it's vital to ensure your child care waitlist form is simple to fill out. Ensure you're only collecting the important and legally required pieces of information. If it's unnecessary, leave that field out to keep the waitlist form succinct.
Plus, you'll want to look for ways to speed up the waitlist process. Often, this means offering convenient, digital options to save both staff and families valuable time.
Learn how to boost your waitlist management with ease! 😌
1) Make the waitlist registration process quick with the right child care waiting list template
Did you know - most lead generation forms have an average of 11 fields? And forms with 11 fields most commonly see a 17% conversion rate. Take a look at this straightforward, brief child care waiting list template for families to quickly register. You want to start the waitlist process off on the right foot with an easy-to-fill-out form. See the free, downloadable form below!
Grab a free child care waiting list template 👇

Click here to download your free child care waiting list template
...And we've got another child care waiting list template for you! 🙏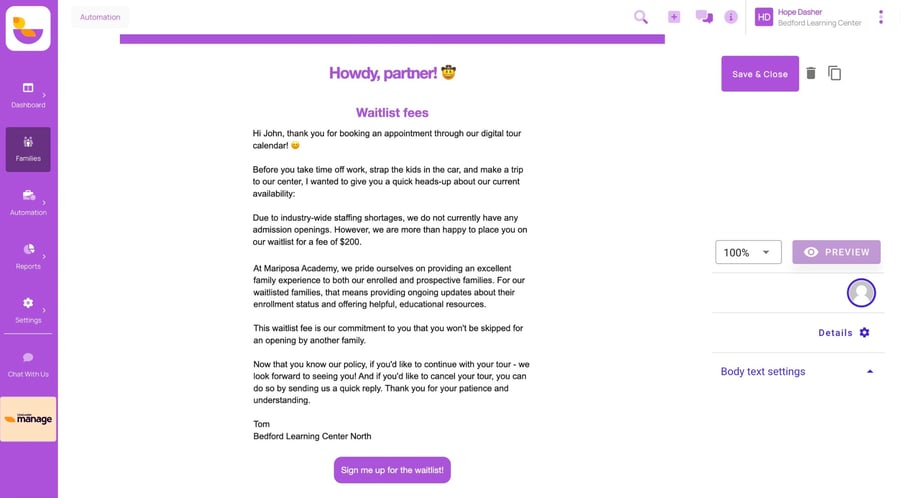 Your free waitlist email template can help you regularly touch base with families
Tip: Digitize Your Waitlist Form
With an automated childcare solution, you can create unlimited landing pages and web forms. These web forms will help you effortlessly manage each waitlisted family's information - all in one place. Regardless of the center, web form data seamlessly flows into your solution and attaches the updated waitlisted status and completed form information to your current family record.
See additional daycare waitlist content templates here.
2) Streamline waitlist communications with automated follow-up messages to remain top of mind
Active families in your enrollment journey – especially waitlisted families – require a lot of lead nurturing and attention to ensure they don't inquire for care elsewhere. The waitlist process can be lengthy, so it's vital to find ways to keep families engaged.
Waitlist communications should be personalized to help establish that interpersonal connection. This means that they need to include the parent's name and/or child's name either at the beginning of the email or within the body text.
Tip: with a childcare experience platform, you can customize and store waitlist email templates, and then automate when they're sent out and to whom. Check out our suggested ideas for waitlist content to send your families below.
Family Success Stories and Testimonials

: Get quotes or happy stories from families in your center using an online survey. Then, share the positive results with your waitlisted families. Also check sources like Google, Yelp, and Facebook for the positive feedback you've received in the past that you can share with your audience.

Unique Programs and Classes

. For example, explain the significance of your center's multisensory toys, why your classrooms are arranged in a certain way (to promote positive interactions and teamwork, etc.), or highlight the programs you offer that other centers don't (such as going outside and showing toddlers the basics of gardening). This helps set you apart from the competition and positions you as the number one place for their child to be.

Captivating Video Content

: Parents love getting a glimpse into what a day looks like at your center. Give a 'day in the life' tour – show off a classroom, explain where to drop off and pick up happens, highlight age-appropriate food options for lunch, and even introduce them to some of your teachers or staff.

Parenting and Daycare Resources

: Show your childcare business's personality by sending an email roundup of helpful social media accounts or blogs with parenting tips for families to follow. Including a bit of a 'why I like them' will allow people to get to know you more.

Weekly updates: perform a waitlist check once a week with your newly waitlisted families to remain top of mind. Include personalization tokens like the parent's name and the child's name. A well-written letter or email with personalized names and information makes your parents feel welcome - even before the child starts their first day.
---
Let LineLeader by ChildcareCRM Digitize Your Waitlist Process to Keep Your Families Engaged, with Less Work
Keeping up with waitlists is tough work. No more - with LineLeader's unified childcare experience platform you'll effortlessly manage and scale your childcare business. Remain top of mind with a system that has your back and the power to transform your relationships with families.
Interested in LineLeader?
Schedule a demo to optimize your enrollment journey and increase parent satisfaction with ease.
Check out additional LineLeader videos below. 👏