You need a secure way to collect pre-enrollment fees online.
Manual payment collection often leads to a lengthy enrollment process where parents drop out or choose another center altogether. Plus, things have never been so busy for your center directors... Between staffing shortages and team members getting sick with COVID, there simply aren't enough hours in the day.
94% of Millennial parents use digital banking and most prefer to make online payments. Keep up with today's parents by offering a convenient and parent-friendly online fee payment system. Make it quick and easy for parents to pay fees during enrollment so they're satisfied with your center from day one.
Collecting childcare pre-enrollment payments falls into a weird category. It takes place after parents have registered for care but before they've paid their first tuition bill... Make it part of registration to save your staff and your families from having to complete extra steps which may cause parents to lose interest. Often, today's parents are so busy that they...
Forget to pay pre-enrollment fees.

Don't want to pay right away or lose interest in your childcare facility while waiting to pay.

Pay, but the payments bounce or get declined if parents and staff haven't had a chance to update billing information.
Unfortunately, things like this slow down your cash flow. And when 66% of business owners reveal that the greatest impact on their childcare company's cash flow is the length of payment processing time – streamlining fee payments seems like a necessity.
See ChildcarePAY in action and discover how you can solve manual pre-enrollment fee payment collection issues.
Stop Wasting Time Collecting Pre-Enrollment Fees Manually
The problem with collecting pre-enrollment fees manually is two-fold. Your center directors are stuck with manual data entry, going back-and-forth deciphering illegible payment contact information written by hand, and spending time chasing down invoices. Oftentimes, parents are sitting at the end of your pipeline possibly losing interest the more time-consuming paying for their child's enrollment registration fees becomes.
Spending time accepting cash or checks for fee payments and using a paper receipt to record transactions adds up - quickly. An average of one to eight hours a week is spent handling manual payment processing problems. It's not uncommon for staff to spend hours manually entering fee payments into a spreadsheet. But with late hours and tedious tasks, there's a higher risk for manual data entry errors.
Even though error rates from data entry have an "acceptable" threshold of 30%, the cost of these errors – both emotionally and financially – could be high. Incorrectly inputting a parent's billing information disrupts your payment flow, leading to a longer enrollment process. Unfortunately, even after your staff put in long hours manually entering payment data, parents will be dissatisfied if they see errors.
Spreadsheets and using multiple tools to record parents' payment information spreads your staff's resources thin. Manually searching all over for data that can easily be accessed in one place takes away valuable time. Plus, parents feel confident when they know their billing and financial information is being stored securely – not in an excel spreadsheet or on a piece of notebook paper. Parent contact information, their payment method, and payment history are extremely sensitive information and should be treated as such. If any of this data ends up in the wrong hands, it can result in security risk and possible fraud.
Streamline Childcare Registration with Online Fee Payments
There's a lot that goes into managing payments and ensuring that each center location in your childcare organization receives payments from every family. Online payment options help streamline payment collection to save your staff time, offer self-service options, send reminders in a way parents prefer, and ensure receiving childcare payments is seamless.
With an online childcare payment system, you're able to make registration easier for both parents and center directors. These days, Millennial parents are strapped for time. They go to work, pick up the kids from daycare, and are always looking for convenience. Provide online payments so parents have the option to self-serve (paying at a time that's convenient), pay with their preferred method (debit, credit, direct deposit – ACH), and remember to pay on time with automated reminders.
Plus, you don't have to send out enrollment invoices anymore. Parents know exactly what they're paying for as soon as they complete online registration– all registration, application, waitlist, and supply fees are clearly visible.
Finally, trust in secure payment technology to keep your data encrypted and stored securely. Replace unprotected Excel sheets with a safe online payment system that allows parent information to remain secure.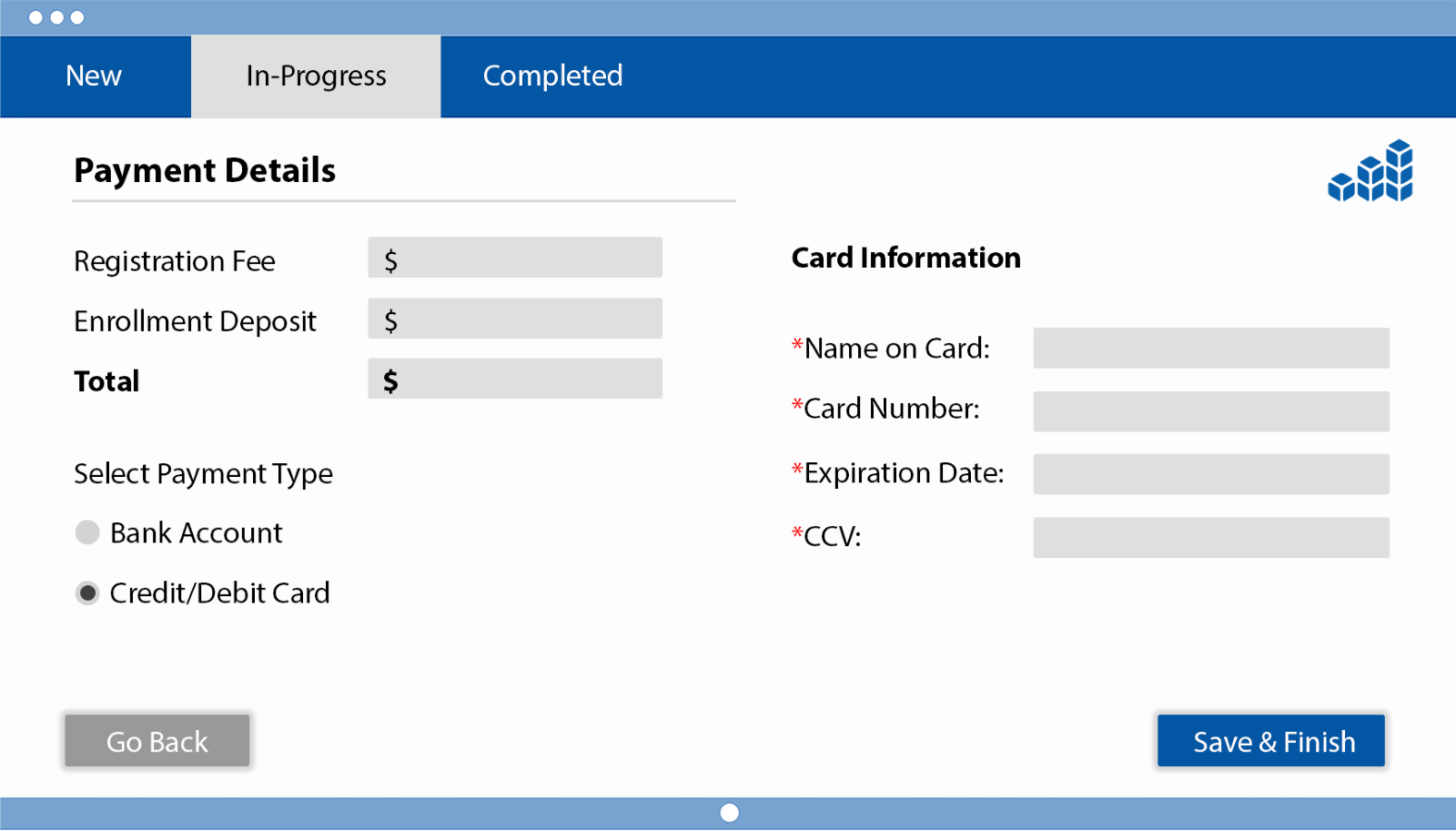 ChildcarePay

Lets Parents

Easily

Pay

Online

, Saving Your Staff Time
ChildcareCRM is proud to announce ChildcarePAY – a simple, online fee payment system that eliminates lengthy manual work. Your childcare staff will get hours back in their day while meeting Millennial parents' (your #1 demographic) expectations to pay online. As an exciting, innovative update to ChildcareFORMS (online enrollment paperwork), ChildcarePAY lets you streamline collecting registration, waitlist, and supply fee payments.
Make payments part of the enrollment process.

Let parents pay the way they prefer.

Eliminate manual payment processing work.

Always keep payment data secure.

Send automated reminders.
Help your staff stay organized.
Implementing an efficient system to automate collecting fee payments online works with the busy schedules of parents and your staff's finite resources. Parents will be able to self-serve, filling out information quicker because they can choose a preferred time within their busy schedules to complete the registration payment. Fortunately, when parents type online payment information themselves, it's more likely to be accurate. Thus, streamlining registration and increasing childcare enrollments.
See ChildcarePAY in action and discover how your childcare business will benefit from enabling parents to pay the way they want.