As a ChildcareCRM Customer Success Manager, I talk to hundreds of childcare professionals and marketers every month. And the number one suggestion I offer them is to generate more online reviews to grow their enrollment. Learn some of my best practices for gathering reviews on Google, your Facebook page, and your childcare listing directories.
The Importance of Online Reviews
Reviews that indicate your childcare program is of a good quality create an online reputation that parents can trust. In fact, 88% of today's parents trust online reviews just as much as personal recommendations from friends or family.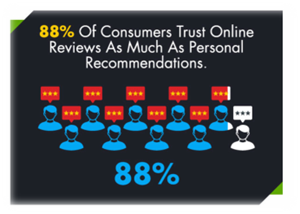 88% of Consumers Trust Online Reviews as Much as Personal Recommendations
Benefits of Online Reviews
Beyond building trust and loyalty to your brand, search engine reviews, such as Google reviews, can help you appear higher in search results. This means that you'll be one of the first listed childcare organizations when a parent googles 'daycare near me' or 'local childcare'. Here are a few benefits I've personally experienced from collecting reviews online.
Free and help families make important buying decisions

Increase brand trust

Help solve issues and answer questions through customer (parent) feedback

Boost online exposure and local SEO

Provide a customer feedback loop (what you're doing right & wrong)

Improve your click through rates to your website

Convert more customers
Best
P
ractices for
Collecting More
O
nline
R
eviews to
G
row
E
nrollment
1) Delight Parents, Then Ask Them to Be an Advocate.
Did you know – companies that prioritize the customer experience drive revenue 4-8% higher than other industries?
Today's parents are busy and have limited time. They expect speed and convenience. When You provide a simplified parent experience, families feel valued. In turn, they become your advocates – expressing to other families how great your centers are.
I've found that the simplest way to increase your reviews is to give parents the streamlined enrollment journey they're looking for. Then, see if they're willing to leave a review about their experience with your center and staff. Happy, delighted families are more likely to leave reviews.
2) Collect Reviews at Center Events.
It can feel daunting to ask for a review. However, it's less intimidating to ask for a review after you've provided parents with something valuable or a memorable moment they can look back on. If you host a Parent's Night Out or Back-to-School Karaoke event – plan ahead. Make an announcement at the event, letting parents know they'll be receiving a follow-up email or text with a link to a Facebook or Google review page. Plus, increase online reviews by using two-way communications to automatically send out the links. In my experience, parents enjoy sharing about events that bring their community together.
Tip – Don't forget to post the links to reviews on your website! Need help deciding where to place each review link? Learn how to easily create a landing page. That way, you can design a designated page on your website specifically for encouraging parents to leave online reviews, attend an event, or simply promote other marketing initiatives to grow daycare enrollment.
3) Run a Text Campaign.
More than likely, you already have all your parents' emails and phone numbers. Text messages and emails are a great way to nurture and guide families through the action you want them to complete. In fact, 60% of Millennials – your #1 demographic – like to communicate with businesses via text.
One tactic I've personally used is launching a text campaign. That way, your text messages automatically send links to families so they can leave a review. Plus, a campaign makes it easy to automate follow-up and check-ins after your initial message. For example – see which families opened your text message in campaign reports. Respond with a friendly reminder to those that didn't read your message or click the link. Text campaigns help you connect with families quicker to maximize your online reviews.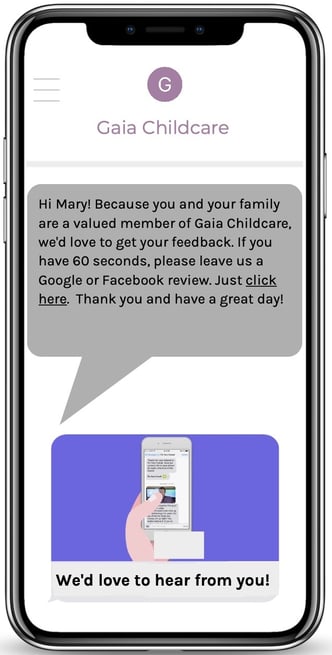 Example text
4

)

Don't Forget to Ask

Teachers.
In my experience, the success rate for reviews is a lot higher when the request comes from an educator or teacher. Teachers have the most day-to-day interaction with parents and children. They've likely built a strong relationship with your families. Encourage teachers to ask parents for reviews too.
5

)

Address

Negative

and

Positive

Reviews.
Negative reviews can make you feel like the world is crashing down. However, I've found that they're not detrimental to a business's success – if addressed properly. Ensure you respond promptly and acknowledge the mistake but highlight how you'll correct it moving forward.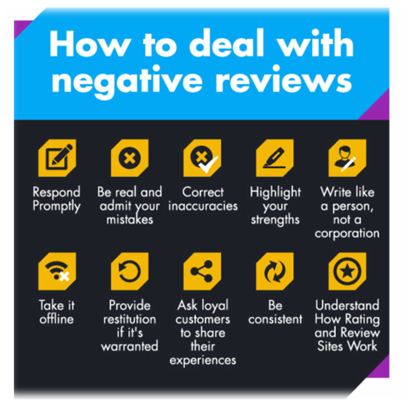 Further, respond to positive reviews. I've found that it looks great for potential families to see the engagement on Google. Take a look at my additional recommendations below! Once you start getting those reviews, make sure you respond to them timely and professionally.
Read more about how to do that here. Alternatively, check out this impactful podcast for additional tips & tricks to collect more positive reviews via online channels.
---
Meet Selene
Selene DiPrisco is a Success Operations Manager and has worked at ChildcareCRM for well over 2 years. Before joining ChildcareCRM, Selene was a Sales and Customer Experience Manager and an avid user of ChildcareCRM at one of the largest childcare groups in Australia.
Already a User?
Speak with your Customer Success Advocate for more tips, tricks, and best practices.
Not a User Yet?
Learn more about our products.