How do you keep up with families?
31% of marketers stated that tracking conversions was one of their biggest challenges. Childcare revenue leaders need to know where each family is in the funnel.
Without a way to track where families are dropping out of your pipeline - it's difficult to know what areas require improvement.
Learn more about your enrollment stages to increase conversion rates and, ultimately, enrollments. Explore how to help parents navigate their decision-making process for each stage of your funnel.
What is an enrollment funnel?



Your enrollment funnel is the journey each parent goes through to find your childcare business, schedule a tour, register for care, and remain enrolled or drop out (give or take a few steps).

What enrollment challenges do directors and leaders face?



Regulatory Compliance

: Childcare centers must adhere to strict licensing and regulatory requirements, which can sometimes limit the number of children they can enroll or result in temporary closures due to compliance issues.

Affordability

: The cost of childcare can be a significant barrier for many families. High fees may deter parents from enrolling their children, especially if they have multiple kids or are on a limited budget.

Staffing and Teacher Ratios

: Maintaining appropriate teacher-to-child ratios is essential for providing quality care and education. A lack of qualified staff can restrict enrollment or result in the center operating below capacity.
Childcare Worker Shortages

: There may be a shortage of qualified childcare workers, especially in areas with low population densities or where the wages and benefits for early childhood educators are not competitive.

Parent Work Schedules

: Parents' work schedules and the need for flexible childcare options can impact enrollment. Centers that offer extended hours or part-time options may be more attractive to working families.
Start with Insight
You need insight into your center(s)' performance. This includes understanding your current enrollment numbers, how families are finding out about your childcare organization, and what factors are driving them to enroll. By easily analyzing data with automated reports, you can identify what to improve on. Develop a plan to optimize your enrollment funnel.
For example, regularly reviewing your campaign ROI (return on investment) will help you get the most out of your marketing efforts, giving you a clear idea of which campaigns to continue and which to stop.


1) Awareness
During the awareness stage, parents are researching multiple childcare providers. They're looking up childcare centers near them, trying to identify who offers the best programs – often by reading online reviews.
Check out these best practices for building your childcare brand awareness, so more families can find information about your centers.
Use

Facebook Ads and Google Ads

to increase your childcare website's visibility and target a wider audience.

Prioritize

word-of-mouth and referrals

from current families. Word-of-mouth and referrals are great ways to educate prospective parents about your childcare facility. Over

73% of families

found speaking with parents of children enrolled at a facility is an effective way to find the best childcare provider.
Start generating

more online reviews

. Much like word-of-mouth referrals,

online reviews

, and testimonials are a great way to capture inquiring parents' attention. In fact, 82% of consumers read online reviews for local businesses.
Take a look at each stage of a standard enrollment funnel.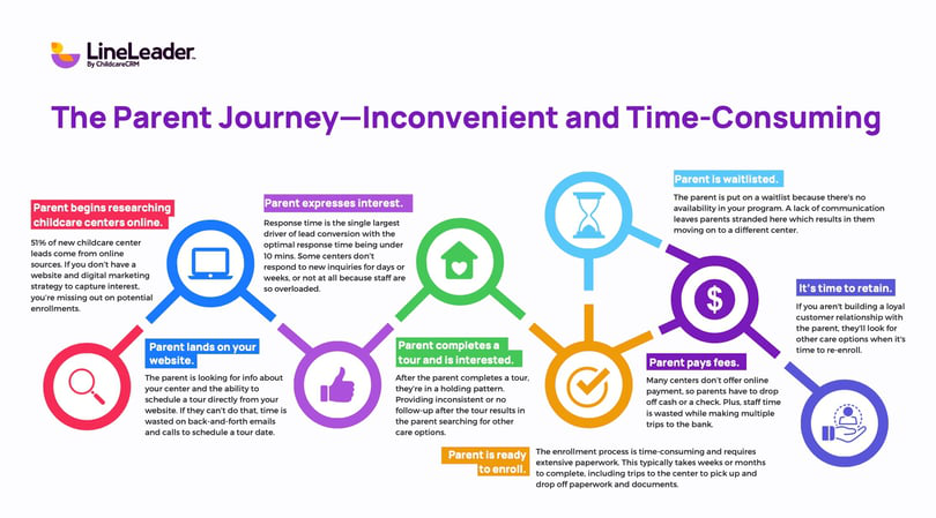 Example enrollment funnel
2) Inquiry
The inquiry stage in your enrollment funnel is when a family begins truly considering enrolling their children in one of your centers. Make it easy for families to inquire about your center. Give the right first impression.
For example, a helpful Tour Scheduling tool allows families to select a tour time and date that works for them, according to your center's real-time availability. Minimize the back-and-forth of sending multiple phone calls and emails.
Let's take a further look at tips for optimizing the inquiry stage:
Call-to-actions (CTAs)

are the buttons you use on your website, marketing emails, and landing pages. They guide potential families toward your conversion goal (registering for an open house event, scheduling a tour, etc.). Use

action-oriented text

and

bright colors

that

reflect your childcare brand

.

A

landing page

is a standalone web page with a specific purpose (like a parents' night event page). Keep your messaging

'above the fold

',

brief

,

clear, and use compelling copy

. See more tips here

.

A

web form

captures parent information straight from your website. Plus, when you follow-up with online inquiries within

5 minutes

of form submission, you're 9 times more likely

to

enroll

that family. Learn how to build a web form that converts in this article

.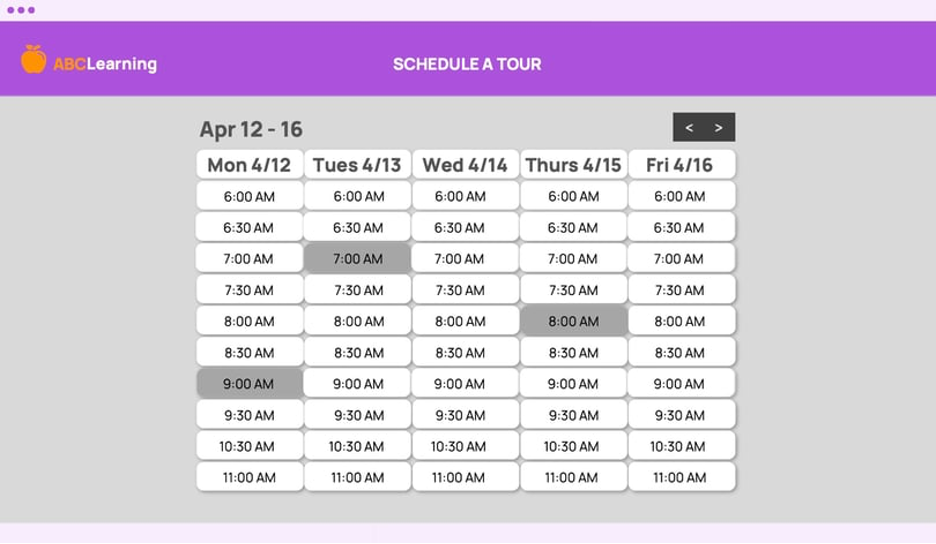 Example tour scheduler tool
3) Touring
Prior to hosting a tour, ensure the building is clean and your staff knows about the schedule for that day. Decide who will be conducting all tours. This person may or may not be your director. But this individual will act as your tour champion. They must be exceptional at highlighting key areas of the center and be well-trained to answer questions and concerns.
To deliver the best tour experience, give your tour champion a tablet to get familiar with key tour talking points. With an intuitive platform, this feature can give your staff unique callouts to mention about your center (so they really 'sell' what you're offering).
And yes, each center should have consistent talking points!
4) Registration
Once a parent has completed their tour – they've officially entered the decision-making stage. Make it easy for families at this stage to register and pay tuition fees. To improve this stage, use digital childcare forms and automated billing. That way, families can fill out their enrollment application and pay tuition – in just a few clicks!
The right childcare solution will have an automated billing system and online registration in one unified platform.
5) Retention: Enrolled or Waitlisted
Lastly, you'll need to keep up communication with families to retain them. Maintain parent satisfaction with both your enrolled and waitlisted families using drip campaigns to share personalized content. Create educational nurture emails with regular updates about your center, staff, and any events you may be hosting.
For example, send a nutrition-conscious parent a chef's ideas for healthy children's meals!
Plus, send photos and videos of their child's special moments – whether it's mastering a monumental milestone like learning their shapes or simply trying new foods. Give parents the opportunity to be there for all of life's precious memories, even if they're stuck at work.
How Do I See Where Each Family Is At In the Funnel?
Use an all-in-one childcare platform, such as LineLeader, to monitor your enrollment funnel. You'll easily:
See where families are dropping out so you know what needs improvement
Customize each stage of the parent journey
Standardize enrollment across all your locations
Ensure every family receives a best-in-class experience
Optimizing each stage in your enrollment funnel, from inquiry to registration, is essential to growing your business.
Not a User Yet?
Learn more about LineLeader Enroll – your ultimate tool for lead management, marketing automation, online registration, and much more.
Already a User?
Schedule a demo to see in real-time how to improve your enrollment experience.