Are you tired of losing revenue each month due to low enrollment?
With staff to manage and strategies to implement – it's tough to ensure each center location is nurturing family leads the right way. You need a way to strengthen your enrollment funnel by establishing what it takes to qualify a childcare lead. Stop letting families fall out of your enrollment pipeline due to disorganized communications and a lack of lead targeting.
Learn how to boost waitlist and enrollment conversions to grow your business across locations with quality enterprise childcare leads.
What Is 'Qualifying' a Childcare Lead?
Qualifying a childcare lead is the process of determining which potential families are most likely to actually enroll for care with one of your locations. To qualify leads - you'll ask questions to decide whether the family is a good fit.
For example, you contact a potential lead that inquired about your programs on Facebook. After speaking, if you learn the lead is in a different state – you can either refer them to one of your other locations or choose to move on. Qualifying leads helps you avoid spending time and money pursuing a lead who isn't in a position to invest in your enrollment funnel.
Schedule a demo to see first-hand how a childcare CRM can streamline your enrollment processes.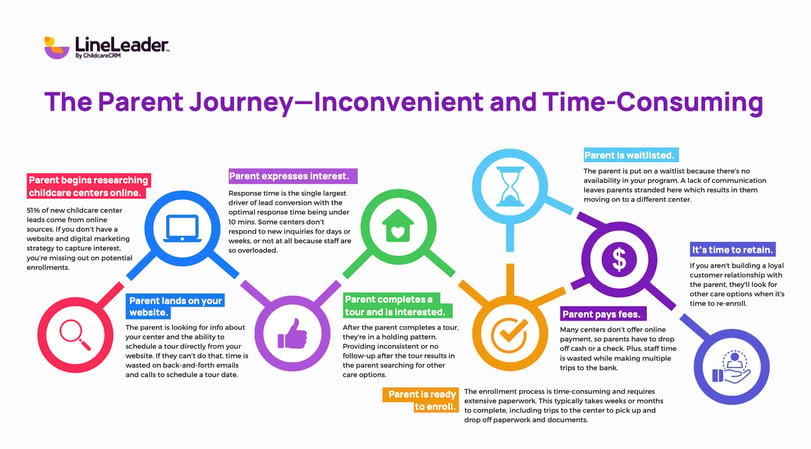 Example parent journey
Childcare Lead Qualification Terms
Let's explore different lead types and how they line up with each enrollment stage.
Pre-Initial Inquiry Stage
Cold Leads

haven't been nurtured enough to move on to your next enrollment stage.

No initial inquiries have been made and there's a lack of reciprocal engagement at this stage.

Unqualified Leads don't necessarily meet your ideal parent persona or fall into your daycare target market. For example, if you have a parent inquire for care, but their child is outside of the age range of who your center caters to – that would be an unqualified family lead. However, your childcare organization may have the ability to target that family later, if they're planning to have more children.

Tip

:

Use

childcare software

to automatically send a custom email tailored to your cold leads. Mention you noticed they haven't read your emails and explain that you're still able to help them learn more about your childcare enterprise (and solve their problem: finding quality care).
Initial Inquiry Stage
Information-qualified leads

are a vital part of your marketing strategy. This type of childcare lead submits an inquiry and is willing to share their contact information.

Leads become officially qualified in this stage.

51% of new childcare leads

come from online sources because today's parents prefer the convenience and option to self-serve. One way to initiate self-service for families during the inquiry stage is to use a digital tour scheduler on your website.
Ready to Learn More and Possibly Tour Stage
Marketing qualified leads (MQLs – also called warm leads)

are potential families gained through your marketing efforts. Whether it's an educational webinar, blog post, or childcare success story – your MQLs come from an active marketing channel.

Marketing qualified leads had a chance to engage with your childcare brand and are ready to receive additional marketing communications. Send email campaigns, provide content offers, and make it easy for families to schedule a tour.

For example, a

Parent-Scheduled Tours

tool allows families to select a tour time and date that works for them. Pair this with 'what to expect during a tour' to help parents navigate your enrollment funnel.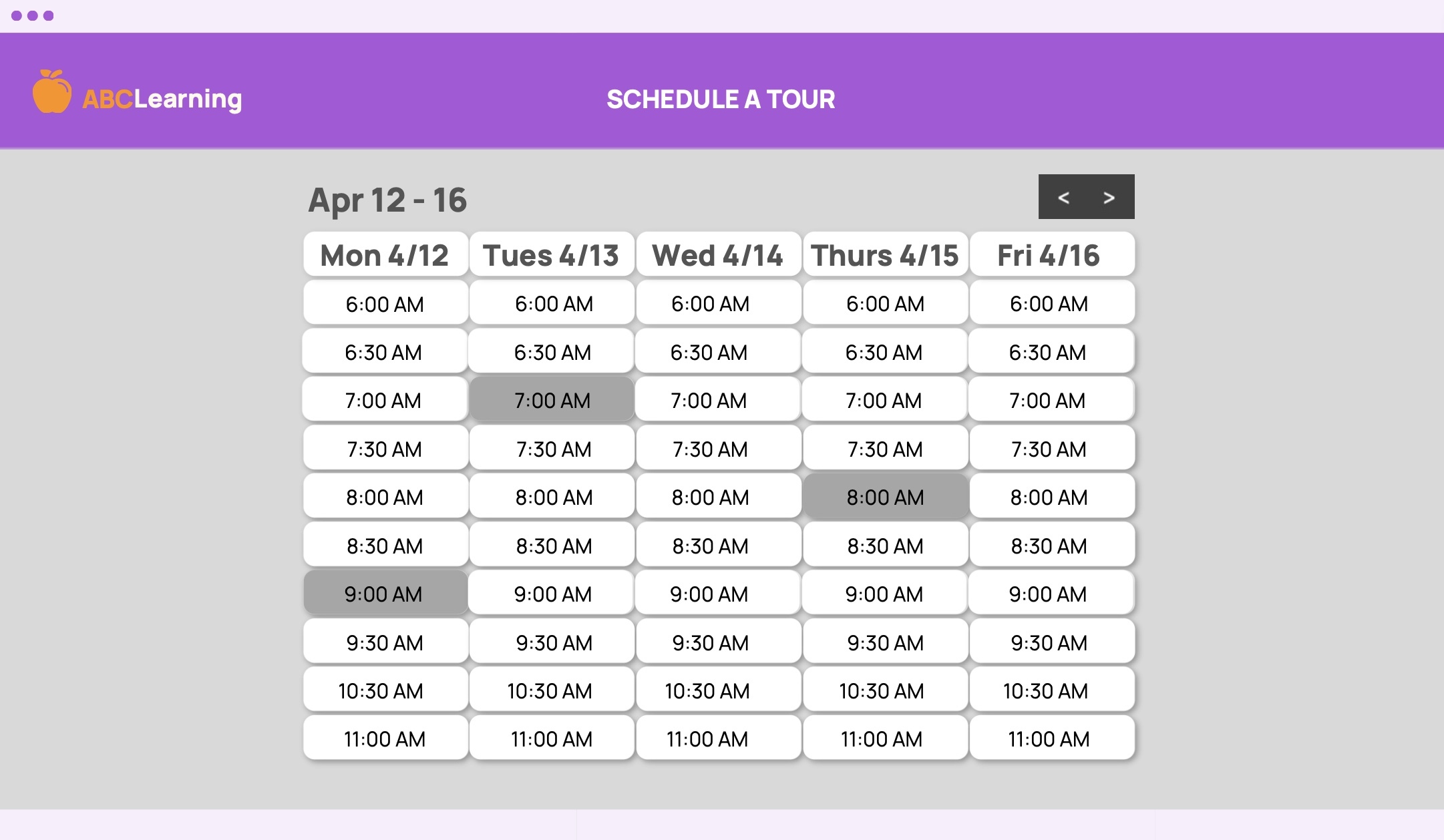 Registration Stage: Enrolled or Waitlisted
Enrollment

or Sales

Qualified Leads (hot leads)

are families that have completed a tour and are ready to enroll or join your childcare waitlist. They're very interested in your childcare enterprise and have a high possibility of registering. Make it easy for families to

pay fees

to boost enrollment and waitlist conversions.

Tip:

If an enrollment qualified lead is placed on your daycare waiting list -

nurture

and engage them with

drip campaigns

that deliver personalized content.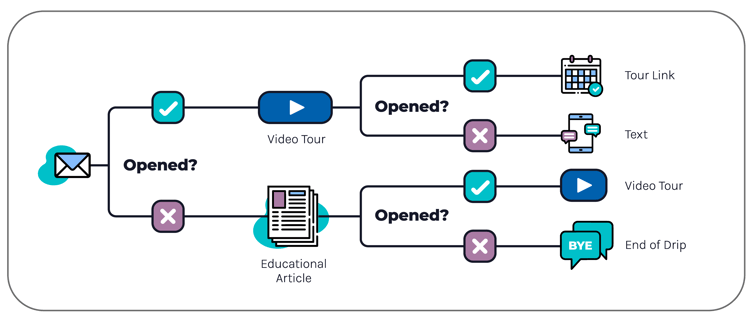 Example drip campaign
7 Questions to Qualify Leads in Childcare
Ask questions during the initial (and pre-initial) inquiry stage to qualify leads. Your staff should use these questions to understand the needs of each parent, child, and how likely they are to enroll. Here are 7 examples of qualifying questions:
1) Which days and hours will your child need care?
2) What are your expectations from our childcare locations?
3) Tell me about your child's age, interests, dietary restrictions, learning needs, and behavior.
4) Is this center an optimal location for you?
5) What's your work schedule like?
6) Any additional guardians or family that are allowed to pick up your child?
7) How far along are you in the search process?
Tip: Get the clearest picture of childcare leads with LineLeader by ChildcareCRM. Automate lead capture to gain insight and proactively build relationships. Plus, you can save notes about families within the lead record to ensure staff are always on the same page.
Improve Your Lead Qualification Process
Did you know that 48% of businesses report that only half of their leads are high-quality? When you ask the right questions up front, you can focus your attention and efforts on the most qualified leads for your business and...
Enhance your return on investment (ROI)

- quality (over quantity) generates success.

Increase your brand awareness

by reaching more leads that are likely to enroll and share how happy they are with your childcare enterprise.

You deliver a more personalized enrollment experience

and get a clear picture of each family's needs.
---
Get Started Gaining High-Quality Childcare Leads Today
Tightening up how you qualify leads generates families that have a higher chance of converting. Take it a step further. Use LineLeader to get time back in your day with intuitive lead management, marketing automation, center management, and parent engagement. Boost enrollment and build relationships through high-quality lead capture.
For Current Users
Learn more about generating quality leads with LineLeader products.
For Interested Users
Schedule a demo to see first-hand how LineLeader helps your childcare enterprise grow with less work.