Ensure every family receives the same high-quality enrollment experience.
As a corporate marketing leader, you're probably spending a lot of time trying to understand campaign results and ensure quality across franchise locations. But without being on-location every day, it's hard to monitor which franchisees are maintaining a uniform brand and parent experience. And if one childcare franchise has a bad reputation, it affects the reputation of all your other business locations.
You need a better way to support franchise owners so they can deliver a unified, on-brand experience. In this article, you'll learn how to standardize your marketing across the entire organization and monitor performance with less work.
Today's Parents Want Speed and Convenience
Millennials are your number one parent demographic. They expect quick response times, convenient processes, and professional follow-up communications to guide them through each stage of the decision-making journey.
Without branded email and text templates, franchise staff are forced to create their own communications. Soon, every location is sending different communications, possibly with incorrect branding elements or registration information. This leads to an inconsistent brand experience for your entire business and can contribute to a poor parent experience.
Schedule a demo to see, in real-time, how you can standardize your registration process to create a better experience for parents and your franchise teams.
Boost Family Satisfaction and Increase
Franchise Revenue
Standardizing business processes has a significant impact on time savings, costs, and most notably on quality. In fact, standardization improves quality by 61.9%, on average. Create consistent enrollment processes across all your franchise locations to ensure every family has a great experience and a positive association with your brand – leading to higher conversion success and profitability.
To achieve consistency, your franchisees' marketing approach and advertising material must follow all your corporate brand guidelines. Your organization should have a lead management system that supports your franchise staff as they guide families through the decision-making journey while also ensuring each location is delivering a consistent parent experience.
Exceed Parent Expectations During The Buying Journey
1) Parents Become Aware of Your Program
51% of new childcare leads come from online sources. During the awareness stage, parents are researching multiple providers. They're looking up programs nearby and trying to identify which brands offer the best curriculum or care for their child's age group – often by reading online reviews.
Increase Online Awareness and Communicate Effectively
Childcare franchise owners can use targeted ads on Facebook or Google to grow an audience that's more likely to convert. With childcare lead management software, staff can create UTM links to track where leads are coming from and/or integrate their Facebook Business Page with the lead management software to automatically capture and organize parent lead data.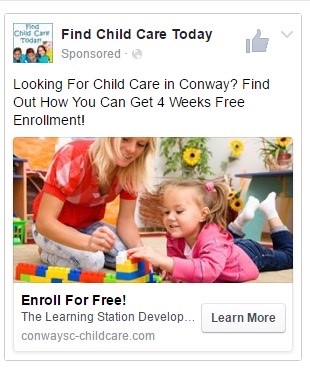 Example of Conway's Childcare ad on Facebook
2) Parents Inquire to Learn More
The inquiry stage is when a family begins truly considering you. With an intuitive solution, leads inquiring on Facebook, your website, email, and phone calls are automatically captured as a 'Pending Lead'. Once a staff member has approved them, the CRM will start automating follow-up communications like emails and texts, according to the workflow automation processes you've established.
For example, take a look at the drip campaigns graphic below to see how franchisees can standardize communications with families across locations while ensuring each parent receives a unique enrollment experience.
Example drip campaign workflow
Offer Effortless Inquiry Options
Enhance your web presence by optimizing your website for lead capture with informative call-to-action buttons, web forms, and landing pages that ensure leads are automatically attributed and assigned to the right location, while also using all the right fonts, colors, and logos to match your brand guidelines.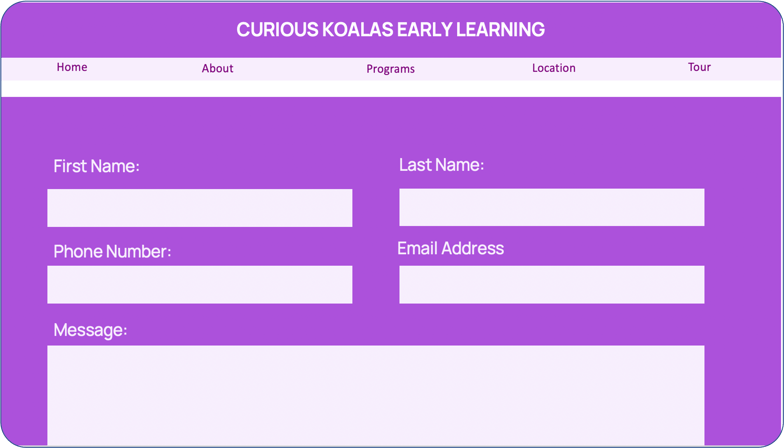 Childcare web form on a landing page
Give families the right impression by providing self-service options across locations. Using a digital calendar, families can schedule a tour or meeting without the inconvenience of having to email back-and-forth with staff members. Plus, both staff and families will receive email and text reminders before their scheduled appointments – reducing no-shows and cancellations.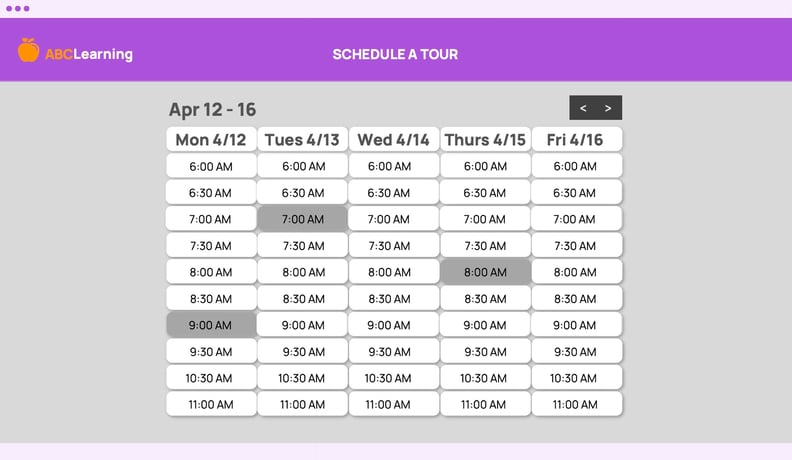 Example digital tour scheduler for ABC Learning Center
3) Parents Evaluate Their Options
At this stage, parents are probably down to 2 or 3 choices. They're interested in your program but are waiting for your franchise to showcase how they differ from their competitors. Whether your programs offer tours or interviews, directors or owners should ensure the facility is clean, the staff is notified in advance, and key talking points are covered.
Host Quality Tours and Meetings
Equip childcare franchise staff with the tools they need to highlight key areas of your centers and vital talking points that make your franchise location stand out from the competition. With childcare software, staff take notes about the family (what they like or dislike, as well as their care needs) and refer to key talking points even while walking around the facility, using a tablet with standardized messaging.
For example, a children's fitness program may show parents the safety precautions and tools in place to protect children while they're at the center. In contrast, a program such as Code Ninjas might use their tour kiosk in LineLeader to point out how their curriculum not only teaches children to code but how they make it fun and entertaining, as well.
No matter what makes your programs unique, standardize the parent experience by proactively planning talking points for each territory or location.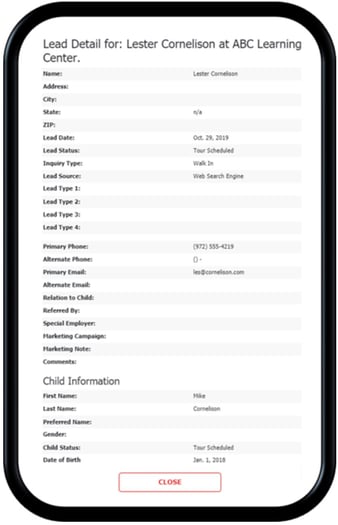 Example Tour Kiosk in LineLeader
4) Parents Decide to Register or Enroll
Once a parent has decided to move forward with your program, they often need to complete paperwork and pay fees prior to their start date. At many organizations, a parent is handed a hefty paper packet that includes all the necessary questions a program, like yours, must ask to keep track of and take care of an enrolled child. When parents fill this type of information out on paper, it's very easy for fields to be left blank, either because the parent may be resistant to answer or simply due to human error.
Make Registration Convenient for Families
With online registration forms, franchises can easily collect family information, consent forms, and more. You're able to save your staff and your families from having to complete extra steps which may cause parents to lose interest.
---
Standardize
the Parent
Experience with
LineLeader
to Boost Enrollment
Implementing a standard practice throughout each stage of the enrollment process for all of your childcare franchise locations generates higher enrollment conversions. Deliver a unified experience, increase performance oversight, and help franchise owners succeed with LineLeader.
Not a User Yet?
Schedule a demo today to make the enrollment process consistent across all your franchise locations.