Don't make your job harder than it needs to be.
As a childcare professional, you're constantly being pulled in multiple directions and rarely have enough time in the day to get everything done. So, how do you have time to increase daycare enrollment?
Our Customer Success team recently sat down and compiled their best tips for streamlining enrollment and running your business hands-free. Continue reading to get the top 5 recommendations from our enrollment experts so you can continue delivering a positive parent experience while saving valuable time.
1) Capture inquiries from every possible direction.
Inquiries can come from a wide variety of sources - including Facebook, your website, phone calls, and lead generation platforms like Winnie or Kinside. Set yourself up for success by integrating LineLeader by ChildcareCRM with these platforms.
Learn more about growing your childcare centers with ease.
2) Follow up fast with new families.
The sooner you can get new families to tour your center, the better. Top-performing ChildcareCRM users schedule 79% of their tours within 24 hours or less. To achieve this, include a link to your Parent-Scheduled Tours calendar in your initial follow-up emails and texts.
3) Maintain regular communication with waitlisted families.
Avoid missing out on potential revenue; plus, fill spots as soon as they become available by keeping in touch with your waitlisted families. Our childcare enrollment experts suggest sending nurture emails and texts at regular intervals with industry news, educational tips, and updates about what's going on at the center.
4) Digitize the parent's enrollment experience.
Today's parents want convenience and simplicity when enrolling for care. Our enrollment experts suggest giving parents what they're looking for by digitizing your registration forms and accepting online payments for tuition.
5) Stay in touch with families who have become disengaged - through effective nurture campaigns.
Staying in touch with Lost Opportunities is an essential part of enrollment success. Try creating automated nurture campaigns with 8-10 communications each. Spread your communications out over several months to re-engage these leads.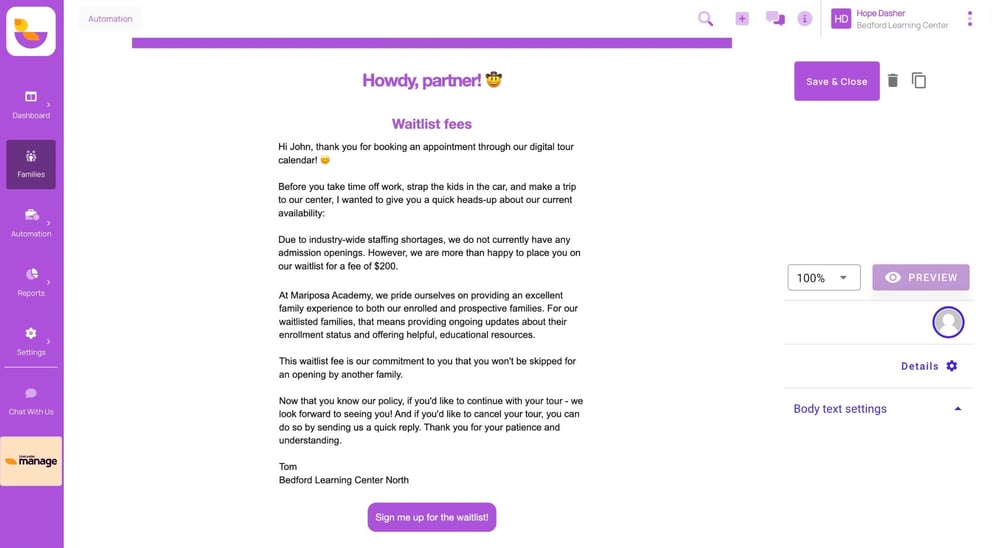 Free template for emailing waitlisted families
LineLeader by ChildcareCRM Enrollment Experts Are Here to Ensure Your Center Remains Successful
By following these tips from our childcare enrollment experts, you ensure that wherever families are in your funnel they will always have a positive experience.
Are You a Current User?
Schedule a demo to start using a digital tour scheduler or accepting online payments - today.