As of 2018, there were 758,000 franchise establishments throughout North America.
Childcare franchises are a powerful framework for building a brand focused on educating and enriching a child's development. But without processes for standardizing enrollment, overseeing staff, and tracking revenue across locations, many childcare franchises struggle to meet parent expectations.
Read on to discover how you can streamline enrollment across all your locations - with the right childcare CRM.
Problems Facing Childcare Franchise Systems
It's difficult to achieve consistency in how your franchisees market their centers. But without a standard marketing and enrollment process, you can't grow your franchise system at scale.
Maintaining a consistent brand across your network helps you attract both new franchisees and enrolling families. But without monitoring every communication from every location, it's hard to know if franchisees are staying on-brand. And unfortunately, if one franchisee is off-brand, it affects the reputation of all your franchise locations.
A key to maintaining your brand is regularly monitoring franchisee performance. With real-time reporting, you can understand enrollment performance across locations and make data-driven decisions on where additional support is needed.
Some of the common problems that childcare franchises face include:
Family leads slipping through the cracks

Delayed or missing follow-up

Lack of personalization

Wasted staff time on repetitive, manual tasks

Little to no understanding of performance
Schedule a demo to eliminate these problems - today. ❌

Grow at scale with the right childcare CRM.
Growing at scale requires consistency in franchisee marketing. Marketing automation software helps you achieve that consistency and increases revenue for individual locations. In fact, franchises that automate their marketing have generated 320% more revenue.
What Franchisers Get with a Childcare CRM (marketing automation software, specifically for the childcare industry!)
Grow at scale with consistency in franchisee marketing.

Ensure brand consistency with communication templates that you control.

Monitor performance with corporate, regional, and individual franchisee views.
What Franchisees Get with a Childcare CRM
Organize and manage all leads and customer contacts in one place.

Automatically capture leads from anywhere and manage them in one place.

Automatically follow up with every lead and nurture them through to purchase.

LineLeader: all-in-one platform for childcare
Childcare C
RM Software: Explained
CRM stands for 'Customer Relationship Management' and refers to the strategies and tools used by childcare franchises (and independent owners) to manage both potential and current families in an effort to optimize conversion success and typically, to increase revenue.
Businesses that utilize CRM software see a 47% higher customer retention rate than those that do not.
With a childcare CRM, you can automate sales and marketing activities, simplify task management, get real-time reporting, and enhance oversight with multicenter views. The right CRM software helps you grow your childcare business with less work.
The Advantages of a CRM Built for Childcare
Managing childcare sales and marketing without the right software is frustrating. Leads and follow-ups slip through the cracks. Oversight and accountability are hard to come by. And you can't get real-time visibility into the metrics you need to grow and expand. It all adds up to lower enrollment and reduced retention.
There are several large CRM solutions in the market that are loaded with features designed to meet everyone's needs. These can be a great solution for companies like Amazon that are involved in dozens of industries but may not be the best fit for someone like you, a childcare professional working within a very specific field. These market-leading CRM's are huge, but not always in a good way. It's a lot to learn and even more to keep up with.
The CRM you choose for your franchise network should be designed for the childcare industry to help you and your franchisees manage new inquiries, tours, waitlisting, registration, and enrollment. It should be purpose-built for the business of childcare, from email templates to workflows and software integrations.
A great CRM should also be powerful enough to eliminate extra hours of work to help you and your team do more in less time. Your days are more than busy, so you can't afford to waste time focusing on inefficient processes or redundant tasks that can be automated with the right tool.
6 Essential Childcare CRM Features for Franchisers
1) Automated Communications
Speed to response is vital when trying to win an enrollment. Save time, stress, and manual work by scheduling automated communications. Find a childcare solution that lets you automatically send stored text and email templates with standardized branding elements.
2) Telephony
Did you know almost 25% of inquiries for your childcare business come from phone calls?
But busy, overloaded staff are often unavailable to answer these calls. When they can, contact information for follow-up is scattered across sticky notes and spreadsheets.
Telephony provides a dedicated phone line and records phone calls and voicemails, then stores them on the family record for review. All inbound and outbound calls and voicemails with families to and from your dedicated number are recorded and saved.
3) Standardized Workflow Automations
A lack of standardization makes it difficult to track which areas of your enrollment processes need improvement, especially when overseeing multiple locations. Choose the right CRM software that lets your corporate team standardize text and email templates to follow-up with and guide parents through each stage of enrollment, ensuring every center is on-brand and operating uniformly.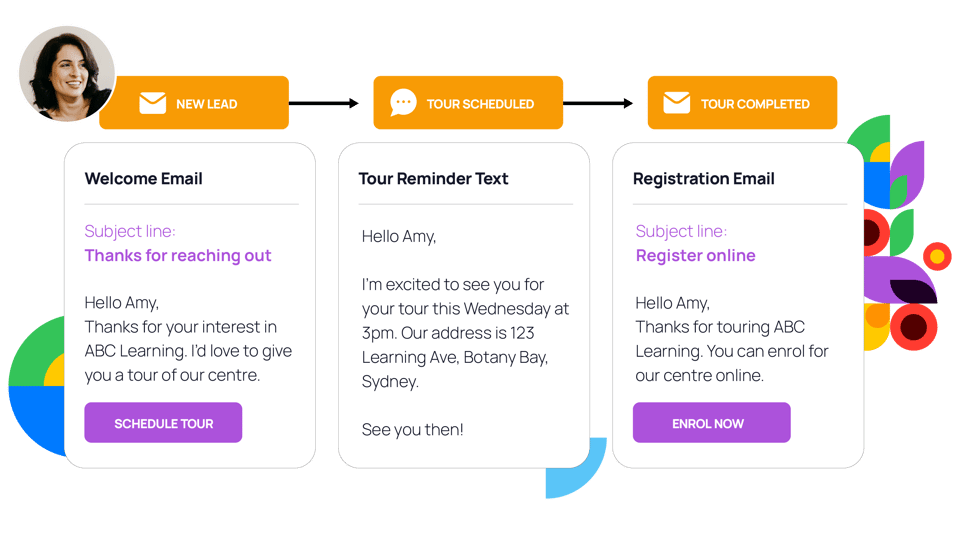 LineLeader: automated communications
4) Custom Reporting and Childcare Analytics
Gain access to essential performance data and analytics referencing staff productivity, parent engagement, revenue, and more. Look for CRM software that has customizable reports with extensive filtering, display options, and the ability to automate and export with the click of a button. Improve your return on investment (ROI) by analyzing which marketing campaigns are successful.
5) Multicenter Views and Branding
Look for a childcare CRM provider that gives you multicenter views so you can manage your enrollment pipeline in real-time across centers. You'll also want the ability to see opportunity progression by the location to ensure staff productivity and revenue growth.
Your CRM should have branding flexibility so you can easily handle multiple brands within your childcare franchise.
6) Integration with Childcare Management Systems
Software integrations save time and improve data quality, so you don't have to input the same data into both your CRM and management system. Businesses that utilize software integrations primarily for data entry processes save an average of 3.8 hours per day.
Additionally, those businesses with information management systems that don't offer integrations, regularly experience manual data entry errors which can cause up to 62% of the contact information in your CRM or management system to be incorrect or outdated.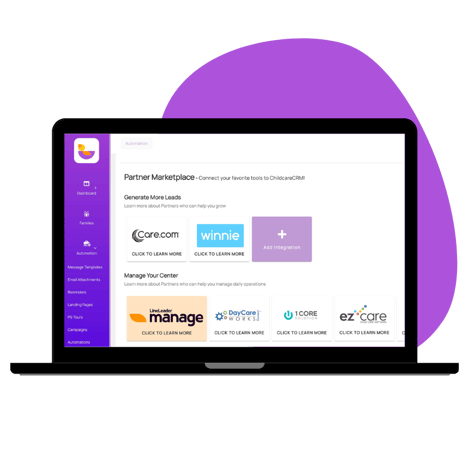 LineLeader: Childcare Listing Directory Integration
---
How to Get Started with A Revenue-Growing Childcare CRM
When franchise owners have to capture and manage leads using pen, paper, spreadsheets, and sticky notes, opportunities fall through the cracks and that leads to lost revenue.
Increase revenue at your franchise locations with award-winning childcare CRM automation software for franchises.
Fill programs by automatically capturing leads from phone inquiries, website, advertising, Facebook, and more.

Build professional marketing campaigns and automate follow-up and nurture campaigns with inquiring families.

Save franchise staff more than 40 hours of manual marketing tasks every month so they can focus on other initiatives.

Increase enrollment and retention by creating a streamlined, digital enrollment experience that meets parents' expectations.
Schedule a demo to take control of your franchise growth today.
Video Recap 📹