COVID-19 has caused 35% of all childcare centers to experience closures and reopenings. Have a plan for communicating these important updates to parents throughout every enrollment stage.
Whether they're in your enrollment pipeline or already registered, parents want to hear from your center directors and staff. And as COVID-19 continually impacts all daycare and childcare facilities – parents need a way to receive steady follow-up about center or classroom closures...and reopenings.
Ensure Parent Communication is Consistent and Personal
Both current and prospective parents need to receive steady communication regarding COVID-19 updates, but the messaging will differ based on where a family is in your enrollment pipeline. When you communicate with parents - plan for nurture, retention, and know the four types of parents you're marketing to.
1) Personalize Messaging by Segmenting Your Audience
Segmenting your audience ensures messages are more personalized by targeting the specific needs of each family. Send relevant messaging to different target audiences at scale.
The easiest place to start is by segmenting families according to their lead statuses. Determine where families are in the journey to enrollment and group the waitlisted families or pull together the families who have completed tours but not yet registered for care. You can also choose to organize your follow-up efforts by the child's age group, classroom, or program. Determine this manually, by looking at individual lead records, or save time and use lead status reports specifically built to organize and manage your childcare enrollment leads.
Segmentation becomes especially helpful when sending a mass number of COVID-19 updates to different families at once. For example, if you have to shut down due to a positive COVID case at one of your locations, you can easily update all the waitlisted families who were planning to start in a week with an update that says their start date is being pushed back for two weeks. Meanwhile, families who have already scheduled a tour can be sent a link to your online tour scheduler, requiring them to select a new tour date, no sooner than 14 days out.
To learn more about how a childcare experience platform can help you personalize and streamline the parent journey, click here.
2) Use Drip Campaigns to Maintain Relationships with Parents
It's essential that you remain top of mind with your prospective and enrolled families during classroom or center closures. Use Drip campaigns to automate emails that engage parents based on how they interact with the communications you send out. For example, if you send an email to waitlisted families stating that their start date is being moved back due to a classroom closure, you can then automate a text to be sent to any parents who didn't open the email within the first 48-hours, ensuring they still receive this vital information.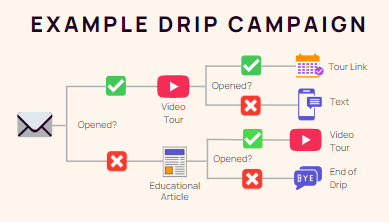 Example of drip campaign
3) Standardize What COVID-19 Communications Looks Like for Each Center
Each center should utilize the same email/text templates and workflows to ensure COVID-19 messaging remains on-brand and consistent across all your locations. Ensure all parent communications regarding COVID-19 are standard by using the same imagery, verbiage, and logos that reflect your brand guidelines.
If your center closes, the last thing you want is for parents to hear about it from an external source like another family or a local news outlet. Communicate in a timely manner to both prospective and enrolled families, ensuring staff is all on the same page about what the next steps are and what precautions or policies are in place regarding children's health and safety in case a parent calls, texts, or emails with questions. This consistency enhances the parent experience and shows families your childcare organization is professional and reliable.
4) Engage Parents with Relevant Material
When a center or classroom within your organization closes, the best thing to do is immediately communicate with parents. Update enrolled families with COVID-19 information, protocols, and inform them about potential reopenings. Parents want to remain in the loop so they understand when their child can safely return for care. Take a look at the types of content to send to parents during a COVID-19 center(s) closure...
COVID-19 updates – Focus parent communication around relevant COVID-19 updates. Are there new outbreaks that will extend the closure? Alternatively, is the CDC (center for disease control) updating the length of time it takes to quarantine – meaning an earlier or later reopening? See the CDC's current mask and communal space guidelines for children and your staff.

Be prompt and let parents know as soon as your center is ready to reopen. Use a preferred form of communication – such as text, to keep parents updated.

Center policies – How does your childcare organization plan to battle COVID-19 moving forward? Your potential and current parents will want to know that their child is re-entering into a safe environment.

Send out a survey – Surveys are a great way to stay engaged with parents. Have your staff send out a survey to all families that are affected in any way by your center location(s) closure. Check on the emotional, mental, and developmental well-being of your parents and children.

Provide rich content for students while temporarily unable to attend in-person due to center closures. How will younger children progress developmentally through closure – is your organization going to send supplemental activities or materials? Do parents need community resources? Do they need a list of available places that conduct COVID-19 testing? Have these resources ready for your families so you can be a source of trust and safety for them.
Relay positive messages because this is a tough time for everyone. Keep your families engaged by sending a 'positive word of the day' or positive news through a community newsletter.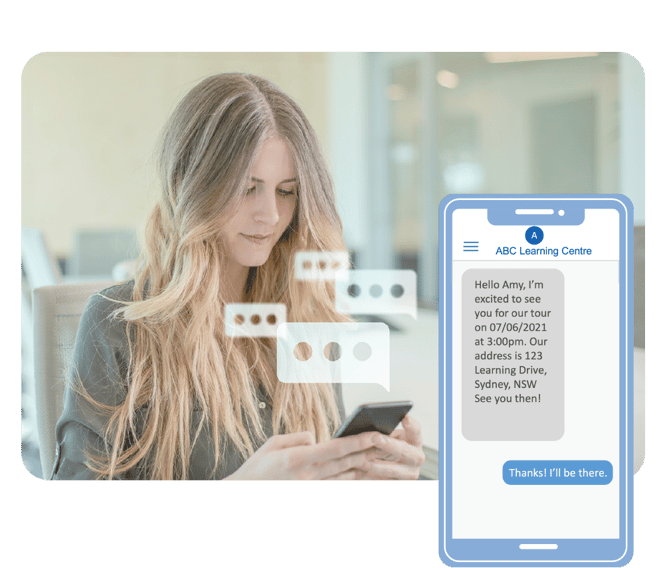 Navigating COVID-19 center and classroom closures isn't something you signed up for when you decided to become an educator but we're here to help. Use these tips to help you establish contingency plans, guide your staff, and easily communicate with parents. To effectively communicate amidst the COVID-19 pandemic: personalize your messaging by segmenting your audience, automate communications for consistency and standardization, and share relevant content with parents.
Learn more about effective tools for automating these communication processes by clicking here.