It's no secret that technology is awesome. 😎💻
From booking an Uber to telling Alexa to read you the news, technology has made its way into all aspects of life as a way to make things easier. And when it comes to childcare, technology is at it again.
Today there are hundreds of childcare apps out there to help keep childcare staff and families connected — but when families are met with antiquated systems from their childcare provider, staying engaged starts to feel like a chore.
So what exactly is the difference between a childcare app that drains your budget vs. one that brings teachers and parents closer together?
Here are the top five things every great childcare app for parents should accomplish.
1) Easy Communication with Parents
Gone are the days when parents dropped off their children with a care provider and heard nothing until they picked them up again at the end of the day.

Teachers and staff can now keep families updated throughout the day via secure messages, photos, and even videos celebrating a child's key milestones and special moments in your care.
For the next generation of Millennial and Gen Z parents, this is a big deal.
According to the New York Times, Millennial parents (a.k.a. "parennials") are what's referred to as "high information parents". They use mobile apps in all areas of life. To them, childcare should be no exception.
With an easy-to-use family app, childcare customers get a window into their child's development while building a stronger connection with teachers and staff. No need to dig through messy school bags for crinkled daily reports or hunt through cluttered emails.
Structured like a social media feed, LineLeader's family app helps teachers and staff instantly share important Moments via their own email, text, or WhatsApp so that anyone — including grandma, grandpa, or great aunt Sheryl — can share the moment too.
Here are just some of the Moments to choose from:
Comment Moment:

Share a quick note with parents or post a photo to a child's timeline.

Food Moment:

Log when a child last ate, including how much was consumed (you can even connect your menus!).

Health Check Moment:

Perform a health check when a child arrives at the center. Screen for symptoms of colds, flu, or COVID-19, and keep track of symptom timings.

Activity Moment:

Record when a child takes part in key activities, share photos and track how they engaged with other children.

Supplies Moment:

Notify parents when their child needs to bring extra supplies or give them a heads up when their child is low on certain supplies.
The right childcare app will make it easy to share an update on every common childcare scenario, including moments for Learning, Ouch, Incident, Illness, Behavior, Potty, Sleep, Medical, Safety, and Mood updates.
These real-time updates are not only a great way to increase family-center connection, they also allow multisite directors to see what's working across each center location in one streamlined report.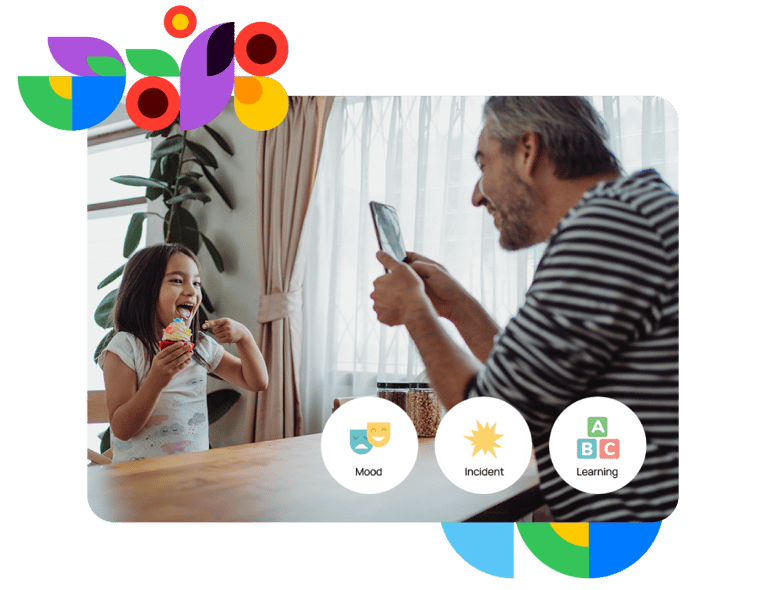 2) Centralized Announcements
From bulletin boards to sticky paper sheets and clunky attachments — no one likes hunting for answers.
When selecting a childcare app for your business, look for a tool that makes it easy to communicate the latest announcements in the user's main Activity area.
With a centralized Announcements Center, LineLeader's Engage module and childcare app work together to help you share important information with the click of a button. Announcements can be sent to everyone in your center or segmented into specific groups.
This is an easy way to keep families in the loop on important updates, such as:
School is closed tomorrow —

Happy Memorial Day!

Tomorrow is picture day —

Say cheese!

You have a parent-teacher meeting —

Arrive at 7:30 am (coffee and donuts included!)
Download the ultimate family engagement guide to enhance communication between your staff and parents.
3) Informed Arrival with Express Drive-Up
Half-packed lunches, unbrushed hair, mismatched socks. For working families, the morning rush can be stressful.
To help lighten the load, look for a childcare app that offers informed arrival via Express Drive-Up.
With a touch of the app, families can instantly let centers know they're on the way and even include an estimated time of arrival — for example, "Jayden is a bit fussy but on the way and arriving at 8:10 am."
With Express Drive-Up, teachers and staff can:
See who is on their way to school that day

Identify how many students will be arriving at the same time

Modify plans, schedules, or meals as needed

Easily check in students on the app to smoothly begin the day

Greet stressed-out parents with a smile
You already know transitions are crucial for a great day of learning.
Whether they're on time, late, or absent, the right app will help childcare providers keep classroom ratios balanced while reducing the drop-off chaos for busy parents and families.
4) No-Stress billing
Millennial and Gen Z parents are no strangers to cash apps. Today more than 80% of Gen Z use a money transfer app like Venmo and only 47% have an account with a traditional bank or credit union.
Learning how to balance a checkbook just isn't in the cards for modern families. The billing process at your ECE center needs to reflect that.
To make payment easy (and keep your center's cash flow strong), look for a childcare app that enables guardians to pay via the same place where they receive all the other announcements and updates from your center.
With LineLeader, families get one invoice, one billing cycle, and one place for payments. No re-authentication or re-login is required.
Families can manage payment methods, and invoices, and even set up autopay all in one seamless system, saving time for both parents and team members.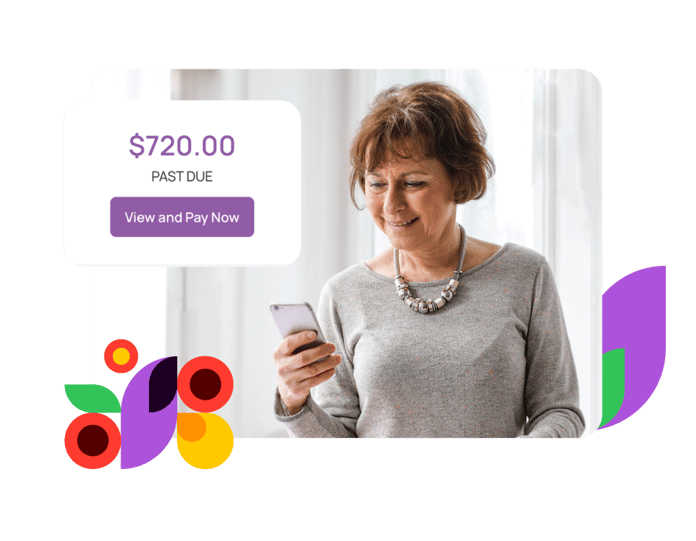 5) Happier Teachers and Families
Burnout is an ongoing challenge for modern ECE professionals.
According to the National Foundation for Educational Research, one in five teachers feels tense about their jobs, compared with only 13% in other occupations. In a fast-paced environment like early learning, that number may be even higher.
Though no fault of their own, teacher stress can have a detrimental impact on the children in their care. Fortunately, the right childcare app can reduce the time it takes to fulfill the admin tasks that often bog your teachers down.
By using a childcare app that is directly connected to the same childcare experience platform used for billing, classroom ratios, and reporting, the team at Lightbridge saves 35 hours per center, per month.
Just imagine how much happier your teachers and staff would be if they could win back an entire week each month.
With instant access to all family data, a great childcare app will also help reduce stress within the team by giving staff access to the answers they need, when they need them.
---
A childcare app fit for the future
A five-star family experience just isn't achievable with paper daily reports or endless emails.
To position your childcare business for success now and in the future, you need a modern app you can count on.
LineLeader is the first and only unified platform that delivers full-featured customer relationship management (CRM) software, childcare management software (CMS), and a user-friendly family engagement app together in one solution.
Because the future of childcare is about people, not technology. 👏
Already a User or Simply Want to Learn More?
Download the family engagement guide to expertly grow and manage your childcare business.
Not a User Yet?
Schedule a free demo to see how LineLeader can help you tackle any challenges that come your way.
Additional Content Resources
Video Resources