Summer arrives quickly every year.
If you haven't already created your marketing materials, it's crunch time. Parents have plenty of options when considering summer camp or child care options, which makes the promotion and delivery of your message and camp plans even more important.
You need to build strong campaigns that attract families and get them to enroll at your center for (at least) the summertime.
Check out campaign examples that convert and an important summer camp marketing checklist. ☀️

Why Is Marketing for Your Summer Camps Vital to Childcare Success?
Childcare is a business with peaks and cool-down periods, just like any other industry. Both summer and fall are pivotal seasons for gaining new family leads, re-registering continuing children, and, ultimately, boosting enrollment for the upcoming school year. For your summer camp marketing checklist, you'll want to focus on...
Gaining new families.

Potentially turning those new families into full-time enrollments.
Ensuring your currently enrolled families (that registered for your summer programs) are happy, so they re-enroll every season.
Summer camps are a great time to highlight the uniqueness of your center. Remember - you always have something to offer families that other centers don't have. Whether it's a nature discovery camp, STEM-focused summer programs, or special educational field trips, make sure families are aware. And one of the best ways to inform parents and guardians about these unique offers is through your marketing communications. Learn how to attract and engage more families for your programs by watching the insightful video below.
Summer Camp Marketing Campaigns - Tips and Examples
In the United States, summer camps typically last anywhere from 9 to 12 weeks. It's the perfect timeframe for wowing families across the board. To gain and impress families, you'll want to:
Communicate consistently. For example, ChildcareCRM allows you to store beautifully branded and professional-looking text and email templates. Effortlessly schedule them to go out ahead of time, practically hands-free.

Make a plan. Decide what your competitive advantage is, based on which programs you offer. If you feel like your programs aren't unique enough to highlight, showcase something else that sets you apart - whether it's your stellar staff, amazing teachers, or incredible curriculum. Build a landing page for your summer camps to capture interest. Then, focus your email and text campaign messaging around your program benefits to grab the attention of new families.

Know Your Audience. The majority of today's parents to children under the age of 12 are Millennials. They want fast communications, self-service options, and a simple, straightforward registration experience.
Take a look at these successful summer camp landing page examples to inspire your own communications.
1) Childcare Network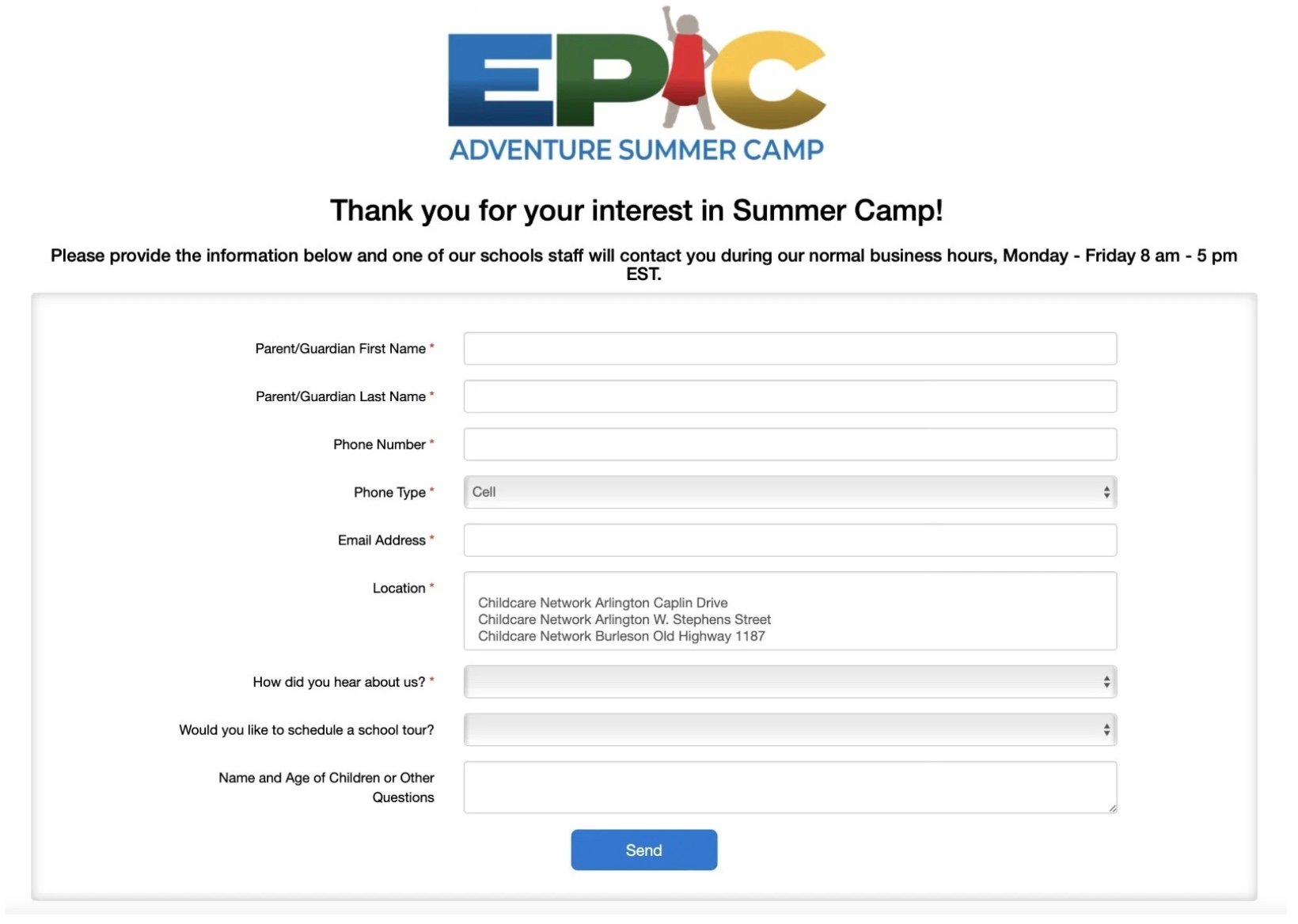 Childcare Network summer camp form - created by using LineLeader
What Makes This Work:
Fresh design – good use of white space

Summer hours of operation listed

Pop of color in the logo
2) Code Ninjas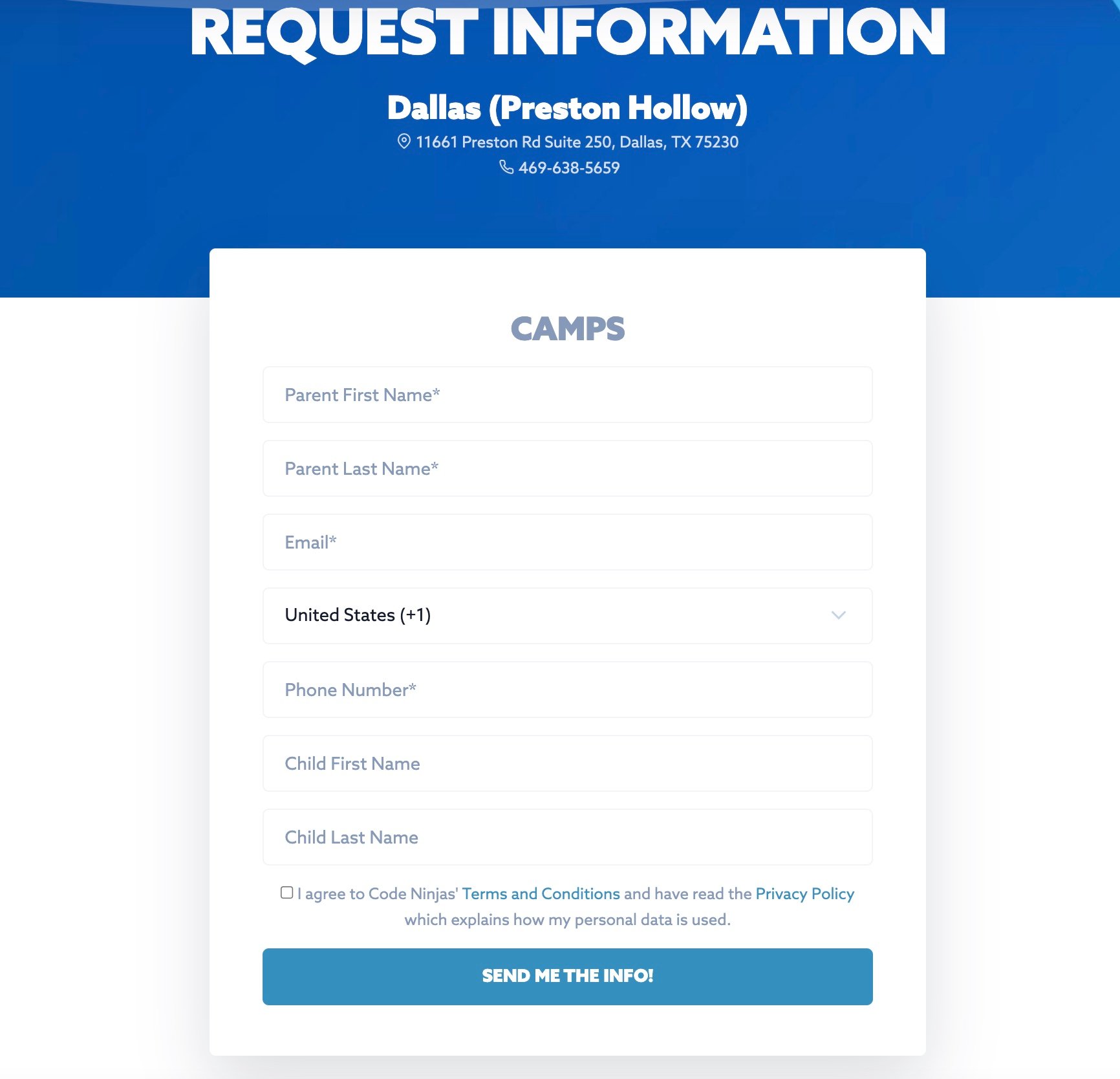 Code Ninjas summer camp form - created by using LineLeader
What Makes This Work:
Clean design

Readable colors and fonts

Short, simple form to fill out
3) Kids R Kids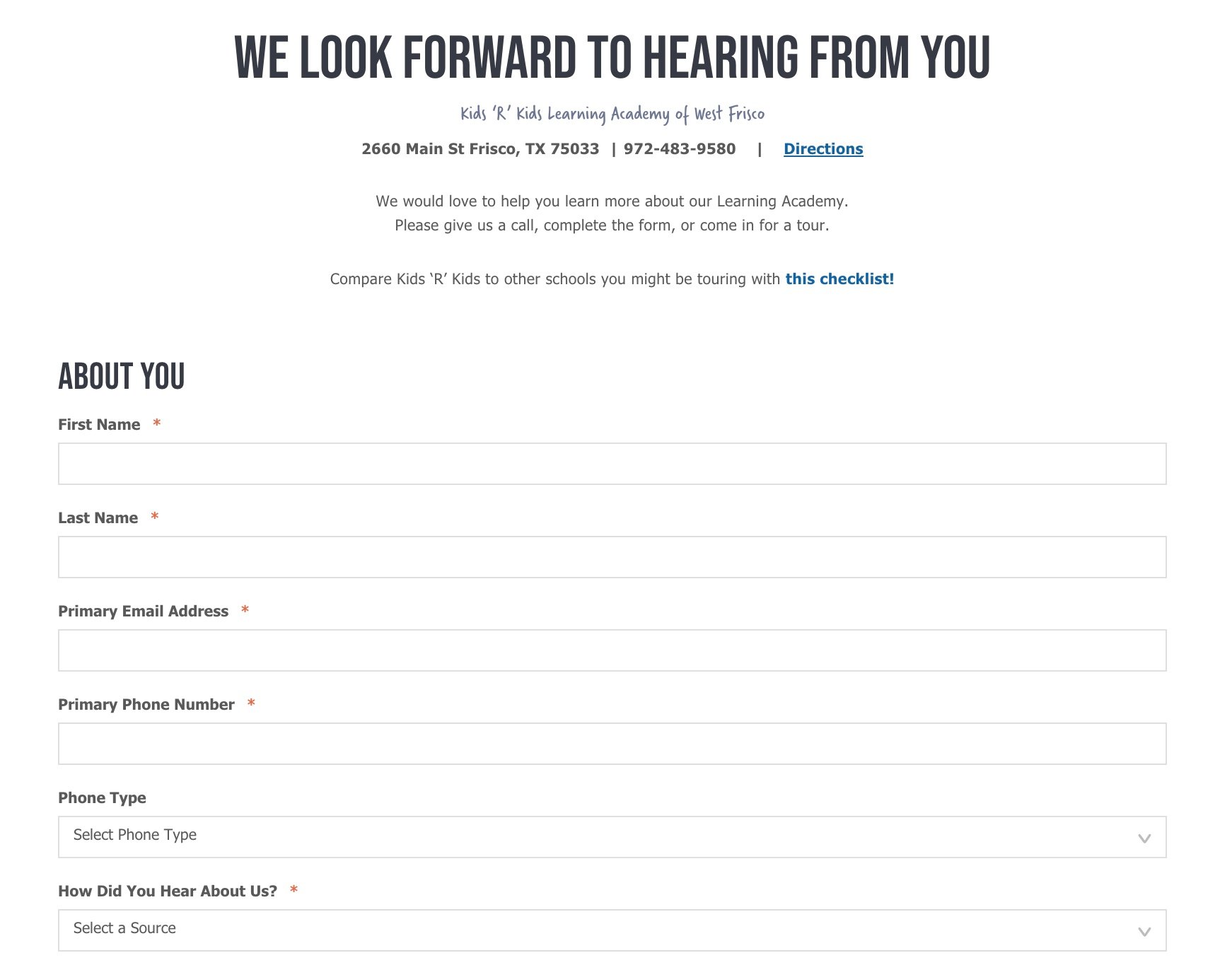 Kids R Kids summer camp form - created by using LineLeader
What Makes This Work:
Bolded title of form – above the fold

Includes their slogan and a positive message

Identifies what the form is for
What Is a Marketing Checklist and How Can It Benefit Your Center?
A marketing checklist helps you effortlessly enhance all marketing communications and initiatives. See the list below for a free checklist that ensures your summer campaign texts and emails are attracting families that want to register.
Remember, rule #1 of what not to do in marketing - forget your best practices and don't improve marketing communications. If you do this, you're likely to miss vital enrollment opportunities.
Your Ultimate Summer Camp Marketing Checklist: For Directors
Pick a theme for your summer camp(s) that resonates with kids and parents.
Survey current school-age enrollment – kids and parents – on their theme preferences.
Re-brand your summer camp(s) a little differently from your year-round program.
Identify community marketing opportunities to get the word out ASAP..
Launch a referral campaign with currently enrolled families.
Decide what your follow-up processes are for a summer camp inquiry and communicate them with your team or automate them in your system – don't forget their decision-making process is often very different.

Create a summer camp email and text campaign

. This is great for the fast nurture of Millennial parents and gaining responses quickly.
Use your LineLeader by ChildcareCRM group manager to segment potential opportunities for the camp program and set up email and text campaigns, follow-up tasks, and print mailing labels.

Manage summer camp marketing

by building a Marketing Campaign in your CRM system so you can report on the ROI and effectiveness of each email, flyer, or community event.

Check out this blog

for additional tips on creating stronger email marketing campaigns.
Not a User Yet?
Schedule a demo to boost your summer camp enrollment, with the right technology.
Already a User?
Check out how to build email marketing campaigns like a pro. Happy camping!