Are you looking to better understand the expectations of your parents?
If so, you're in the right place!
Millennials and Gen Z are parents now...we know – time really flies! 🤯
Growing up in the digital age, they have specific expectations. And it can be hard to keep up.
But don't panic. In this blog post, we'll discuss what makes these two generations of parents unique, their values, and how they approach choosing to enroll (and re-enroll) for childcare.
What's a target market?
When it comes to marketing your childcare center, you want to make sure you're reaching the right people.
Your target market is a group of consumers that could potentially enroll at your childcare center. The first step is to identify your market segments and determine how big each segment is.
We know it can be tempting to define your market as "everyone in your community" or even "every parent in a 40-mile radius," but that's not going to help you get any new customers.
When you generalize your advertising in favor of not isolating a potential consumer, you aren't able to effectively communicate with your ideal customers—and besides, forgetting to recognize how your childcare center can appeal to them and their needs means you're missing out on an opportunity!
A classic example is a shoe manufacturer.
While it would be tempting for a shoe company to say that their target market is anyone who has feet, realistically they need to target a specific segment of the market in order to be successful. If they sell adult athletic shoes, they should be building their message around athletes or individuals who enjoy staying active and exercising.
Who is my target market?
Millennials (80% of today's parents with children under 12) and Gen Z (predicted to be the majority of first-time parents in the US before 2025) are your primary parent demographics, and as digital natives, they have high expectations for personalized, digital experiences.
Modern families are busier than ever, so they expect a smooth, hassle-free childcare experience that is personalized and digital-first, both before and after enrolling for care.
Stats About Millennial and Gen Z Parents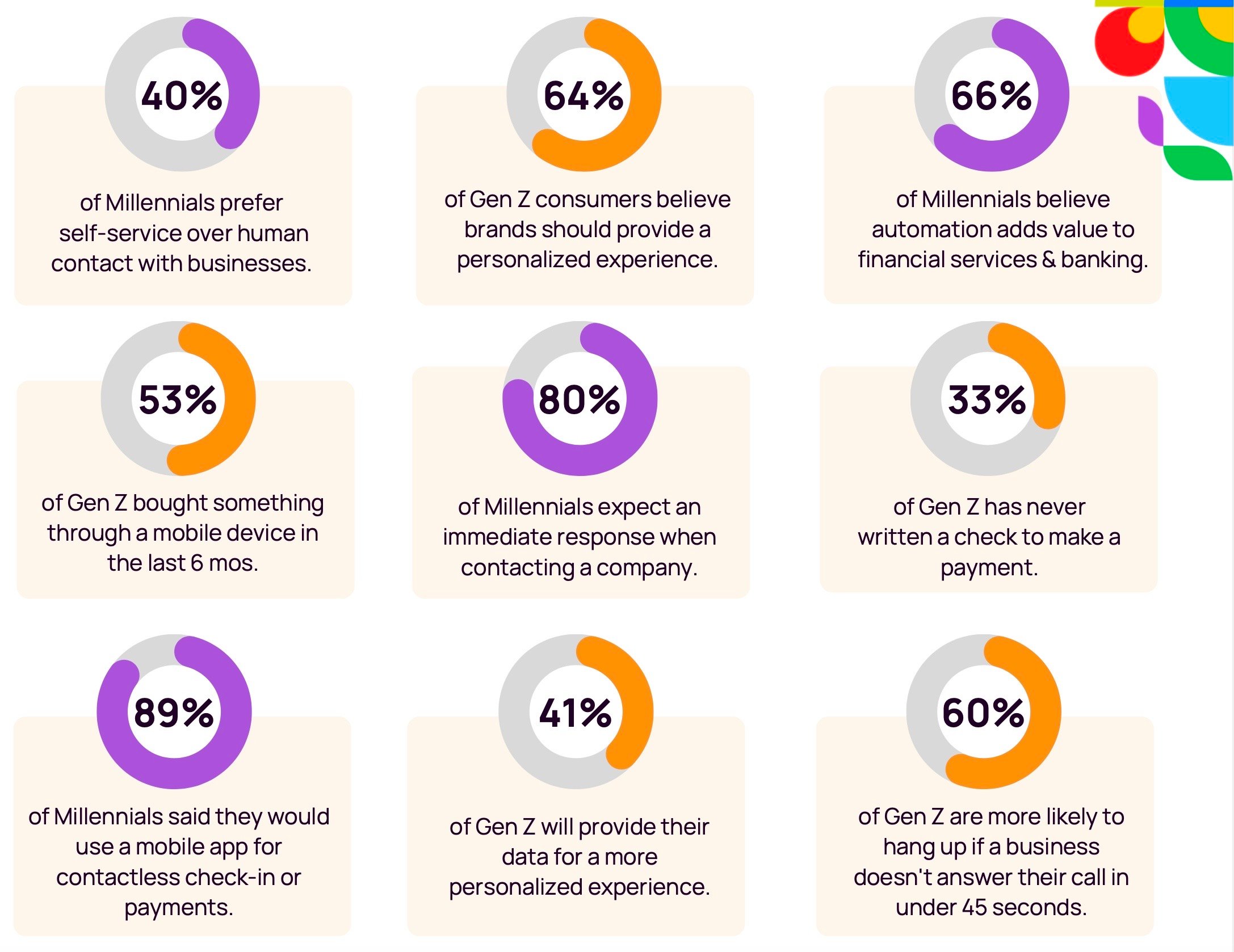 Statistics about Millennial and Gen Z parents
Where can I find my target market?
Knowing where to find your target market is just as important as knowing who your target market is...
For example, did you know the average Millennial mom spends about 23 hours online per week?
And more than 90% of Gen Z adults spend at least an hour on social media per day!
Needless to say, your daycare target market – or primary parent demographic(s) – is constantly online. Make it easy for them to find your center and programs by keeping an active online presence.
P.S. Once you've got a presence on Google, your website, and other lead generation services (like Winnie, Kinside, or Care.com), LineLeader makes it easy to capture and organize all those leads in one place. Plus, you can schedule automated follow-ups, using email or text, that keep prospective families engaged and excited to enroll.
Schedule a demo to learn more.
---
Cater to Changing Family Needs
As a childcare provider, understanding the characteristics and expectations of Millennial and Gen Z parents is key to developing an experience that will resonate with them.
From offering digital communication and payment solutions to providing more personalized experiences, there are many ways you can tailor your services to meet their needs.
Download our report to learn more about Millennial and Gen Z parents, and how you can provide the care they need for their families.
Already a User or Simply Want to Learn More?
Download the benchmark report to expertly grow and manage your childcare business.
Not a User Yet?
Schedule a free demo to see LineLeader in action.
Additional Resources