Are you looking to improve family engagement AND retention in your centers? 👨‍👩‍👦
Then, we've got the answers for you. It's time to stop juggling and start managing.
Long gone are the days of drowning in stacks of paper. No more chasing down parents to hand them daily reports that – let's be real – likely end up crumpled in their child's backpack. 🎒
Your staff doesn't have the time for it. And your families are looking for more meaningful interactions.
That's where a user-friendly family engagement app comes in.
Keep reading to learn how the right solution empowers busy staff members to easily connect with families, enriching each child's development.
Connecting families — improving your family engagement workflows.
Family engagement is all about building relationships that enhance a young child's learning. It also happens to be what keeps families enrolled in your centers.
The cost of gaining a new customer is roughly five times more than retaining an existing one, yet most centers do little more than send home a paper-based daily report, then wonder if parents and guardians even read it.
With a unified childcare experience platform and user-friendly family engagement app, busy staff members can instantly connect with families, straight from their mobile phones - while keeping communications on-brand…and more importantly - secure.
Download your FREE guide to connect families in just a few clicks. 🖱️
The problem: Disjointed systems create barriers between families and staff
If you like when staff forget one of their 12 passwords and have to spend time on the phone with tech support, feel free to skip this part.
Still here? We thought so.
Most center staff would rather spend their time doing anything else besides tedious admin. And yet 60% of childcare teams spend 7 or more hours per week dealing with manual processes.
Considering more than 120,000 childcare professionals left the industry between 2020 and 2022 — it's time to prioritize your staff's satisfaction in any way possible. And centralizing your family data is one of the easiest ways to accomplish that.
Our research has found that the average childcare worker is logging in and out of six or more systems each day to send updates to families via multiple apps and devices. Simply put, that's way too much time spent away from the important work they were hired to do — caring for young children.
Today's families aren't thrilled with the old way of doing things, either. Consider that 33% of Gen Z has never even written a check and 75% of Millennials avoid answering the phone altogether. Connecting families and staff is a challenge with outdated processes.
Asking for paper checks and callbacks aren't helping families, staff, or your bottom line.
The solution: An easy-to-use parent app
With a top-notch parent app, families can see everything related to their child in one place. Plus, they can instantly message your team, pay their bill, and check their child in and out of your center each day.
An easy and intuitive parent app will include:

Automated daily reports

via app or email:

No more manual paper sheets. No more anxiety over whether families got the message.

Standardized curriculum

and development milestones:

Instantly

get everyone on the same page about what children are learning and why.

Real-time updates

:

Easily send a secure video, image or text-based update on every common childcare scenario.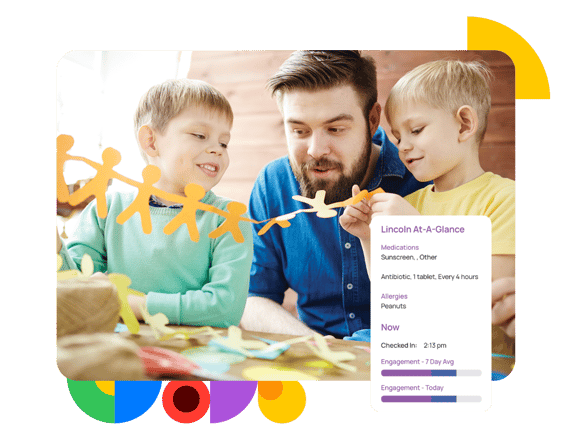 LineLeader: Family Engagement App
Every moment matters.
Don't let paper-based reports hold back your family engagement and retention efforts.
It's time to embrace the power of digitized family engagement. By utilizing a unified childcare experience platform and user-friendly family engagement app, you can easily connect with families in real-time, straight from your mobile phone.
Every moment in your centers is a chance to improve family engagement and nurture families toward re-enrollment.
The power of digitized family engagement helps get you there.
Digitizing your centers is just a click away. Download this guide to find out more. 👇
Ready to see an app like this in action?
Book your free LineLeader demo today! 👏