Today's families are feeling the pressure.
According to a recent survey from the American Psychological Association, a troubling 70% of parents reported extreme stress regarding their children's academic, social, and emotional development.
Because as any parent or primary caregiver can tell you, there is no job in the world that matters more than raising a happy, healthy human.
Finding the right childcare community is among the first crucial steps in that journey — but it certainly doesn't end there. Discover exactly what early childhood family engagement is and its value!
Learn how to boost engagement with a simple platform.
---
What is family engagement in early childhood education?
Family engagement is all about actively leading parents and families through their child's early learning experiences.
By embracing proactive communication and collaboration between families and providers, guardians and educators can create a supportive learning environment both at home and in the center. Understanding the answer to 'what is family engagement' will help you connect with families better.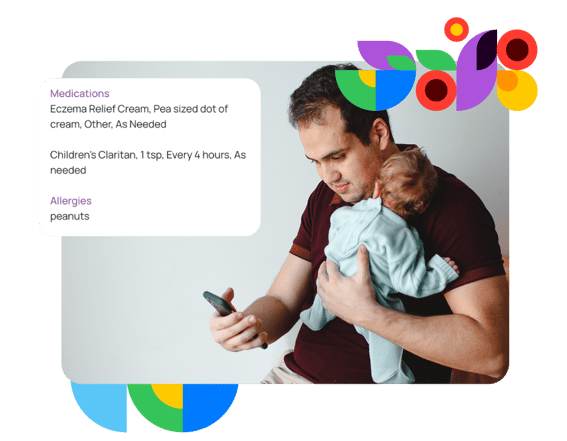 Allergy update using family engagement software
Benefits of Strong Family Engagement in Early Childhood Education
But the benefits don't stop there. With strong family engagement, you can expect:
Improved student outcomes
Stronger family-educator and educator-child relationships
Decreased behavioral issues
Better social-emotional development
Increased family buy-in
Greater family retention and re-enrollment rates
Unfortunately, many of today's family engagement apps are inconvenient, time-consuming, and easy for parents to give up on.
If you want to elevate your family engagement strategy and increase re-enrollments and referrals for your center, you'll need a tool that feels just as organic as the many other apps used every day by modern parents.
How can I easily engage my enrolled families?
From selecting a high-quality childcare center to staying on top of key developmental milestones, an engaged early learning experience is central to the well-being of each and every family with young children at home.
So why are so many family engagement apps clunky and difficult to use?
If you're here, you probably already know the right family engagement software is critical to the success of your business. But while many platforms can handle basic tasks like automating daily reports and payments, few were built with the staff and family experience in mind. Early education software can help streamline communication with families.
---
Solve your biggest problem: boost family engagement
We're going to leave our bias at the door and help you make the best choice for your center. Choose a childcare experience platform that puts the family experience at the forefront.
Already a User or Simply Want to Learn More?
Download the family engagement guide to expertly grow and manage your childcare business.
Not a User Yet?
Learn how to boost engagement with a simple platform.
Additional Resources
Video Resources