If you're anything like us, you've probably noticed a change or two (or 200) in the childcare industry over the past couple of decades. The biggest one is the insatiable demand for childcare staff.
But fear not, dear friends, because where there's a problem, there's a solution - and we've got just the thing. Technology! Say goodbye to piles of paperwork and endless hours of admin work and say hello to solving your childcare staffing challenges!
Check out our proven staff retention templates + toolkit. 👩‍🏫
---
Overcoming the Tight Labor Market
The tight labor market is creating challenges for employers. It not only affects the number of available workers but also the types of workers they can hire.
For example, many people who were previously working part-time or in lower-paying positions are now seeking full-time employment.
This trend has caused employers to increase wages in order to attract and retain talent, which may be another reason why childcare staffing costs have risen over the past few years.
It costs more to hire qualified staff now.
Hiring qualified staff is more expensive now than ever before. The cost of salaries and benefits alone have increased dramatically over the past decade, with average wages for childcare providers reaching $22 an hour in 2017--an increase of over 50% since 2007.
The reason for this increase? The baby boomers are retiring and there aren't enough young people entering the field to replace them.
In addition to recruiting new talent, you also need to invest in training programs that will enable your employees to provide high-quality care while staying up-to-date on industry standards and best practices.
And because turnover rates remain high among early childhood teachers (around 30% annually), it's important that you spend time and money retaining those who have joined your team so they can become better at their jobs over time -- especially when taking into account how much money each employee costs during their first year on the job: about $4,000 per person!
1) Staffing Challenges for Educators
Teachers and staff are blocked from organic communication and family relationship building:
Forced to manually write daily reports, staff are left wondering if parents actually see and read them. Without easy two-way communication, your staff is unsure whether families are buying into their child's curriculum and actively reinforcing it at home.
When back-and-forth calls, texts, and emails are the norm — so is wasted time. Childcare teams need a fast way to answer all key Q&A, speeding up response time and quality.
With multiple apps, emails, and devices, staff needs one place to communicate with parents and guardians in real time.
2) Staffing Challenges for Admin and Directors
Administrators and Directors struggle to gauge family satisfaction and secure re-enrollments:
Plagued by manual enrollment, billing, and engagement procedures — even the most crucial business data is left to guesswork.

Teacher certifications, license expirations, USDA reporting, and development standards by state, age, and program type create a never-ending juggling act for center leaders.

Center directors and admins need a unified platform that automates billing and invoicing and makes compliance, ratio management, and re-enrollment seamless - without the hassle of learning multiple systems.
3) Staffing Challenges for Owners or Executive Leadership Teams
Leadership teams

need to meet or beat revenue goals by leveraging simplified systems for increased family and staff satisfaction and healthier margins.

With multiple silos between centers and teams, leaders don't have access to accurate insights on business performance and revenue.

Leadership teams need a tool that standardizes processes enterprise-wide, tapping into economies of scale and consolidated support to reduce spend and increase ROI.
The childcare industry is maturing.
You might be thinking, "I'm not sure what this means for me or my business." Let's break it down.
First of all, there are more regulations to comply with than ever before. This means that if you're a director or owner of a childcare center, you have more hoops to jump through than ever before. You need more training for staff and background checks for everyone who works at your center--including teachers and cooks!
And don't forget about child safety!
All those regulations come with good reason: they protect kids from harm while they're in our care--and make sure that when things do go wrong (as they sometimes do), parents know that their children will be safe from harm's way in their schools or daycares.
But complying with these rules takes time away from running operations smoothly; it also costs money upfront before any revenue is generated by new programs or services offered at your facilities...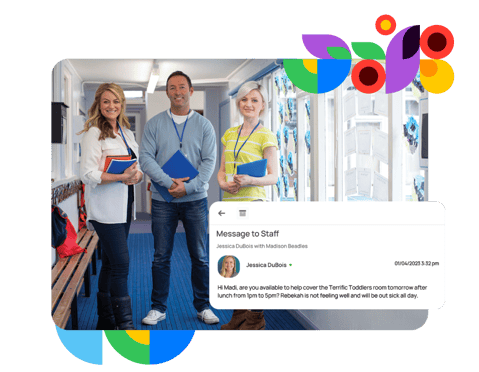 Staff messaging in LineLeader Manage
---
Technology has changed the way we do business.
Technology has changed the way we communicate with parents and market our business, but it also changes how we interact with them in general--and that has an effect on how staff can support children's learning at home as well as at school or daycare.
LineLeader is here to help you navigate today's changing childcare landscape.
With the first and only unified childcare platform wrapped up all neat and tidy – you'll be able to manage everything from lead follow-up to curriculum.
Not to mention – the entire cost of this incredible platform is less than one family's registration fee. Invest today for a stress-free day tomorrow.
Not a User Yet?
Get a demo to get to know LineLeader – your solution to managing staff with ease.

Already a User or Simply Want to Learn More?
Check out our staff engagement guide to attract and retain more childcare employees!