Your ChildcareCRM software can help you do much more than just store family information and send follow-up communications. Take advantage of ChildcareCRM's functionality to save time, boost productivity, and increase organization across your entire business.

In particular, there are three key CRM features that our users have reported help them save the most time so they can focus on what matters most- the children in their center.
1) Workflow Automation
There are many benefits to automating your marketing and sales processes. The biggest of these is the amount of time you save when you minimize the number of manual tasks you need to complete each day. Some of these tasks include sending email or text reminders about tours, registration forms, and general follow-up communications.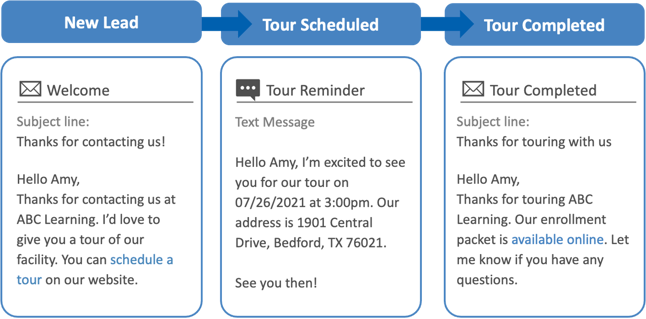 Automate Initial Follow Up
It's suggested that you follow up with new leads no later than 24 hours after their initial inquiry. Whether they've contacted you via email, social media, or a contact form on your website, schedule a text or email confirmation in ChildcareCRM, stating that you've received their message. This helps to increase the likelihood of enrollment by building a long-lasting, meaningful relationship.
Automate Post-Tour Follow Up
It's important to follow up with families after they've completed their tour. These communications ensure that you and your center still remain top of mind for them as they may still be looking at other options for care. However, it can sometimes be hard to remember who toured, when they toured, and their desired start date. Automated communications allow you to build text and email templates in advance. You can then schedule them to send to every family after their tour, along with personalized information about their family or child, such as the child's name, age, desired classroom, or any special care needs/requests.
Automate Lost Lead Follow-Up
Statistics from Protocol80 suggest that an average of 15-20% of potential buyers that weren't ready to make a purchasing decision were converted through automated lead nurturing. That's potentially 15-20% of families that you're missing out on if you're not creating automated communications for those who may have said 'no' in the past but could be ready to enroll now.
Gain Business Efficiency
Marketing automation brings other benefits for businesses, aside from just more leads and conversions. Workflow automation also helps reduce your marketing and staffing costs while increasing your business' efficiency. For example, Nucleus found that marketing automation boosts productivity by around 20% on average.
2) Parent Scheduled Tours
Tours are one of the most important steps in the parent journey.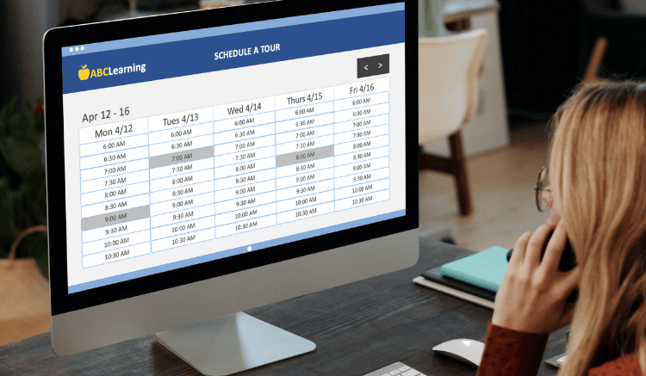 ChildcareCRM's Parent-Scheduled Tours feature has been built to simplify the tour process and make scheduling easier for you, your families, and your staff. This feature acts as a customizable landing page that allows families to book tours right from your website, immediately notifying you when a new appointment has been made.
There are many benefits when using an online tour scheduler. First is the reduced time your team must devote to this often-tedious part of the enrollment process. Eliminate the hassle of back-and-forth phone calls or emails and free up busy center staff (or enrollment team members) to work on other activities. Because this landing page is based entirely on your own availability, you can rest assured that tours will never be booked at a time when you're busy with other tasks or away from the center.
Further, Parent-Scheduled Tours will help you increase conversion rates by giving parents the convenient scheduling they expect. In our 2020 Building Blocks for Success report, we found that our top-performing centers booked 79% of their tours within 24 hours. These users averaged an enrollment success rate of almost 80%, demonstrating how scheduling tours promptly plays a pivotal role in whether a family decides to enroll with your center or not. But don't just take our word for it. According to www.oncehub.com, scheduling a tour/meeting with a lead within the first 24 hours of initial interest increases the chances of conversion success by 83%.

Learn more about how to start using Parent-Scheduled Tours in your ChildcareCRM platform.
3) Source of Families Report
If you've ever wanted to figure out where your potential families are coming from and how they're hearing about you, you'll want to look at CRM features that display reports. ChildcareCRM's Source of Families report shares all the places your leads are coming from, as well as how many new families came from each one, allowing you to make important decisions about your marketing and advertising efforts.
The first step in spending your marketing dollars wisely is to evaluate your best platform. Whether most of your recent new leads came from Facebook, direct traffic from Google, or a referral- you will be able to determine what source works best for your center. And remember, what may work for one center won't always work for the next... every location is unique, and your lead sources are too.
Use the findings from this report to plan your next marketing strategy and budget. This data can also give you great insight into areas where you can save time and start cutting costs. For example, if "Facebook Ads" is your lowest source of leads but "Google Ads" are performing well each month- maybe it's time to stop investing time and money into designing digital ads for Facebook.
For Current Customers
Learn more about how to use the features in your ChildcareCRM account by contacting your Customer Success Advocate, chat with a representative in your account, or email support@childcarecrm.com.
For Non-Customers
Schedule a free demo with one of our Solutions Consultants to see how these features work in ChildcareCRM.