Scheduling a tour is one of the most important steps in the enrollment journey for a childcare center.
But the process of scheduling a tour is inconvenient for parents. They have to fill out a form or call during business hours to request a tour. It can take hours or days to lock down a date and time after calls and emails back and forth.

Eliminate the hassle of scheduling tours with LineLeader by ChildcareCRM's Tour Scheduling feature. Increase conversion rates and give parents the convenient scheduling they expect.
Plus, you'll free busy center staff (or enrollment team members) to work on other activities.
1) Promptly scheduling tours can lead to higher enrollment rates.
In the age of instant gratification, response times matter more than ever before.
The amount of time that elapses between a parent or guardian's initial inquiry and when they tour your facility has a significant impact on your rate of conversion.
More successful tours = higher enrollments ✅
In a study, we found that our top-performing centers booked 79% of their tours within 24 hours. These users averaged an enrollment success rate of almost 80%. This clearly shows how quickly scheduling tours play a pivotal role in whether a family decides to enroll with your center or not.

LineLeader's software is specifically designed to let parents schedule tours right from your website. Parent contact information and scheduled tour dates and times flow directly into the platform, so you can automatically follow up. Manage the next steps for families in just a click or two.
2) Make tour booking convenient for families.
As prospective families explore your center via your website or Facebook page, they have the option to choose a tour time right then and there. It's a faster and simpler way for families to navigate enrollment. LineLeader Enroll's tour scheduling feature includes a helpful calendar, so parents or guardians can visually see the time and date they're selecting.
It definitely beats filling out a simple contact form (that doesn't sync anywhere)!
How does digital tour scheduling work?
Once a family has scheduled a tour- all necessary lead and child information is captured and sent right to your Enroll platform, hands-free. That way, you and your center staff are well-prepared to welcome a family when they arrive.
Immediately after booking, parents receive a confirmation with the:
tour time
center name
address
director's contact information
You can also set them up to receive text and/or email reminders as the tour approaches to reduce the chances of a no-show.
3) Remain in control of your tour availability.
With the tour scheduling feature in LineLeader Enroll - you are in full control. Decide how many tour spots are available and set time/date parameters.
That way, you and your staff are never caught off guard by an unexpected tour!
Tour Scheduling lets interested families book tours from available time slots that are updated in real-time. Turn your website into a powerful lead-generating tool - with hardly any extra work! We'll do the hard part for you.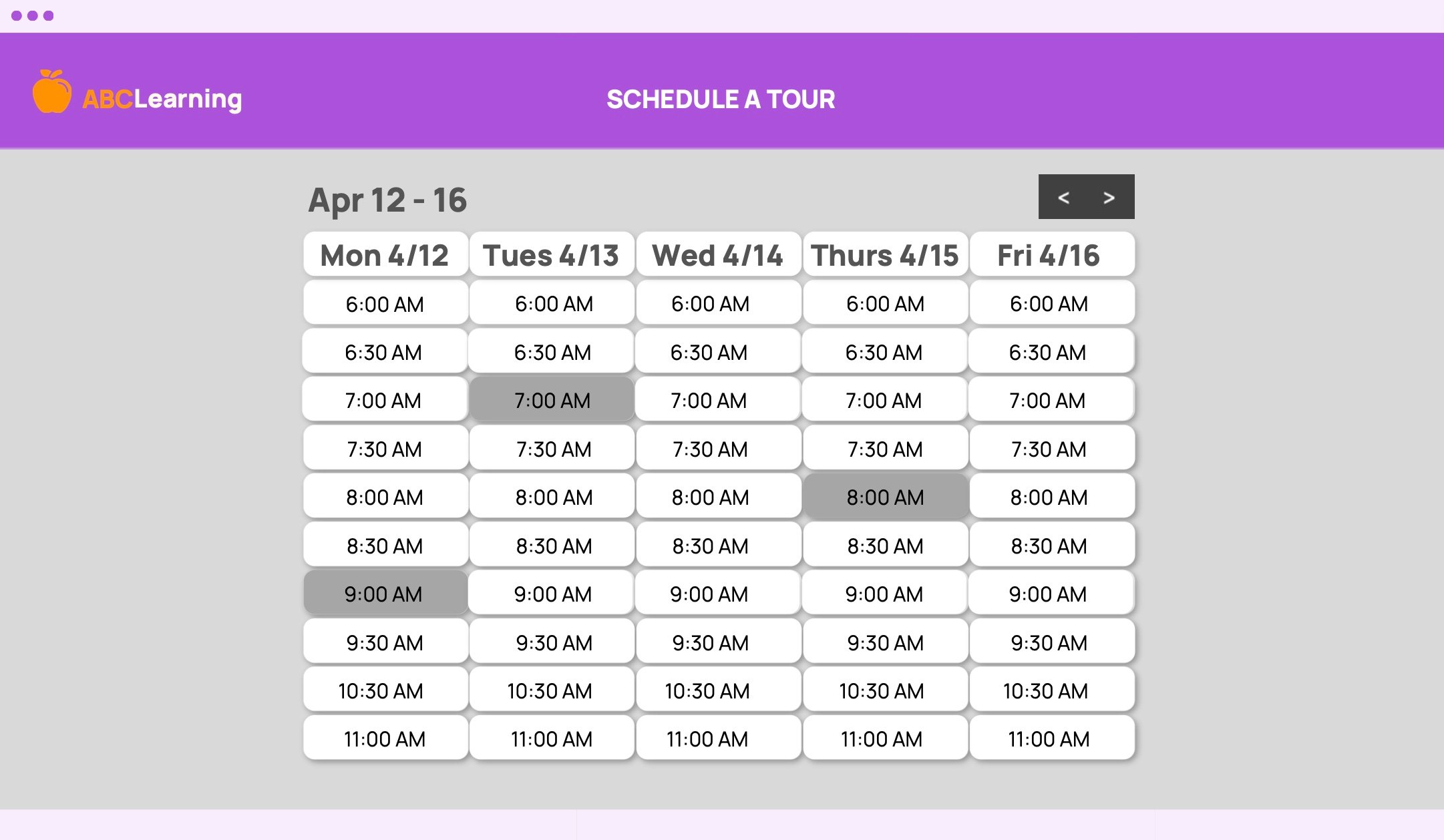 LineLeader Enroll: Tour Scheduling
---
Boost enrollment with a convenient tour booking system.
Self-service tour scheduling is one way of "meeting today's parents where they are".
Allow prospective parents to schedule a tour on their own time and at their convenience. Increase the likelihood of that family enrolling at your center while decreasing the chances of a no-show with digital tour scheduling.
Not a User Yet?
Click here to schedule a demo with one of our solutions consultants.
Already an Enroll User?
Learn about our other products to efficiently manage your center and engage families! LineLeader is your one-stop shop for achieving business success.