Which childcare marketing reports do you keep track of?
More importantly, how do you use reporting data to enhance your childcare organization's enrollment initiatives?
74% of marketers can't measure or report on how their marketing efforts impact their business. If that sounds like you, this lack of performance data could be negatively impacting your enrollment revenue. Read on to see which reports you should be analyzing for enrollment success.
---
The Importance of Childcare Marketing Reports
It's difficult for any childcare business, especially multi-site organizations, to monitor how successfully center directors are guiding parents through to enrollment. So, you're forced to text, call, or email individual directors just to get updates about the center. Unfortunately, the individual directors probably aren't monitoring performance closely enough to give you the data you need.
This is all unnecessary added stress for you, your directors, and your staff. Marketing reports help you effortlessly view real-time enrollment data to learn what's working and what's not in your centers. The following reports help you deliver a better enrollment experience and ultimately, increase revenue. Plus, automatically launch marketing campaigns and run reports - hand-free.
Grab the Ultimate Marketing Reporting Guide for Childcare Leaders to have a full-proof enrollment plan in your pocket.
1) Source of Families
It's helpful to know where families are hearing about your childcare business. Without a clear view of your most popular advertising channels, you don't know how parents are learning about your centers. Further, your marketing and advertising efforts may be wasted.
ChildcareCRM's Source of Families report tells you where each new lead came from. The report gives you a visual of how many leads came from each channel, including but not limited to your website, Facebook, a childcare listing directory, Google, and more. Based on the percentage of families coming from each source, you'll quickly know where you should and should not be spending your marketing dollars.
Use the report's data to help you enhance your marketing efforts and refine your spending. Invest in the channels that are popular and spend less on the ones that aren't working to generate more high-quality leads. For example, if most of your leads are coming from Google, start spending more on Google Ads and less on other sources that aren't delivering impactful results.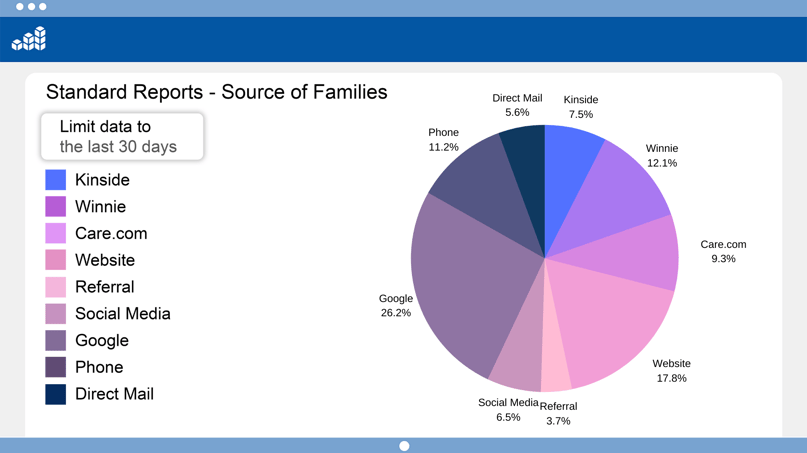 Source of Families report
2) Current Opportunities
Lacking a way to see how many prospective families are currently in your pipeline and what stage they're each at, you may miss out on potential enrollments. With the ChildcareCRM Current Opportunities report, quickly identify how many families are in your pipeline at the corporate, regional, or individual center level. Determine their enrollment status – whether they've scheduled a tour, completed a tour, joined your waitlist, etc.
Use 'Current Opportunities' report data to identify what leads need additional nurturing at each stage. For example, if there are a lot of families who've inquired but few who have scheduled a tour, maybe they need to be prompted by receiving a text with a link to your digital tour scheduler. This report will give you a good idea of which communication tasks to assign next – ensuring every family is followed up with promptly and stays engaged until they're ready to enroll.
For more ways to your childcare business's marketing plan - see the webinar below.
3) Scheduled Tasks
Do you need a better way to track staff productivity?
Then, this is one of the best marketing reports for you. ChildcareCRM's Scheduled Tasks report is exactly what it sounds like. Gain insight into how many tasks are ongoing and what percentage of leads don't have a follow-up task assigned. Plus, you can see the percentage of tasks past due and how many children have upcoming enrollment start dates.
Simply put, this report allows you to better identify the productivity levels of your staff, without you ever being in the center. Center directors can quickly monitor what staff should be prioritizing each day to ensure every family receives a great enrollment experience. Use childcare reports to gauge staff's productivity and increase efficiency across the organization.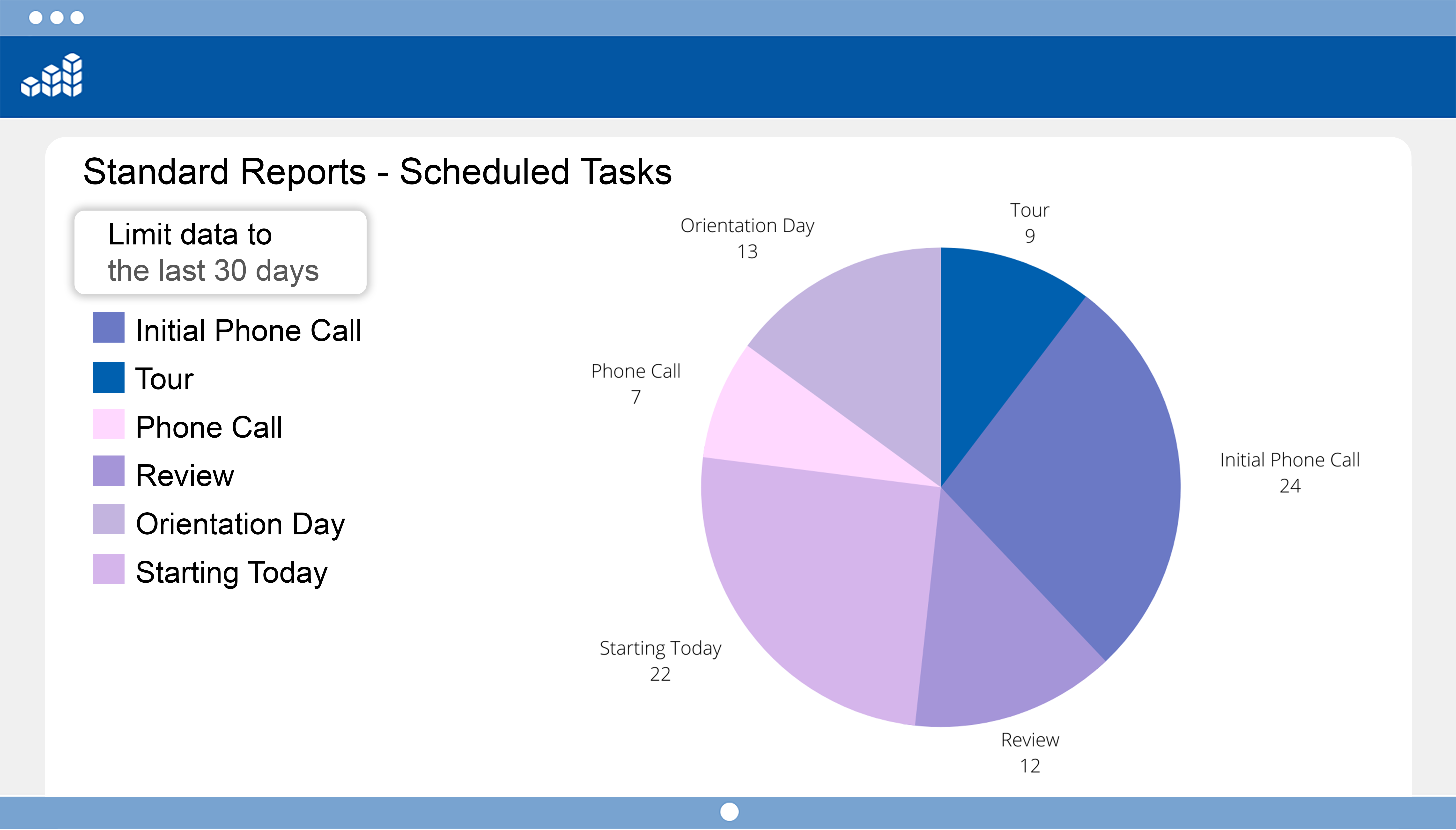 Scheduled Tasks report
4) Conversion Success
The Conversion Success report shows where families are converting (or successfully moving to the next stage) in your enrollment pipeline. You can specify which enrollment stage resulted in a conversion by selecting, "Converted from Status."
Did you know that 85% of top-performing centers book tours in less than 24 hours? Whether you're looking at the number of tours completed or scheduled tasks - conversion success is important. Without it, you won't have a clear idea of individual center progress and overall organization performance.
Use this report to determine which of your enrollment stages need more follow-up or tasks to guide families. For example, you can track conversion success from one stage to the next by seeing how many parents who scheduled a tour actually showed up.
Use this report to evaluate where things are going right for your business.
5) Lost Opportunities
Losing out on an enrollment opportunity hurts your overall revenue but ultimately can provide insight into your enrollment journey.
Contrary to the Conversion Success report, use ChildcareCRM's Lost Opportunities report to see where families are becoming disengaged or losing interest in your centers. Determine where prospective families turn to lost opportunities, at every stage of the parent enrollment journey. For example, if many tours are scheduled but few are ever completed – consider assigning more follow-up and tour reminder tasks to your staff.
Use ChildcareCRM's Lost Opportunities report to re-engage families who dropped out of your pipeline but may still be looking for care. Gain a competitive advantage by retargeting your lost opportunities with a different strategy that may better suit their current care needs.
---
Make Reporting Simple
Our childcare platform offers reporting tools, so you can easily view performance and make data-driven decisions. Optimize your marketing strategy – even if analyzing data isn't your favorite part of your job...
Before our platform, New Horizon Academy had no central database to store and manage leads. This made gathering reports and tracking performance by center location difficult for NHA, if not nearly impossible.
"Reporting is critical to provide us insights into inquiries by age, how families are hearing about us and where our marketing dollars are being spent (and returned). Before ChildcareCRM, we had no insight into what schools were performing well or not. ChildcareCRM allows us to easily access reports and helped us enhance our marketing initiatives to optimize the enrollment experience for parents."

- Cara Johnson-Bader, VP of Marketing & Parent Experiences at New Horizons Academy
Interested in Using ChildcareCRM?
Schedule a demo to see how reports can help your childcare business gain real-time insight into all of your center locations.
Already Using ChildcareCRM?
Download The ultimate Reporting Guide for Marketing Leaders to learn more tips and tricks. Unlock essential best practices for using reporting tools to improve your enrollment and marketing performance.