Do you know how marketing is performing across all your center locations?
It's tough to identify your most successful marketing efforts without access to real-time enrollment reports. And unfortunately, without this data, it's impossible to know if there are any issues in your enrollment process that may be causing you to lose opportunities and miss out on potential revenue.
Learn how to make smarter decisions for your childcare business – faster. Improve your conversion rates with optimized marketing campaigns, backed by actual data.
Why

Is

R

eporting

Important for

Childcare

Enrollment

?
Understanding how to optimize marketing campaigns starts with reporting. Childcare enrollment and marketing reports display information about your family data, staff productivity, task efficiency, campaign success, and more. Real-time reports update your data promptly and more often– ensuring you have the most up-to-date information available. Time-sensitive data – like tours scheduled that day, enrollment conversions, and children starting – are typically visualized in real-time dashboards.
Download the guide to learn about helpful reports for childcare marketing leaders.
How Does Real-Time Insight Impact Childcare Organizations?
Have you gone days, even weeks, without knowing the current performance across your centers?
Fortunately, real-time insight gives you and your team access to campaign data, so you can enhance your marketing communications. Personalize your marketing campaigns to communicate with the right parents via the right channels.
Once you know what prospective families prefer, send engaging content that converts. Further, use real-time reporting to...
Better understand your parent journey

Make well-informed decisions that grow your childcare organization

Maintain accurate information

Reduce costs with a data-driven strategy
Types

of Reports to Elevate Your Marketing Campaigns and Enrollment Journey
1) Marketing Campaign ROI Report
Overall, this report tells you which marketing campaigns are most effective. It details an account of which active marketing campaigns are producing enrollments. Unfortunately, lacking a Campaign ROI report leads to inefficient campaigns that run longer than they should. You'll possibly experience a loss of revenue without access to this data.
See the results of each marketing campaign and the outcome of specific conversion or revenue opportunities. Invest marketing spend in the highest-performing campaigns.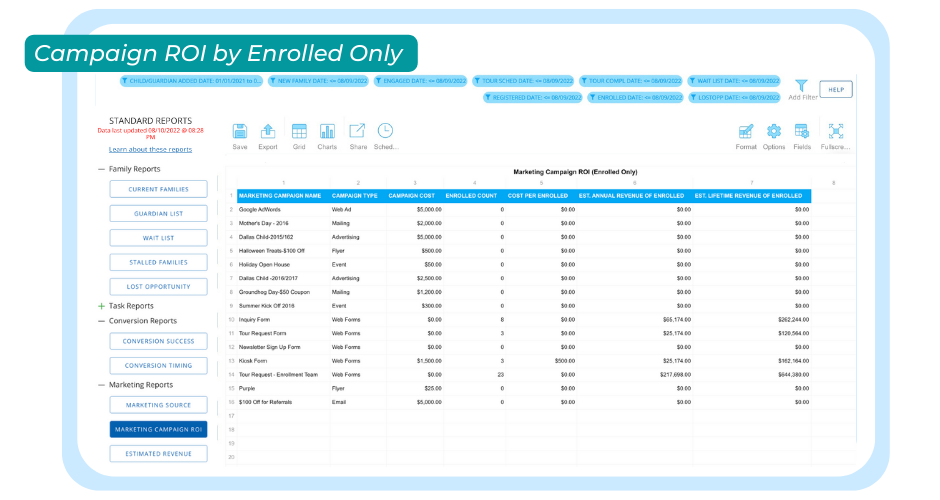 Marketing campaign ROI report
2) Marketing Source Report
A marketing source report tracks your marketing sources, such as families coming from your website, search engines, direct mail, referrals, and more. This report tells you where each new lead came from, giving you a visual of how many leads are from each channel. Without it, you'll find it difficult to know your most popular marketing channels – which wastes your marketing and advertising efforts.
With a clear view of your most popular advertising channels, you'll know how parents are learning about your centers. Improve your marketing efforts and, ultimately, your ROI by investing in the channels your parents prefer.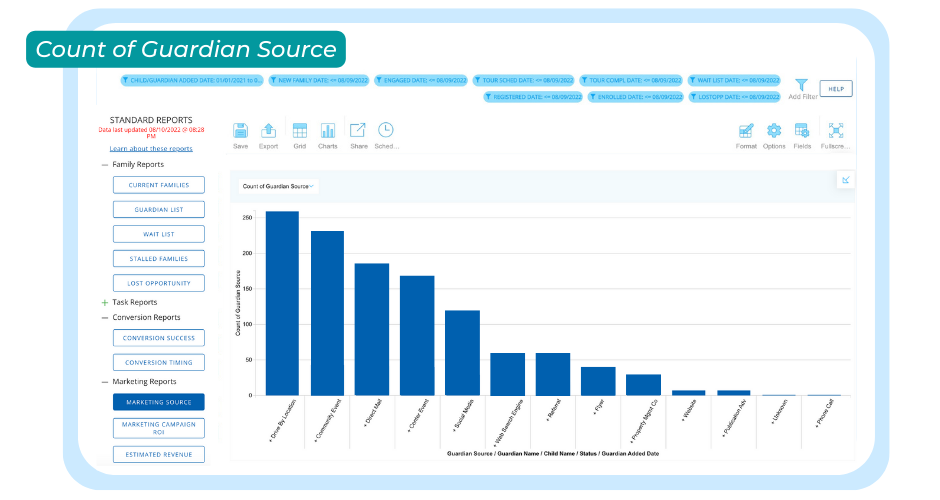 Marketing source report
3) Estimated Revenue Report
An estimated revenue report provides a ratio between the dollar value of your enrollment funnel and upcoming revenue from lead conversions. Each enrollment stage or lead status your prospective parents go through represents the progression of opportunity.
Without this report, it's difficult to predict revenue based on active leads in your enrollment funnel. In short, you won't know how much money your leads will generate in the future. This is a vital report to make forecasts that impact your childcare organization. In addition, with the right marketing automation software, you can filter by status to show your revenue decrease from lost opportunities.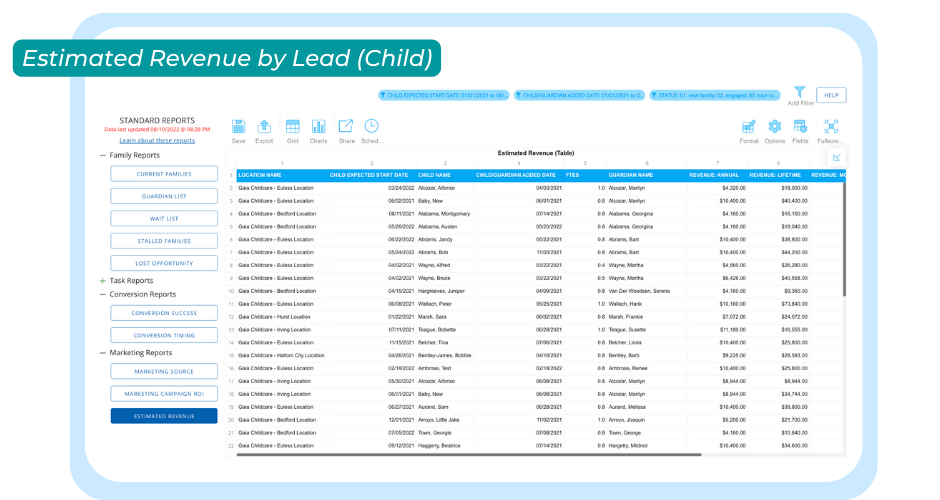 Marketing source report
Essential Features of Real-Time Reporting That Boost Enrollment
1) Quickly See Success with Dashboards
Dashboards offer a quick glance at real-time performance – either by location or across centers.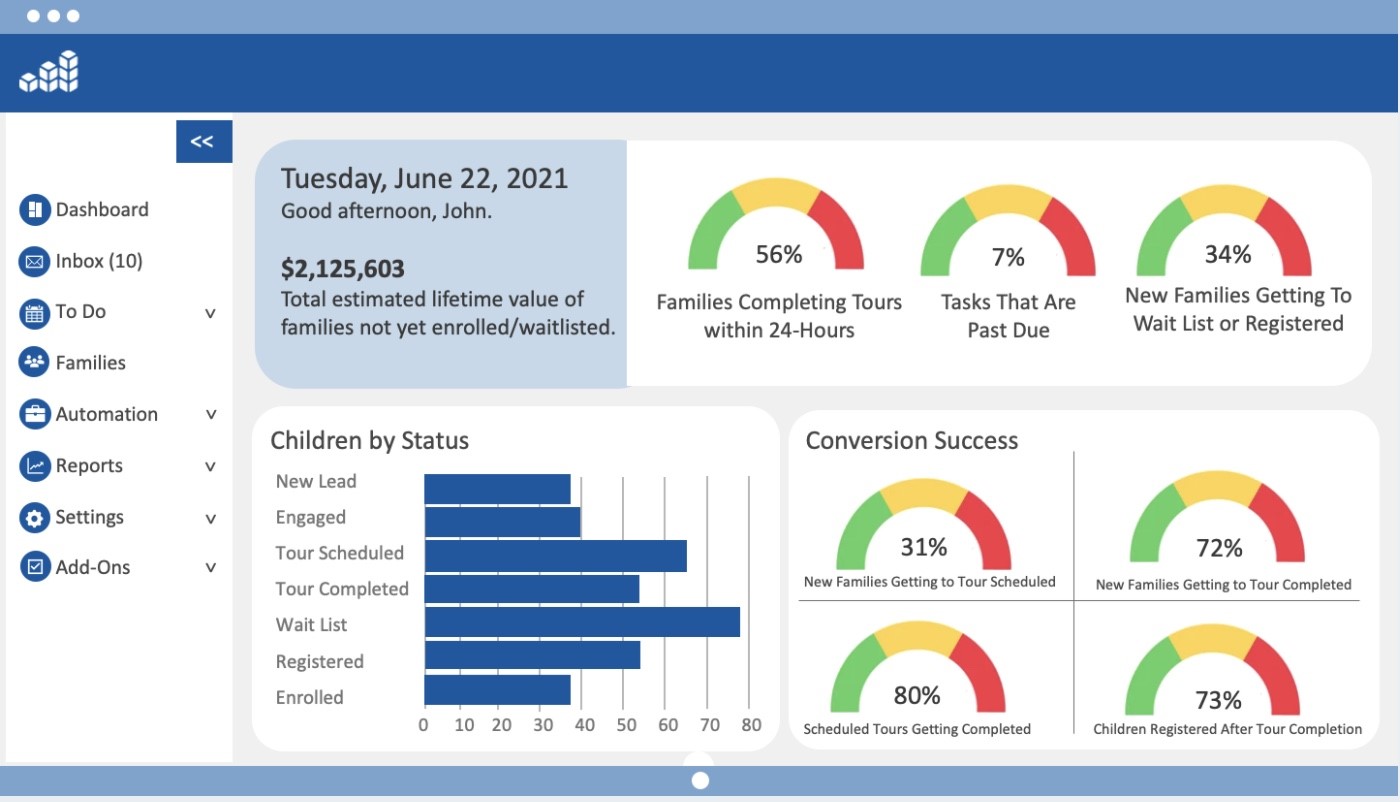 Dashboards
2)

Use Visualization Graphs and Tables
Family information and center success visualization makes the data more natural for the human mind to comprehend and therefore makes it easier to identify patterns.
Specifically, data visualization communicates information in a manner that is universal, fast, and effective. This practice can help childcare organizations identify which areas need to be improved.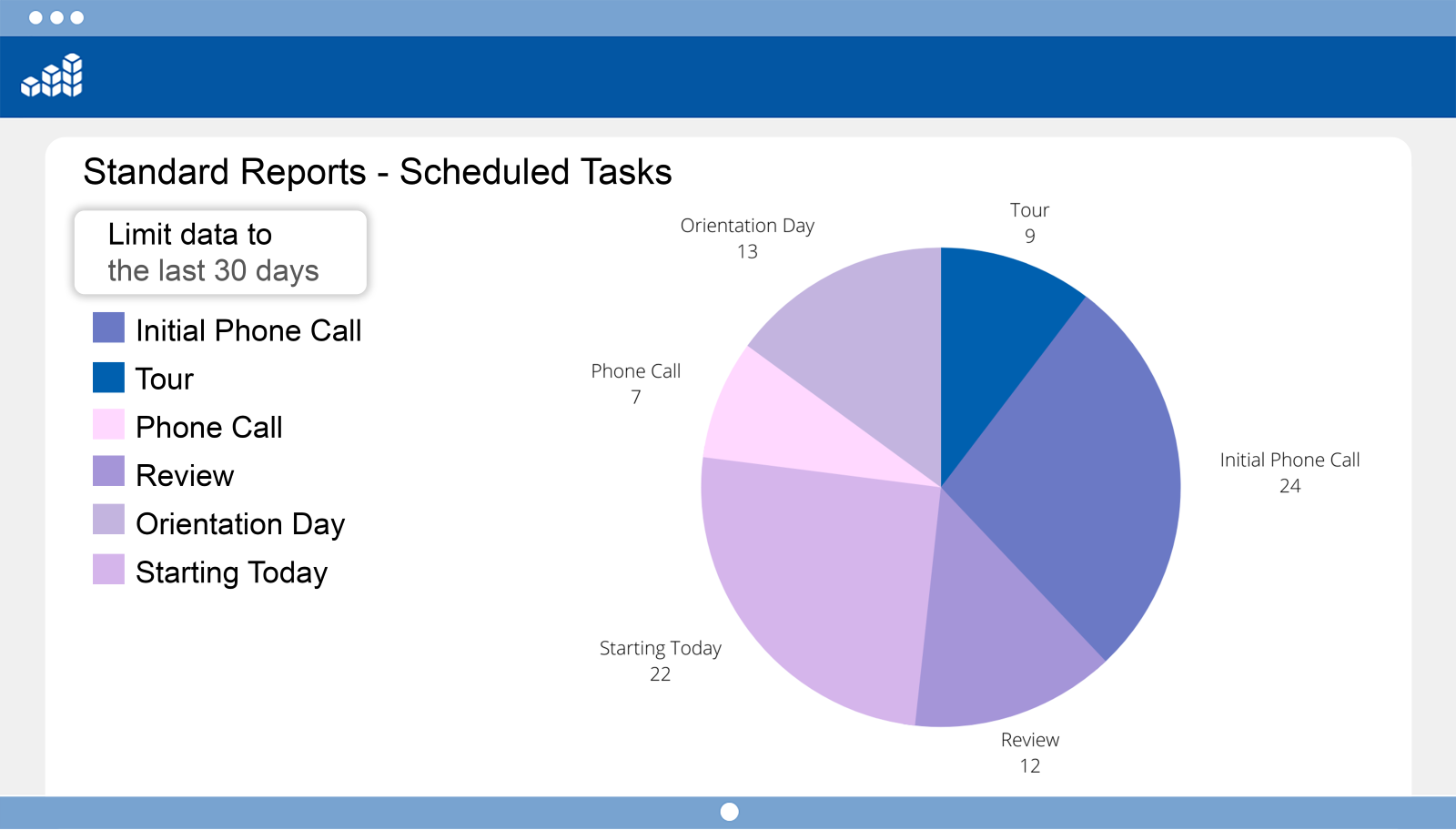 Visualization graph
3)

Schedule and Send Reports
It's helpful to find childcare software that lets you automatically schedule reports to executive leaders or board members. Send the data to relevant executives to provide support for your enrollment and marketing choices.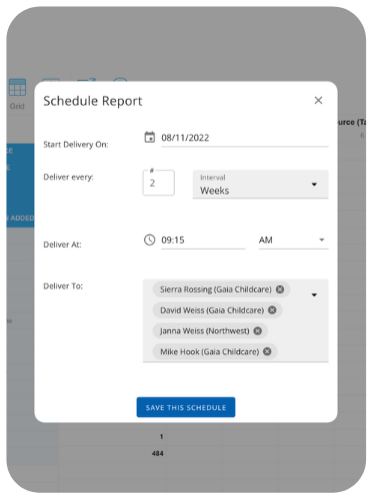 Scheduled reports
Automate Your Reports with the Right Childcare Software
Having minimal insight into the performance and efficiency of your childcare centers across locations is confusing. It makes well-informed decision-making hard to come by.
Luckily, with ChildcareCRM you can get an immediate understanding of where your leads are coming from and how your marketing campaigns are performing to enhance your communication strategy and approach. Easily optimize your ROI (return on investment) and predict future revenue.
Not a User Yet?
Schedule a demo to learn how you can access intuitive reporting technology to make data-driven decisions.
Already Using ChildcareCRM?
Download the guide to see impactful reports that can help grow and optimize your childcare business.