80% of marketing automation users saw an increase in leads after using the software.
It's safe to say – marketing automation can propel enrollment success forward, depending on how you use it.
Without understanding marketing automation software, you'll lose enrollments and decrease productivity. Read on to prevent loss by avoiding these 6 crucial marketing automation mistakes.
---
1) Starting Without a Plan
For a successful marketing automation strategy, you need to have a goal in mind. In fact, 58% of marketers had trouble finding success with automation tools due to a lack of effective strategy. Outline the purpose of your campaign to determine – maybe you want to gain more fall enrollments by increasing text message open and reply rates. Either way, detail your strategy by outlining your goal, identifying essential staff or teams involved, and mapping out vital metrics to track your goal.
For more information, watch the webinar below to learn additional mistakes to avoid when enrolling families.
2) Using the Wrong Automation Tool
Marketing automation and finding the right tool for your childcare business can be a challenge. You want an automation tool that offers all the features your centers need but is easy to implement. Plus, look for...
User-friendly, intuitive interface

Real-time analytics and reporting

Customer support tools

Integrations

An attentive team to train your staff
3) Implementing the Right Tool but Sending the Wrong Content
Automation tools make it simple to scale the number and length of campaigns you send out. However, once you have your content engine built – blog articles, parent testimonials, and more – it's easy to use the wrong content. You want to ensure your marketing communications are valuable and relevant. That way, you're sending the right message to the right audience. This is where segmentation comes into play.
Segmenting your audience ensures messages are more personalized by targeting the specific needs of each family. The easiest place to start is by segmenting families according to their lead statuses. Find out where families are in the journey to enrollment and group the waitlisted families or pull together the families who have completed tours but not yet registered for care. You can also choose to organize your follow-up efforts by the child's age group, classroom, or program.
Determine this manually, by looking at individual lead records, or save time by using your automation tool to segment audiences for you.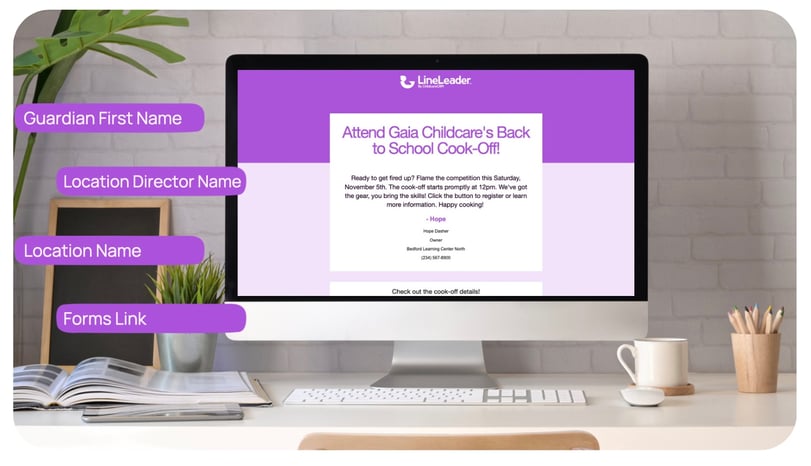 Segmented/personalized email template
4) Not Training Your Staff and Team
The right automation tool is powerful, but not so useful if your team doesn't get the proper training and resources. Ensuring your automation tool is user-friendly, there are enough customer resources, and scheduled training is the ultimate key to success. Keep your team in the loop – ensure they know how to use current workflows and understand vital system processes.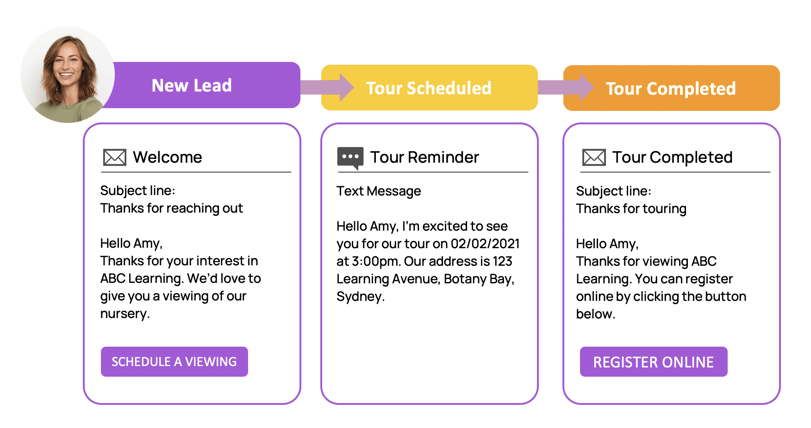 Example workflow
5) You Set It and Let It Go
Testing content is a critical part of marketing automation, enabling childcare businesses like yours to learn more about what resonates with your parent audience. Then, users can make changes to enhance campaigns, based on results from your marketing attribution. For example, you want to find out which of your centers is losing opportunities to optimize campaigns, increase follow-up, add workflow automations, and more. That way, you'll know exactly which centers have churned and how to re-engage them.

Standard report – lost opportunity
6) Your Automation Software Doesn't Integrate with Your Childcare Experience Platform
A marketing automation tool or system is designed to make marketing easier. A Childcare Experience Platform is designed to make managing leads easier.
So, how does a Childcare Experience Platform make your life simpler?
A Childcare Experience Platform is a unified solution that effortlessly manages interested families, automates your marketing, and maintains clean data. LineLeader by ChildcareCRM improves your marketing with a streamlined enrollment process.
---
About LineLeader
LineLeader is the first and only platform to deliver full-featured customer relationship management (CRM) software, a family engagement app, and childcare management software (CMS) in one unified platform. LineLeader helps childcare organizations manage their business and optimize their staff and family experience so they can succeed in a competitive market. Now, childcare centers can eliminate the multiple disjointed products they use to grow enrollment, engage families, and manage their center. LineLeader serves more than 5,000 childcare centers worldwide.
To learn more, view our products.
Schedule a demo to see a one-stop shop for managing and scaling your childcare business.