Running your childcare business isn't (always) a walk in the park
There are so many moving parts, from enrolling new students to managing busy center staff to keeping families.
Managing incoming leads.

Reviewing enrollment applications.

Engaging enrolled families.

Processing tuition payments and other fees.

Managing staff schedules and payroll.
Keeping track of what's working and what's not for your business.
...and much more. Find out more in this webinar recap! 👏
---
8 Key Takeaways for Falling in Love with Your Childcare Business
1) Empower your team to focus on what matters most - with automation.
Manual, time-consuming tasks are eating up 6+ hours each week of your staff's valuable time. That's almost a full week of lost productivity every month!
To combat this, our top converters send 77% more emails to engage families while getting hours back in their day.
How do they do all that? Automated communications.
You can quickly automate manual tasks to streamline the childcare experience for parents – especially parent communications. This will help you retain families, and satisfy staff, and it'll ensure your team can focus on providing the best care possible.
2) Make self-service your secret weapon for increased productivity.
40% of Millennials prefer self-service over human contact with businesses.
So, you're handing potential business to someone else when you:
Ask staff to schedule tours by hand.

Offer lengthy, paper-based registration packets.

Require guardians to come into the center to check their students in and out.
Send paper-based tuition bills or only accept cash and check.
Give families the convenient options they're looking for by offering self-service for enrollment (and beyond)!
Self-service options bring a lot of benefits to your business:
Increased efficiency and productivity levels.

Less time spent on manual administrative tasks.
Improved childcare experience for both inquiring and enrolled families.

Fewer missed opportunities and greater enrollment conversion success.

Streamlined communication between guardians and teachers.
3) Make parent-teacher communication a breeze with digital daily reports.
Parents and guardians want to be looped in on what their children did throughout the day. You can save time and hours of manual work by using digital updates instead of paper sheets.
Make everyone fall in love with your childcare business by using digital daily reports.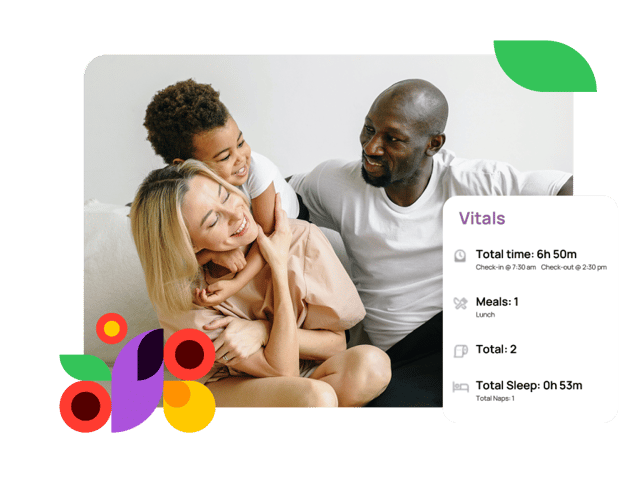 Daily reports
4)

Strengthen family and team communication with direct messaging.
Keeping everyone on the same page is hard. But it can be made easier with consistent communication.
Encourage staff and family collaboration with

two-way communication

to:

Give guardians the immediate updates they're looking for.

Connect teams to streamline operations and provide an exceptional childcare experience.

Keep everyone up to date with real-time messages.
5) Make drop-off and pick-up smooth and stress-free with contactless check-in.
With so many families coming and going, there's not always time for staff to prepare for the day and maintain ratios.
Provide a digital check-in and attendance tracking system to make drop-off and pick-up more efficient.
With contactless check-in options:
Parents can also let staff know their

estimated time of arrival

.

Parents can

provide important notes

before drop-off, with info on feeding, bathroom breaks, sleep, and more.

You and your staff can easily

stay in ratio

.

A staff member will always be

available to welcome students

into the center.

Mornings and afternoons become

less stressful

.
6) Remain compliant with less work, using automated ratio management.
71% of childcare businesses find complying with local state regulations important or very important.
Despite its importance, who has the time to worry about compliance?
Manage all your classroom ratios at-a-glance with digital classroom management to...
Ensure your centers remain in compliance and improve instruction quality with proper child ratios.

Elevate the health, safety, and educational quality of your programs.

Maintain licensing compliance to exceed guardian expectations.
7) Digitize registration so you're never chasing forms down again.
Some of the problems with paper-based enrollment forms include:
Families have to

make multiple back-and-forth trips

to pick up and drop off forms at the center.

The staff has to

chase down signatures or information

from families due to blank form fields or illegible handwriting.

Guardians have to

reenter the same information up to 9 times

, on average.

ESL families have to

use translation services or ask staff for help

to complete their enrollment packets.

Staff is

forced to send multiple reminders

to families about missing or late paperwork and fees.
Digital forms make registration convenient for your families and save staff the hassle of chasing down missing paperwork. Free your childcare business from manual work.
8) Maximize success with insights into what's working and what's not.
The average childcare organization spends 4-9 hours each week compiling reports by hand...
"You can't manage what you can't measure."
-Chuck Gibbs, Founder of ChildcareCRM
Measurable insights are the backbone of any business. But it's tough to see what's working and what's not when you can't view performance at-a-glance.
Watch the full webinar video below.

👇
---
Fall head over heels for your childcare business.
If you operate a childcare business and are looking to improve center management of your facility, improve staff productivity, and increase family engagement, then you've come to the right place.
LineLeader lets you run your business from one unified system. The best part? All of the points above are a breeze with LineLeader - the first and only unified platform to offer full-featured customer relationship management (CRM) software, a family engagement app, and childcare management software (CMS) in one unified platform.
Already a User or Simply Want to Learn More?
Download the benchmark report to increase family and staff retention, practically hands-free.
Not a User Yet?
Schedule a free demo to see how LineLeader can help you fall (back) in love with your childcare business.
Additional Resources