Did you know that 97% of marketers use Facebook for advertising?
Facebook advertising is a great tool to attract and engage with a wider parent audience. Without Facebook ads, your childcare business' reach is reduced drastically. Meaning, you'll lose out on potential leads that could turn into enrollments.
Unsure where to start? Learn how to effectively generate more leads with Facebook by building childcare ads that convert.
Childcare ads are essential to enrollment success.
The Millennial generation has an extremely active digital life.
75% of today's parents use social media. Technology plays a huge role in the way Millennial parents communicate, search for information, and make decisions. As the most commonly used social media platform, Facebook, is a powerful resource for quickly spreading information. Facebook can help drive enrollment when paired with a solid strategy for capturing leads.
Creating childcare ads on Facebook will help you get your center in front of families that are searching for care. They're targeted and naturally appear while someone's scrolling through Facebook.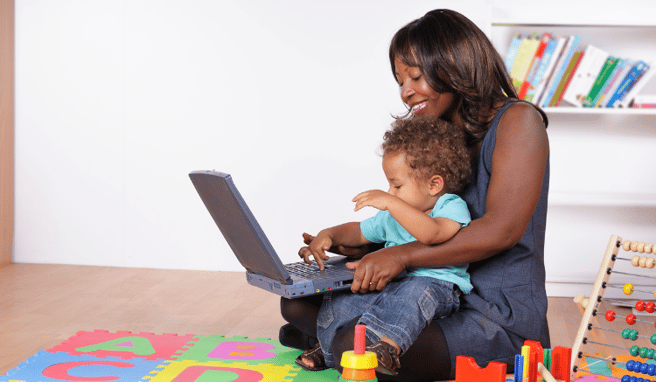 Mother on laptop
What's the difference between Facebook ads and posts?
Facebook posts can include videos, images, or copy-only (text) posts. For example, you want a new center location to gain attention. Highlight unique programs, features, and exceptional teachers to capture interest. Beyond that, Facebook posts are great for currently enrolled families and target prospective families for a specific purpose – such as enrolling in your summer camp program.
Facebook ads can look like posts – but they're more interactive and promotional. Facebook Ads are tied to a thought-out marketing campaign and can't be seen on your Facebook Business Page, unlike posts. For instance, use a Facebook Carousel ad to show an in-depth look at different promotional offers – featuring a high-quality image set. You can feature multiple classrooms at once to advertise their benefits and promote why interested parents should schedule a tour with your center.
Or use a Facebook Lead Ad that includes a simple form where you can collect parent contact information (name, email address) to nurture the family into enrollment.
And by integrating childcare CRM software with your Facebook accounts, the contact information flows directly into your platform. Immediately automate follow-up to stay top of mind. Facebook marketing makes it easy to track and message all family inquiries and leads from Facebook - in one place.
Create childcare ads on Facebook to build your waitlists and boost family engagement.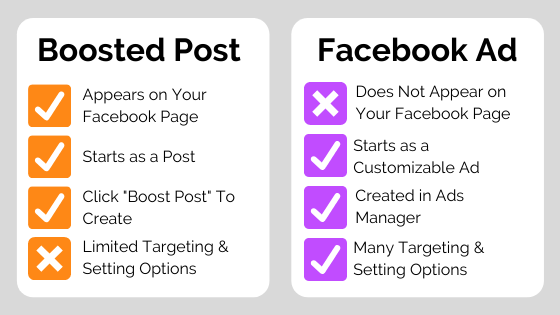 Facebook ads vs boosted posts
Here are some of the types of ads you can find on Facebook.
There's a wide variety of Facebook ad types. It can be difficult to know what each one does. Learn how to choose which ones best fit your childcare needs. Let's take a look at some examples.
1) Facebook Messenger Ads
If you want to direct lead traffic to a communication channel, Messenger Ads are a great option. Messenger Ads feature a call-to-action button that opens a Messenger conversation with your Facebook Page. 1.3 billion people use Messenger every month, so it's an easy way for your childcare staff to connect with inquiring families.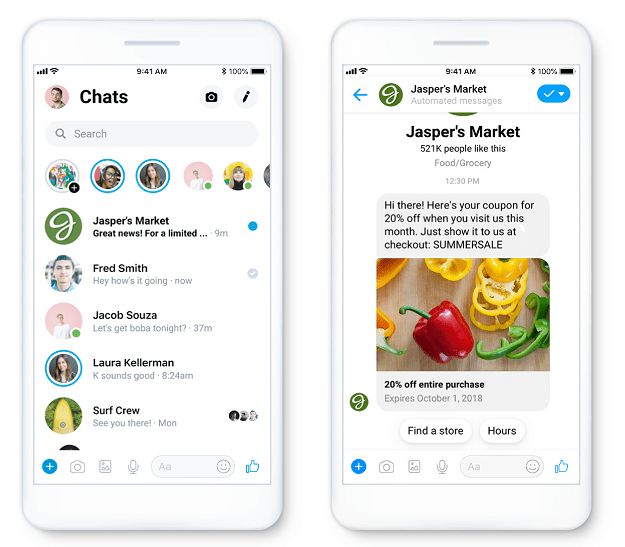 Example Facebook Messenger Ad
2) Image Ads
Facebook recommends the resolution should be at least 1080x1080 pixels. The primary text should be around 125 characters (to keep the image as the focus). Ensure the maximum file size is 30 MB.
For example, create childcare ads on Facebook with an image encouraging inquiring families to complete a tour and register for your waitlist.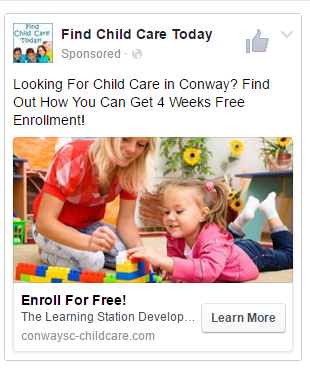 Childcare ad on Facebook
3) Video Ads
The three categories of Facebook Video Ads are in-stream, feed, and stories. An in-stream Facebook Ad is placed in your live video stream, while a video ad sent to your feed looks like a regular post (but it's targeted and different from a regular Facebook post – not everyone sees it)
On the other hand, you can place childcare ads on your stories to give parents a more interactive option. Childcare ads in the form of video are a great option for
View the specific types of Facebook Video Ads below.
Slideshow ads are a unique video story that captivates prospective parents through images and brief copy.

Stories ads – Get creative by showcasing your brand in a short, story-based sequence of ads.

Collection ads – Have a new series of updates, center location events, or week-long educational topics focused on a theme? Display the series with collection ads.

Carousel ads – Want to show off a center location or unique classroom? Provide an in-depth, interactive Carousel ad so prospective parents can view the 3D model. You can even add multiple classroom overviews within a single Carousel ad.

For example, your center wants to promote the newly reopened toddler classroom. However, the waitlist and enrollment for your toddler program aren't getting the attention you want. So, you make a Carousel Facebook ad to promote both classes in one ad.
Instant experience ads are an immersive, authentic way for parents to learn about your childcare business.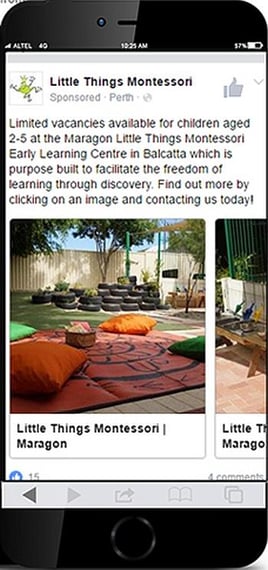 Childcare ad - Facebook Carousel
4) Offer Ads
Offer ads highlight a current deal, promotion, or unique center feature.
In this example, Busy Bees childcare is promoting a one-week-free offer when parents enroll before January 31st. Busy Bees childcare uses emojis, an actionable offer, and an engaging video to attract prospective parents.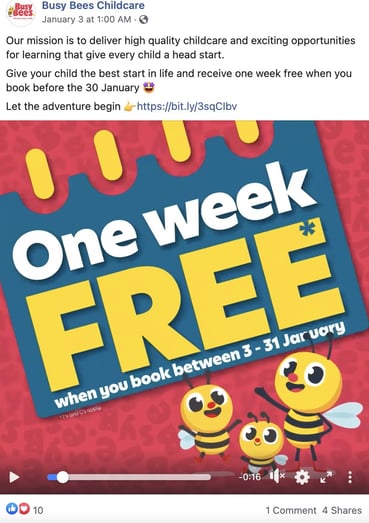 5) Event Ads
Event ads increase awareness about center events and make it easy to collect parent information from RSVPs. For the best results – link the event ad to a landing page with more information about your organization and the event itself.
Event ads often show the date of the event right on the ad, before someone registers!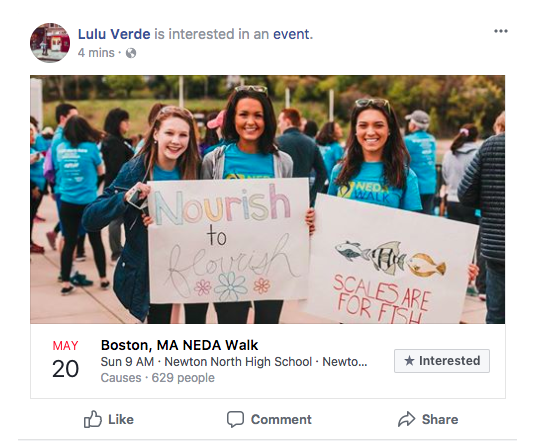 Example Facebook Event Ad
6) Poll Ads
Poll ads allow you to interact with your audience. Use these childcare ads to widen your reach, increase engagement, and gain important feedback from current and prospective families.
Collecting feedback helps you know exactly what families love about your centers! Use childcare ads to build advocates for your business.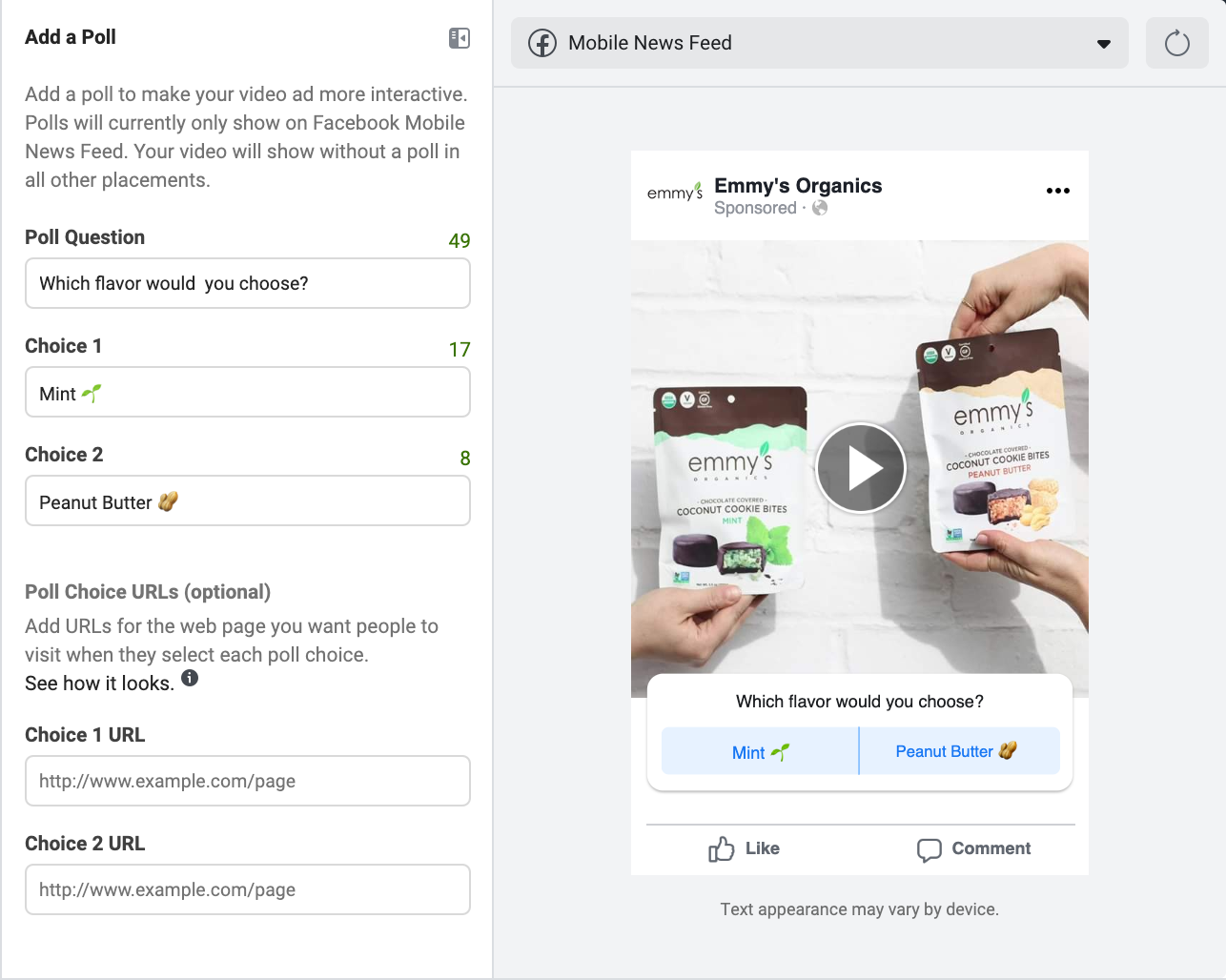 Poll Ads on Facebook
7) Facebook Lead Ads
Focus on the quality of your leads rather than the quantity. Lead Ads give businesses a 50% cost reduction in comparison to less targeted Facebook campaigns. Plus, Lead Ads contain a quick form for parents to fill out. They can share their contact information with you. Collect parent information such as name, email address, phone number, and more.
You can even include custom questions to help you understand your potential customers and reach your business goals. But it's best to keep these forms minimal, use 3-5 form fields at most.
When integrated with childcare software, parents who inquire through Lead Ads are automatically organized in a centralized place and are automatically followed up through email or text. This gives your staff more time to nurture families to enroll or join your waitlist. Automate lead capture, management, and follow-up to build meaningful relationships with your parents.
Improve your marketing with the Lead Ads that help you guide prospective families through enrollment.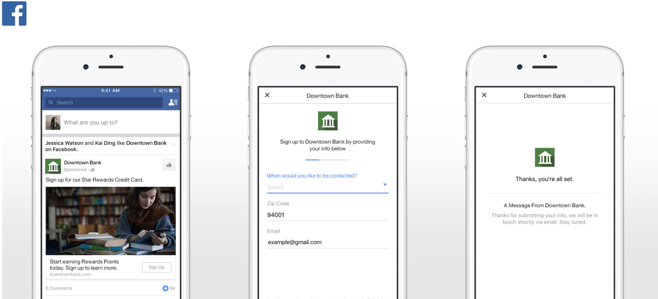 Facebook Lead Ads
Best

Practice: Design the right ads to promote your childcare business.
It's tough to know your parents' needs without a solid understanding of best ad practices. Take a look at these tips to ensure your childcare ads reach a qualified parent audience.
How to Design Childcare

Ad

s on Facebook (that actually get your centers noticed)!
1) Consider Your Ad Format in the Design Process
The human brain processes images 60,000 times faster than text. So, use videos and infographics to easily display information for prospective leads in a creative way. This ensures your childcare business remains top of mind for inquiring families.
On average, prospective leads have time to read, at most, 28% of the words on your landing page, website, social media post, or article/blog post. Base the ad design on your target audience and which ad type reaches farther (lead, image, video, etc.).
Include branding elements like your childcare business's colors, fonts, and logos to let parents know who you are. Consider creating your own photos or graphics to stand out from the competition. Creating branded imagery doesn't have to be hard or time-consuming. Canva is an easy-to-use (and free) resource that offers engaging templates for everything.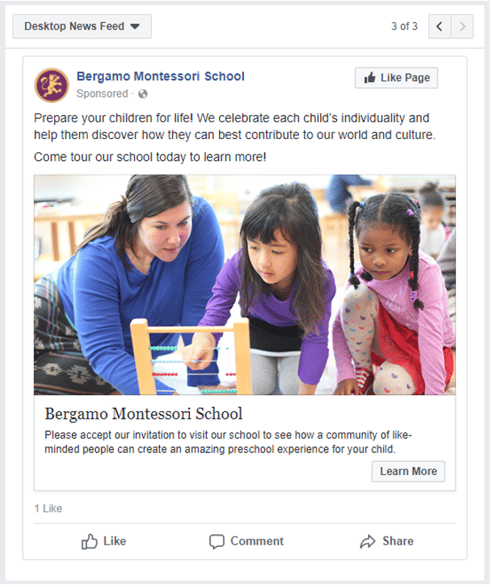 Childcare ad
2) Use creative copy.
Over 50% of Millennials prefer branded content to be brief. Millennial parents have busy schedules, so they prefer quick, consumable content with a concise word count. Millennials are the first generation to enjoy engaging with and sharing brand content, rather than just receiving it.
Keep it creative, yet concise. The text shouldn't take up more than 20% of your space on each Facebook ad. Headlines are one of the most important ad copy components. 80% of prospective leads only read the headline of your content, so make it brief but valuable. Also, make sure to use numbers and quantifiers where you can.
The structure of your copy should follow these guidelines:
Text (90 characters- above the photo)

Headline (25 characters – below the photo)

Link description (30 characters – under the headline)
For example, Cadence Education (a long-time LineLeader by ChildcareCRM user) uses a brief copy of approximately 43 characters above the photo (minus the link 🔗) to quickly inform parents of an update in their reading curriculum.
Think about your target audience. What do they want to see and how can you provide a solution to their problem. Use a consistent tone and language to ensure the value of your center is clear and well-known.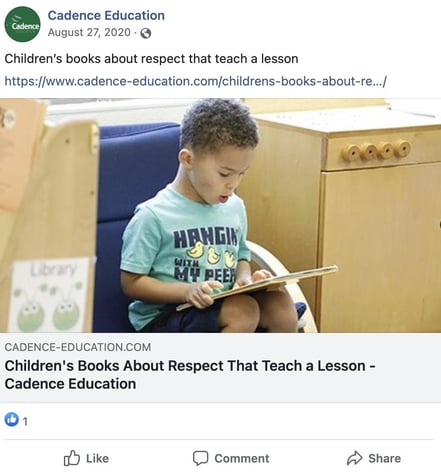 Cadence - effective Facebook post
3) Target your key parent audiences.
Facebook allows you to create location-specific campaigns to better engage with a relevant audience. Filter and target your audience based on location, demographics, interest, age, etc. When you target users based on interest, you'll notice an increase in the number of quality prospective families that are willing to convert.
If there are several groups you want to target, don't do it with one ad. Create separate ads and campaigns for the specific audiences you want to reach.
Millennial and Gen Z parents - your target audience
4) Keep your ad design consistent with the web page it leads to.
Ensure that all Facebook Ads lead to your Facebook Business Page, your childcare website, or a standalone landing page to increase conversion.
Your ads should lead to pages with more information (such as inquiry forms, an online tour scheduler, specific program details, waitlist forms, or enrollment forms) to encourage families to take an action. Remember to keep the webpage consistent with your ad. If your Facebook ad content doesn't match what your landing page says, you may experience a high bounce rate from leads.
Typically, high bounce rates are affected by a lack of brand consistency and a lack of strong copy. A good goal for your landing page's bounce rate is to remain in the range of 26%-40%. But a bounce rate of 41%-55% is considered average.
Childcare ad on Facebook - Video Ad
---
Best Practice: Generate more leads with Facebook integrations.
Never miss out on the chance to promptly a parent to schedule a tour, join your waitlist, or enroll.
Automate communications with new leads when you integrate Facebook with childcare software. You and your staff are notified of new parent inquiries immediately. Plus, you can monitor inquiries in a central place and automate responses for Facebook Messenger or Lead Ad Inquiries.
LineLeader keeps track of where each new lead comes from in the source of families report, organizes Facebook Messenger and lead inquiries, and allows you to automate responses. You'll easily generate more leads and improve your ROI (return on investment) by tracking which channels are working and which aren't.
Easily integrate Facebook Messenger and Facebook Lead Ads into LineLeader to answer parents' questions in real-time and capture more leads. Take a look at the video below for more tips & tricks! 😍
Ready to get started?
Schedule a quick demo to discover how LineLeader's Facebook Marketing feature helps you build meaningful relationships with families early on.
Already a User?
Check out expert Facebook marketing tips and download a Facebook marketing plan to start promoting your centers - today!