Facebook has 2.8 billion monthly active users - which makes it a popular platform for childcare businesses to interact with prospective parents and generate new family leads. In a single day, you and your team are juggling communications with parents in multiple places – including email, text, your website, and Facebook.
Without a way to quickly organize and respond to your Facebook inquiries, leads will slip through the cracks. You need a way to streamline these responses and automate follow-up tasks to save staff time.
LineLeader by ChildcareCRM now integrates with Facebook Messenger and Facebook Lead Ads to help you capture more leads. Parent name or contact information flows directly into LineLeader Enroll for automated, immediate follow-up.
Grow Your Business with Facebook
Millennial parents make up 80% of today's parents to children under the age of 12, meaning they're your #1 parent demographic. Since 90% of them use Facebook every week, it's often their most convenient communication option when interacting with local businesses.
40% of parents prefer self-service options over human contact with businesses and many see phone calls as overly intrusive. So as parents turn to channels like Facebook for convenient communications with your center, make sure you and your team are prepared to capture these inquiries and have a process in place for responding to them. Otherwise, you'll miss out on opportunities to enroll new families at your centers.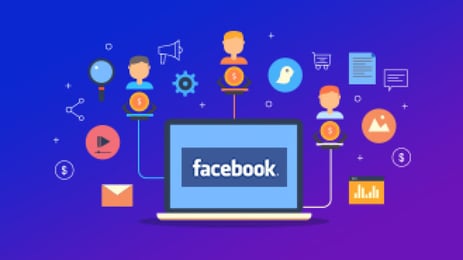 Facebook marketing
Streamline Lead Communications
The LineLeader Facebook integration seamlessly organizes communications from Facebook Messenger in your inbox and captures the parent's name as a lead.
Plus, parent information from Facebook Lead Ads is automatically captured as a lead, letting you know that someone has expressed interest in your center and triggering your automated workflows to encourage them to schedule a tour and eventually register for care. Understand how effective Facebook leads are by tracking Facebook as a lead source.

Pending families coming from Facebook
"With this new integration, our customers will no longer be at risk of not seeing a parent inquiry on Facebook and missing out on the opportunity to enroll that family. Our Product and Engineering teams have worked closely with Facebook to ensure that parent information is collected seamlessly within our LineLeader Enroll software," said Seth Martin, CTO at LineLeader by ChildcareCRM. "Since LineLeader allows you to automate follow-up communications for Facebook inquiries and conversations, staff will also have more time to spend where it matters most – with their enrolled children."
Key Benefits
Save time. Automate Facebook lead capture and follow-up. Quickly respond to Facebook Messenger communications from your LineLeader inbox.

Grow at scale. Easily integrate multiple Facebook business accounts to capture Facebook leads for each center location.

Boost enrollment and waitlists. Capture more leads from Facebook and follow up with those leads immediately using LineLeader automation.

Get a two-in-one integration. Capture both Facebook Messenger conversations and Facebook Lead Ad forms in one place.
Use Facebook Integration for Multicenter Childcare Organizations
For multicenter organizations, LineLeader Enroll easily integrates multiple Facebook business accounts to capture Facebook leads for each location.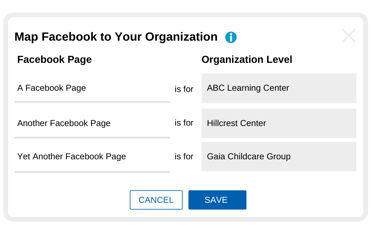 Facebook account mapping in LineLeader Enroll
Use LineLeader to enhance Facebook follow-up for each location in your multicenter organization.
Boost enrollment and waitlists by capturing more leads from Facebook and following up with those leads immediately using LineLeader automation. Get more information about the integration and how to turn it on for current users, in this overview document. And for additional ways to optimize Facebook for childcare marketing and business growth, click here.
See how the LineLeader Facebook integration works in real time when you schedule a demo.