Scheduling a tour is one of the most important steps in the parent journey for a childcare center. But the process of scheduling a tour is inconvenient for parents. They have to fill out a form or call during business hours to request a tour. It can take hours or days to lock down a date and time after calls and emails back and forth.

Eliminate the hassle of scheduling tours with ChildcareCRM's Parent-Scheduled Tours. Increase conversion rates and give parents the convenient scheduling they expect. Plus, you'll free busy center staff (or enrollment team members) to work on other activities.
1) Scheduling Tours Promptly Leads to Higher Enrollment Rates
In the age of instant gratification, response times matter more than ever before. How much time elapses between a parent or guardian's initial inquiry and when they tour your facility has a significant impact on the rate of conversion for inquiries.
In our recent Building Blocks for Success report, we found that our top-performing centers booked 79% of their tours within 24 hours. These users averaged an enrollment success rate of almost 80%, demonstrating how scheduling tours promptly plays a pivotal role in whether a family decides to enroll with your center or not. But, don't just take our word for it. According to www.oncehub.com, scheduling a tour/meeting with a lead within the first 24 hours of initial interest increases the chances of conversion success by 83%.

ChildcareCRM's software is specifically designed to let parents schedule tours right from your website. Parent contact information and scheduled tour date/time flow directly into the CRM so you can automatically follow up and easily manage next steps.
2) Make Tour Booking Convenient for Families
As prospective families explore your center via your website or Facebook page, they are presented with the option to choose a tour time then and there – rather than just a simple form to request a tour. Once they've scheduled a tour, important lead and child information is captured and sent to your ChildcareCRM account so that you and your center staff are well-prepared to welcome the family upon arrival.

Immediately after booking, parents receive a confirmation with the tour time, center name, address, and contact information. You can also set them up to receive text and/or email reminders as the tour approaches to reduce the chances of a no-show.
3) Remain In Control of Your Tour Availability
With ChildcareCRM's Parent-Scheduled tour feature, you are in full control of how many tour spots are available and when.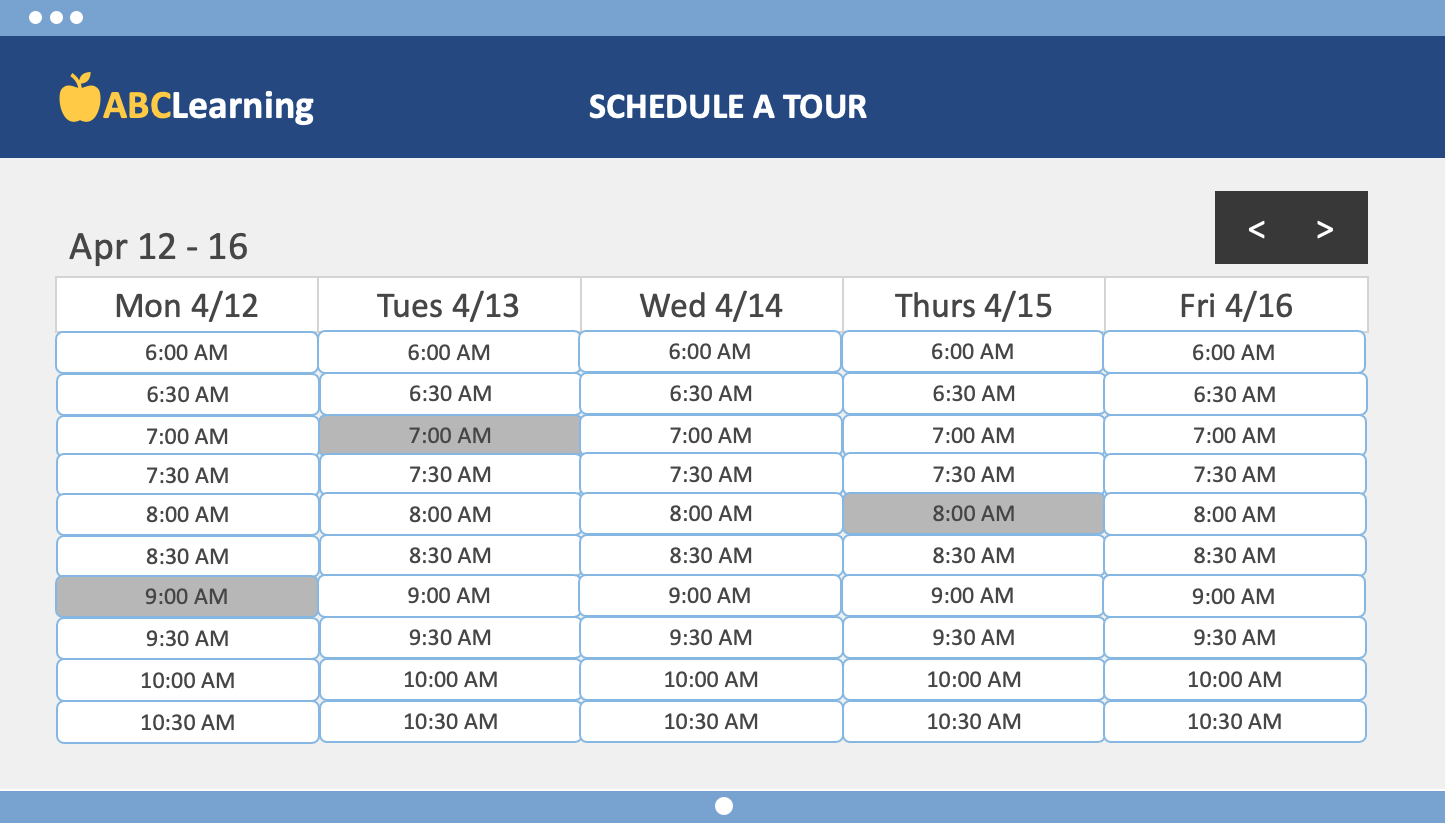 Parent- Scheduled Tours lets interested families book tours from available timeslots that are updated in real-time, making your website much more powerful.
Additionally, self-service when it comes to tour scheduling is one way of "meeting today's parents where they are". By allowing prospective parents to schedule a tour on their own time and at their convenience, it helps to increase the likelihood of enrollment and decrease chances of a no-show.
---

Interested in getting started with ChildcareCRM? Click here to schedule a demo with one of our solutions consultants.
Are you a current user who would like to start utilizing Parent- Scheduled Tours? Contact our customer success team either through the chat feature within your CRM portal or by emailing support@childcarecrm.com or support@childcarecrm.com.au (depending on your country of residence).