Are you not responding to prospective families fast enough?
With numerous options for childcare centers, it's important that your centers implement strategies to make the enrollment process smoother.
There are five stages in the enrollment funnel and learning how to automate those five stages will give your parents an ideal experience. Let's dive into a 5-step marketing automation plan to streamline each stage of your enrollment funnel.
Table of Contents
1) Automate follow-up to new families.
3) Guide parents through your enrollment process, hands-free.
4) Offer convenient, online options for registration.
5) Invest in a platform to save time for what you love and automate the rest.
The Importance of a Marketing Automation Plan
A marketing automation plan can be a game-changer for your childcare business. By automating repetitive marketing tasks, such as email campaigns and lead nurturing, you save valuable time and improve efficiency.
Personalized communication becomes a breeze, allowing you to connect with families on a deeper level. With data-driven insights, you can measure the performance of your campaigns and make informed decisions.
Don't miss out - schedule a demo to communicate with families, faster and easier.
1) Automate follow-up to new families.
Contacting a lead within 5 minutes of their inquiry is 21 times more effective than contacting them after 30 minutes.
Enrollment Stage 1: New Family Lead Inquiry
The center that follows up first has an 80% higher chance of gaining that enrollment. If you aren't taking the necessary steps, you could be losing up to 79% of your potential families. Combat this by using marketing automation to respond to new inquiries immediately. Increase conversion success and parent satisfaction using automated workflows that ensure families are being followed up with - fast. The right marketing automation plan helps your centers stay ahead of the competition.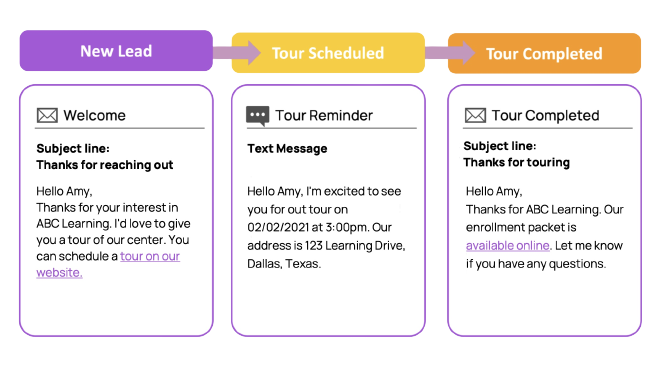 Demonstration of Enrollment Stage 1
2) Instantly schedule tours.
After responding to an initial inquiry, include a link for parents to schedule a tour (online on your website).
Enrollment Stage 2: Tour Scheduled
Automated tour confirmations and reminders lead to decreased no-shows and increased enrollments. Plus, scheduling a tour with a family lead within the first 24 hours of initial interest increases the chances of conversion success by 83%. Proactively highlight unique features, classrooms, and exceptional teachers by equipping your staff with tour talking points.
Improve the touring experience and standardize talking points by each individual center, region, or brand. A marketing automation plan will ensure staff is on the same page at every location.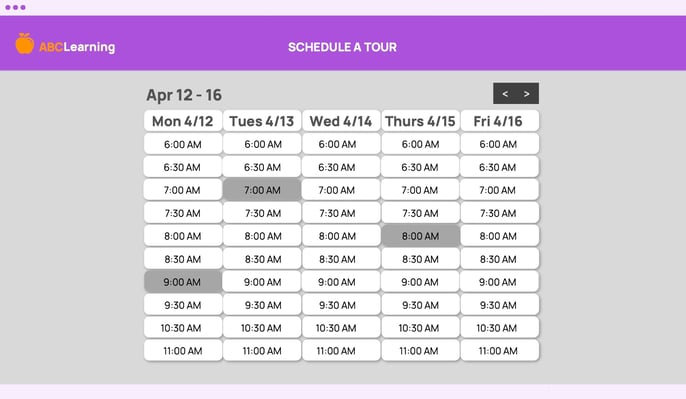 Example: digital tour scheduler
3) Guide parents through your enrollment process, hands-free.
There are many steps in your enrollment funnel. Guide parents through the journey with automated communications at each stage that let them know what to do next and how to move forward. Automated enrollment will eliminate the stress of forgotten follow-ups and crowded inboxes.
Enrollment Stage 3: Tour Completed
Keep parents engaged and moving towards enrollment after their tour, while also personalizing communications with families. Build a better connection with parents by adding personalization keys to your email and text templates. Add a parent's name at the beginning of your automated emails by including a variable tag like [Guardian First Name].
Also, make sure you're following up with them about the correct location with a variable tag for [Location Name] and [Organization Name] if you have multiple sites or brands. The right marketing automation plan helps your brand deliver the right messages to the right families.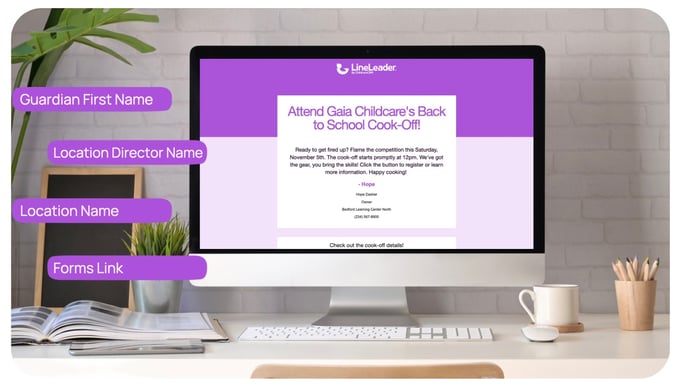 Template for emailing a lead
4) Offer convenient, online options for registration.
Filling out enrollment paperwork is time-consuming and requires parents to fill in the same information multiple times. It takes more than 2 weeks, on average, for families to return their paper forms. In contrast, it takes an average of 4 days to complete online enrollment and the completion rate is 65%.
Enrollment Stage 4: Parents Pay Registration or Waitlist Fees
94% of Millennials are active users of online banking, and 41% prefer to pay their bills using a debit card or ACH transfer. Yet nearly half of all centers only accept cash or checks for registration and waitlist fees.
When you provide mobile payment options, on-the-go Millennials can pay in near real-time, pushing funds to your center quicker than ever. Giving parents online payment options is critical to improving the parent experience. With automated, digital options – you'll increase conversions at the end of your enrollment funnel. Don't let a poor marketing automation plan hold you back!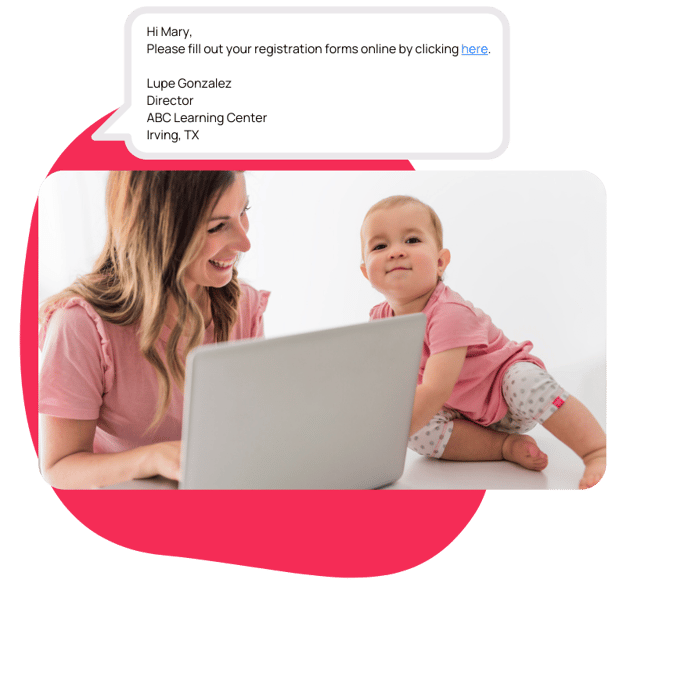 ---
5) Invest in a platform to save time for what you love and automate the rest.
The final stage of your enrollment funnel is retention. With automated enrollment and communications, families will get to this part of the funnel smoothly.
See how to seamlessly run your center from an all-in-one platform, like LineLeader.👇 Your marketing automation plan should include investing in a unified platform to streamline operations. Save more, spend less.
Interested in Using LineLeader?
Schedule a quick demo to see how LineLeader works in real-time.
Already a User?
See how to boost enrollment in the Ultimate Guide to Childcare Marketing Automation.