Do you know how families are progressing through your enrollment journey?
31% of marketers stated that tracking conversions was one of their biggest challenges. For childcare providers, it's best to know where each prospective family is in your funnel. Without a way to track where families are converting or dropping out of your enrollment journey, it's difficult to provide the follow-up and guidance your parents need.
Learn more about your enrollment journey stages to improve conversion rates. Explore the best ways to help parents navigate their decision-making process for each stage of your funnel.
Why Do I Need to Understand My Enrollment Funnel?
Regularly reviewing and optimizing your enrollment funnel will allow you to get the most out of your marketing efforts, giving you the opportunity to grow your business. If you're looking to significantly boost your enrollment conversions or grow your waitlists, you need to be monitoring all stages of your enrollment funnel. Optimizing each stage of the funnel will increase the number of prospective families who accept your offer to enroll by 5%.
Read the Guide to Navigating the Parent Enrollment Journey for more enrollment tips and best practices.
What Is An Enrollment Funnel?
Your enrollment funnel is the journey each parent goes through to find your childcare business, schedule a tour, register for care, and remain enrolled or drop out (with a few additional steps mixed throughout). Understanding your enrollment funnel is useful for visualizing the parent journey from initial brand awareness through retention to create a meaningful and authentic experience for parents. This knowledge helps you ensure you're building a solid pipeline of opportunities.
What Should I do At Each Enrollment Stage?
It's tough to know your parents' needs without a solid understanding of your enrollment funnel. You want them to remain satisfied, ensure all their questions are answered, and ultimately convert them to enrolled status. Every childcare business has a unique parent journey. Before outlining your own, take a look at each stage of a standard enrollment funnel.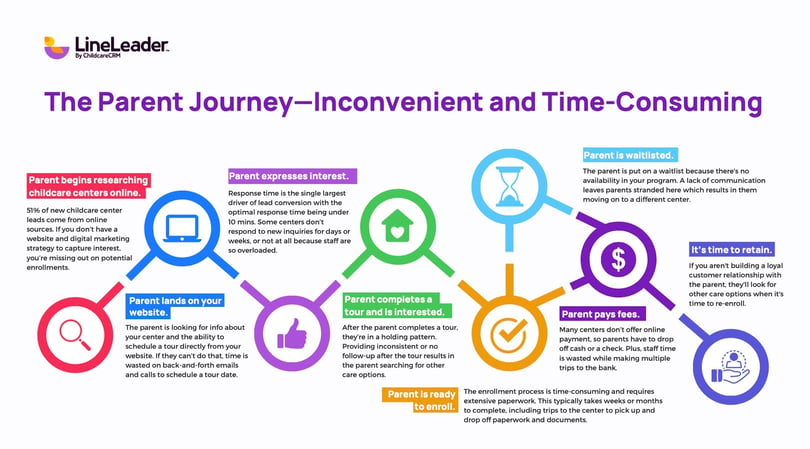 1) Awareness
During the awareness stage, parents are conducting research. At this stage, parents are likely to consider multiple childcare providers. They're looking up childcare centers near them, trying to identify who offers the best programs – often by reading online reviews.
Refine your enrollment strategy. Check out these best practices for building your childcare brand awareness.
Use Facebook Ads and Google Ads to increase your web presence and target a wider audience.
Utilize Childcare Listing Directories to generate new leads. Childcare Listing Directories, like Winnie and Kinside, ensure that your childcare business is clearly visible to families - on a reputable online list of daycare providers.

Prioritize word-of-mouth marketing and referrals from current families. Word-of-mouth referrals are a great way to inform parents about your childcare facility. Over 73% of families found speaking with parents of children enrolled at a facility is an effective way to find the best childcare provider.

Start generating more online reviews. Much like word-of-mouth referrals, online reviews and testimonials are a fantastic way to capture inquiring parents' attention. In fact, 82% of consumers read online reviews for local businesses. Learn how to start receiving more reviews from parents in this article.
2) Inquiry
The inquiry stage in your enrollment funnel is when a family begins truly considering you for their child's care. Give parents the right first impression by making inquiry easy for parents.
51% of new childcare leads come from online sources because today's parents prefer convenience and the option to self-serve. One way to initiate self-service for parents during the inquiry stage is to use contact forms and digital tour schedulers on your website.
For example, LineLeader's Parent-Scheduled Tours tool allows families to select a tour time and date that works for them, according to your center's real-time availability – all without the back and forth of sending multiple phone calls and emails.
Let's take a further look at tips for optimizing the inquiry stage: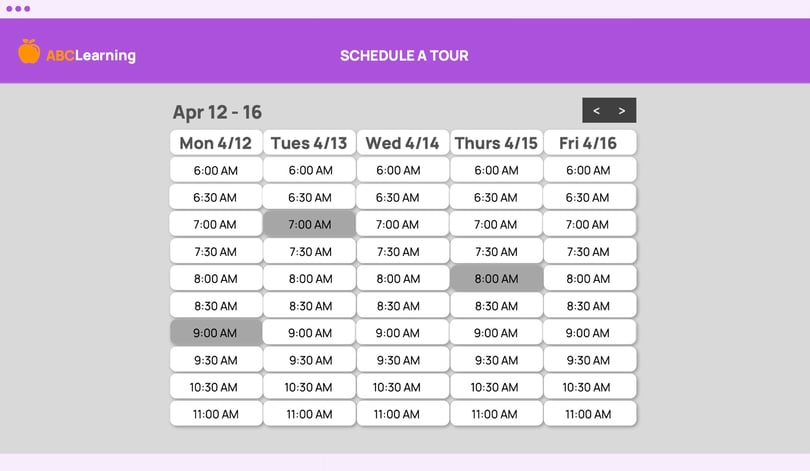 3) Touring
It's no secret that COVID-19 has changed parents' expectations. So, it's important to offer a variety of tour types: in-person, virtual, pre-recorded tour video, and more. Prior to initiating a tour or recording a video walk-through, ensure the building is clean, staff are notified in advance, and delegate who will be conducting all tours. This person may or may not be your director. But this individual will act as your tour champion. Therefore, they must be exceptional at highlighting key areas of the center and be well-trained to answer parent questions and concerns.
To conduct the best tour possible, provide the staff member who's conducting the tour with a tablet that they can use to take notes about the family and read their tour talking points from (yes, each center should have consistent talking points!). The tablet will help your staff easily record what prospective parents like or dislike throughout the tour, their care needs, and refer to key tour messages.
4) Registration
Once a parent has attended their tour, they've officially entered the decision-making stage. Make it easy for families at this stage to register and pay pre-enrollment fees. To keep this enrollment funnel stage convenient, use online enrollment forms and an online payment system. For example, adopt an industry-standard online enrollment packet that makes daycare registration easy for you and your families.
Never waste time, as online enrollment forms can be completed at a time that's convenient for parents and with the right software can automatically integrate with both your CRM and CMS – meaning reduced staff time spent on data entry. Online enrollment also saves staff time by automating enrollment form completion reminders.
Plus, an online payment system – takes the hassle out of collecting childcare fees. It's helpful to find a payment system built into an online enrollment software, like the example above. It gives parents the option to register online and pay fees all in one place.
5) Enrolled or Waitlisted
Lastly, you'll need to keep up communication with families to retain them. Maintain parent satisfaction with both your enrolled and waitlisted families using drip campaigns and workflow automation in your CRM. Create educational nurture emails with regular updates about your center, staff, and any events you may be hosting.
View Enrollment Marketing Content Ideas
You can also keep them engaged by regularly sending them articles or videos with early childhood education tips and resources. This helps to position you as a thought leader and expert in the early education space, ensuring they feel continue to see you as the best care option for their family. For example, send a nutrition-conscious parent a chef's thoughts on healthy eating that details how to incorporate more vegetables and fruits into their child's diet.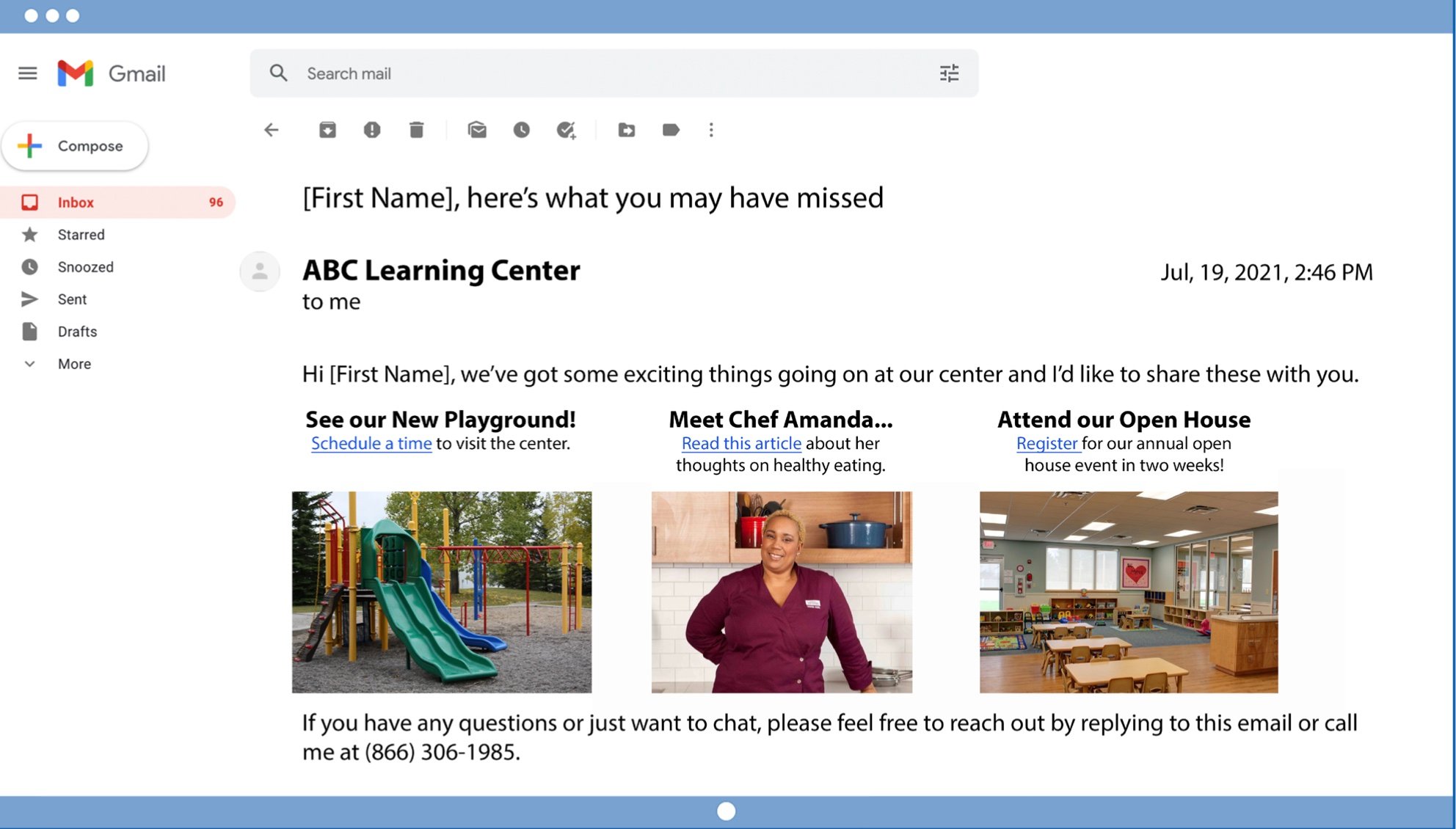 How Do I See Where Each Family Is At In the Funnel?
Use a daycare CRM, such as LineLeader, to monitor your enrollment funnel.
See where families are dropping out so you know what needs improvement

Customize each stage of the parent journey

Standardize enrollment across all your locations

Ensure every family receives a best-in-class experience
Optimizing each stage in your enrollment funnel, from inquiry to registration, is vital to increase enrollment conversions.
Already Have LineLeader?
Click here to read the Guide to Navigating the Parent Enrollment Journey. Learn how to boost parent satisfaction at each stage of the enrollment funnel.
Interested in Using LineLeader?
Schedule a demo to see in real-time how to optimize your enrollment funnel for childcare success.